ISIS Hostage British Photog: Islamic State 'Eagerly Awaits' US-Led Ground Troops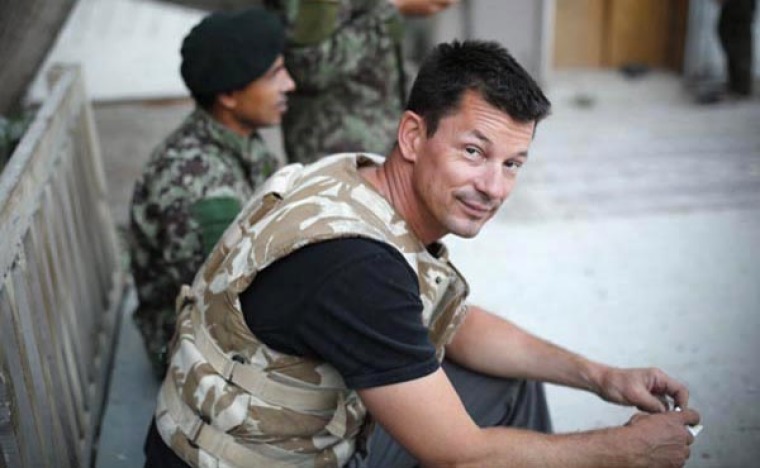 British war photographer and Islamic State hostage, John Cantlie, appeared in his fourth Islamic State propaganda video on Sunday and claimed that the ISIS militants "eagerly await" the arrival of U.S.-led coalition ground troops, implying that the militant group cannot be quelled without them.
Cantile, who is 43 years old and has been held captive by ISIS since November of 2012, chastised the U.S.-coalition airstrikes saying that all they are doing is wasting "millions" of dollars with no real positive result. Although President Barack Obama has made it clear that the U.S. will not use ground troops to combat the group, Cantlie seems to think that coalition ground forces will eventually be used.
"One month ago, Obama pressed the button on airstrikes. Now you have to wonder how long his policy of no boots on ground has left to live," Cantlie said. "As for the Islamic State, they eagerly await to see those boots."
In the six-plus minute video, Cantlie said the Islamic State thrives off of setbacks and are "dug in" for a long and lengthy fight that will require more than just airstrikes to defeat them. Cantlie claims that war only makes the Islamic State stronger and the militants "don't mind if nobody attacks them or if everybody attacks them."
"The Islamic State, today, are an inherently resilient organization. War only makes the jihadist movement stronger. And, they are dug in for the fight," Cantlie said. "They have years of experience fighting against the Americans and know how to patiently and vehemently outlast war projects. This means that anyone hoping for a nice neat operation, without getting their hands dirty, is in for a horrible surprise once it gets underway."
Although Cantlie stated the need for ground forces, he continued by saying Obama's intervention policies place a premium on a "minimum time commitment" in order to please the American public, which fears that sending ground troops for lengthy involvement would be too costly. Cantlie said the Islamic State is not binded by any time constraints, and unlike the U.S. and British governments, the group doesn't have to appeal to a legislative body for further funding.
Cantlie said that the American people will not allow a "sustained investment" in an intervention policy in which they did not agree to.
"Now, this is where it gets ugly on the home front for America and its allies," Cantlie said. "[Islamic State militants] are patient and time means little to them. They don't rely on any donor or country for funds but take financial gains from war and battlefield successes. America, on the other hand, has to do this as quickly and cleanly as possible. But already, the subject of money has been raised."
Cantlie also claims that he was "abandoned" by the British government. He expressed the notion that although both the U.S. and British governments knew of his and the other slain journalists' hostage situations for years, the governments refused to negotiate for their release in the hopes that their potential death would cause public outcry in both countries and lead to public approval of military action against ISIS.
"Hold on a minute prime minister! You have known about our situation for nearly two years. You chose not to enter negotiations with the Islamic State that might have got us out," Cantlie said. "Now you want to use these deaths to fan the flames of this war. If that is the case, then I deeply resent it, prime minister. Thanks a lot!"
While many believe that Islamic State leaders write the scripts in their hostages' videos, Cantlie wrote in a Sunday article for the fourth edition of the Islamic State's English magazine, Dabiq, that he is indeed the one who wrote the script in his four videos.
In the piece, Cantlie elaborates on his feeling of abandonment by the British government.
"Four of my cellmates have already been executed by the Islamic State in the most visceral way possible after the British and American governments apparently made a joint decision not to discuss terms for our release with our captors," Catlie writes. "And now, unless something changes very quickly and very radically, I await my turn."
The Islamic State has already executed two American journalists and two British aid workers in recorded beheadings. The U.S. and British governments have laws against negotiating with terrorists as it is believed that paying ransoms provide material support to terrorist groups.