ISIS 'How to' Video Shows Terrorists Slaughtering Victims, Calls for Killings in the US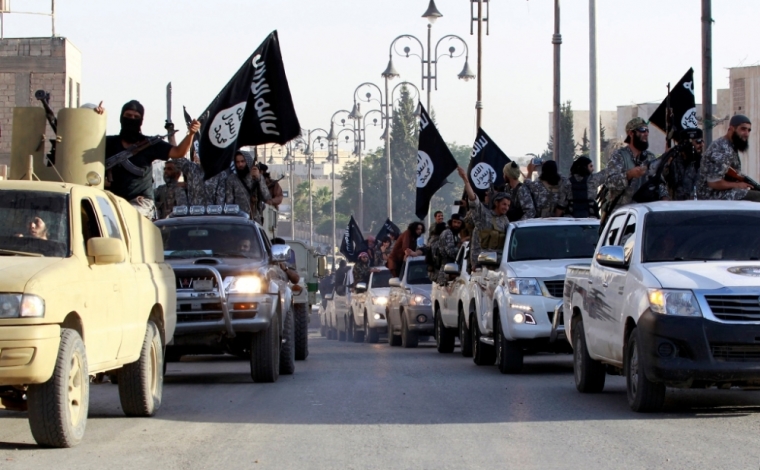 A new Islamic State video, titled "Explanation of How to Slaughter Disbelievers," shows a terrorist slashing the throat of a crucified victim and a Kurdish soldier being blown up. It also encourages Muslims in the United States, the United Kingdom and France to kill "disbelievers" in the name of Allah.
The 14-minute propaganda video shows a man's throat being severed by a militant with a kitchen knife and a Kurdish soldier being blown up by a hand-made bomb, according to the U.K.'s Daily Mail, which has posted a clip of the graphic video on its website.
The video also features balaclava-clad terrorists teaching the best way to kill those who do not support Islamic State, a Sunni terror group also known as IS, ISIS, ISIL or Daesh.
"We must fight them. Even with the most basic equipment, they have kept crusaders sleepless and worried by fighting for ISIS," a militant, identified in the video as Abu Sulayman al-Firansi, says in the clip.
The video comes amid Iraqi forces' battle for Mosul, which began about six weeks ago. About 100,000 U.S.-backed government and Kurdish forces are closing in on up to 6,000 IS fighters in the terror group's last major stronghold in Iraq.
The latest video could be an attempt to create the impression that IS remains in control despite the increasing loss of its territory in Iraq and Syria.
In another recent video, IS showed Christians being killed, children being beaten up, women being executed, men being crucified and cubs of the "caliphate" executing captives under its brand of Sharia law.
The video was apparently released from "Wilayat Raqqah," the IS base in Syria, and showed Sharia law enforcement with clips of beheadings, floggings and executions, including those of Christians and women.
IS leader Abu Bakr al-Baghdadi now reportedly keeps his suicide vest on even while sleeping lest he be caught alive.
ISIS leader al-Baghdadi "has become intemperate," according to Reuters, which recently read text messages written by an informant inside the city. "He has cut down on his movements and neglects his appearance," a message reads. "He lives underground and has tunnels that stretch to different areas. He doesn't sleep without his suicide bomber vest so he can set it off if he's captured."
Baghdadi, who declared himself the caliph of portions of territories of Iraq and Syria about two years ago, has also become suspicious of people close to him, as defectors or informants are being regularly executed. "Sometimes he used to joke around," says another text message. "But now he no longer does."
In its English propaganda publication, IS last year sought to justify its barbarity, saying it is "Islamic" to capture and forcibly make "infidel" women sexual slaves.
"Before Shaytan [Satan] reveals his doubts to the weak-minded and weak hearted, one should remember that enslaving the families of the kuffar [infidels] and taking their women as concubines is a firmly established aspect of the Shari'ah that if one were to deny or mock, he would be denying or mocking the verses of the Qur'an and the narration of the prophet … and thereby apostatizing from Islam," stated the IS propaganda magazine "Dabiq."
The terror group uses brutal methods to torture and punish those who it considers to be its enemies, including Muslims who do not believe in its version of Islam. Christians and other minorities are among its main targets.