ISIS' Desecration of Churches: Iraqi Priest Cries Out After Seeing Destruction Left Behind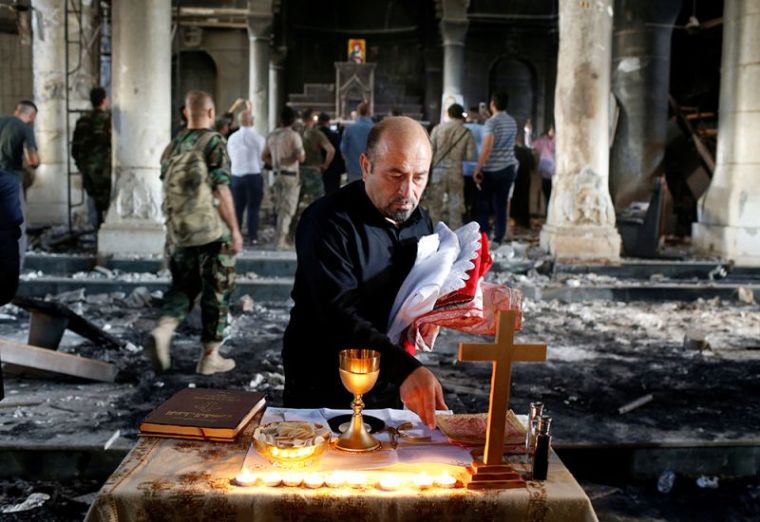 Christians returning home to the liberated town of Qaraqosh in Iraq have said they want to document the desecration of churches the Islamic State terror group has left behind for all the world to see.
"They wrote their names on the wall of our Church of The Immaculate. And one of their leaders lived in the house of the church," Father Ammar of the Syrian Catholic Church said in an interview with DW, speaking of IS leaders occupying the town.
Ammar had been living in refuge in the Christian enclave Ankawa of the Kurdish capital Irbil since IS captured the town back in August 2014, along with many of the 50,000 or so former Christian residents of Qaraqosh, but was only able to go back in October when the Iraqi military drove the terror group out of the town.
"The first thing I saw was the hospital and I could not recognize it, the same for the church. I cried, that first feeling was so hard," the priest said.
"They are angry that the government wants to clean up in Qaraqosh, to hide the crimes," he added. "We want to document everything, all the damage and destruction, before anything is cleaned. Already something has been changed, the IS slogans have been painted over."
The report featured other interviews and accounts of Christians sharing their thoughts and feelings after finally being able to return home, and assess how and if they will be able to rebuild their lives.
Still, there has also been a fair bit of rejoicing, Reuters noted earlier in November, with dozens of Christians worshiping for the first time in two years inside the Church of the Immaculate Conception in Qaraqosh, after IS was driven out.
"Today Qaraqosh is free of Daesh (Islamic State)," Syriac Catholic Archbishop of Mosul Butrus Moshe declared at the time.
"Our role today is to remove all the remnants of Daesh [ISIS]," he added. "This includes erasing sedition, separation and conflicts, which victimized us."
Loay Mikhael, head of the foreign relations committee of the Chaldean Syriac Assyrian Popular Council and deputy chairman of the Soraya Charity Organization in Nineveh, told The Christian Post this week that Qaraqosh has been 65 percent destroyed.
"After liberation, there should be money allocated for this area by coalition or United Nations to give to some organizations to clear at least mines and booby traps," Mikhael told CP.
"Phase two will be building what has been destroyed — houses, streets, schools, infrastructure. Phase three will, if we are able to build something there and enable these communities to go back to their homes, will focus on how can we create job opportunities, how will the people survive again. We need to create some projects to ensure that each family member will be working somewhere to make their livings and be able to sustain themselves."