Iraqi Christians Seek to Rebuild Ancient Heartland; ISIS Uses Thousands of Hostages as Human Shields in Mosul
(Photo: Reuters/Goran Tomasevic)
5 photo slide
(Photo: Reuters/Youssef Boudlal)
(Photo: Reuters/Stringer)
(Photo: Reuters/Thaier Al-Sudani)
(Photo: Reuters/Ahmed Jadallah)
As Iraq's largest Christian-majority town of Qaraqosh has been liberated from the Islamic State, Christians are returning with the hope to rebuild destroyed structures as well as their lives. However, as Iraqi-led coalition forces march on to re-take Mosul, the terror group is using "tens of thousands" of local people as human shields.
"It's the first time I'm returning to Qaraqosh," which is home to a number of ancient churches, chapels and monasteries, Fr. Cherbel, a local priest, tells France 24, but adds, "I don't feel very free — not yet anyway."
The majority Assyrian Christian population in Qaraqosh, a town 20 miles southeast of Mosul, use Aramaic, the language that Jesus spoke, for worship services. There were about 50,000 Christians in the town before the Islamic State, also known as ISIS, ISIL or Daesh, captured it two years ago.
Although IS militants have now retreated, it's a shattered town, with ruins and bullet holes on buildings. Sporadic gunfire is still going on as Iraqi troops search houses for hiding jihadists and detonating explosives left behind by IS fighters.
IS destroyed Christian symbols and literature in churches and monasteries, replacing them with their propaganda books and signs.
Meanwhile, IS fighters are forcibly taking tens of thousands of Iraqi civilians toward Mosul for use as human shields as the battle for its last major Iraqi stronghold intensifies, The Guardian reports, quoting the United Nations.
ISIS has shot dead at least 232 civilians apparently because they refused to leave their homes to go with the militants to be used as human shields.
"ISIL's depraved, cowardly strategy is to try to use the presence of civilian hostages to render certain points, areas or military forces immune from military action, essentially using tens of thousands of men, women and children as human shields," U.N. spokeswoman Ravina Shamdasani said at a news conference Friday.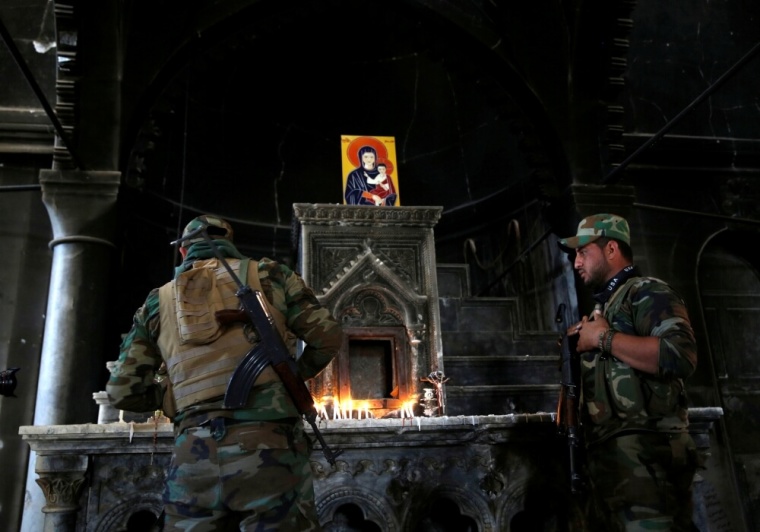 About 30,000 troops from a broad coalition including the Kurdish peshmerga, the Iraqi army and special forces, Shia militias allied with Iran, U.S. warplanes and military advisers and Turkish forces positioned to the north of the city are involved in the battle against 6,000 ISIS fighters in and around Mosul.
The Archbishop of Erbil, Bashar Warda, told The Christian Post earlier this month that the hopes of thousands of displaced Christian families were on the rise knowing that there was finally a concentrated ground effort to reclaim and liberate their homelands from the terror group.
Although countries like the U.S. are giving the Iraqi government millions of dollars earmarked for food and humanitarian assistance, Warda said that his Chaldean archdiocese had not received any money from the Iraqi government. The diocese is only getting money from churches, bishop conferences and religious organizations like Aid to the Church in Need and Knights of Columbus.
"Those are the ones who are helping Christians around the world. Churches are the only ones who are helping us," he said. "We haven't received any funds by the government. They don't care because of the corruption, because they are busy with so many other issues."