Iraqi Christians Worship Amid Charred Church Ruins for First Time Since Liberation
After more than two years of intense suffering and persecution at the hands of the Islamic State terror group in Iraq, Christians are celebrating mass inside a charred church near Mosul, marking further success in the military campaign to drive out the extremists.
Reuters reports that around a dozen Iraqi Christians were gathered at the Church of the Immaculate Conception in Qaraqosh on Sunday for the celebration.
"Today Qaraqosh is free of Daesh (Islamic State)," Syriac Catholic Archbishop of Mosul Butrus Moshe told worshipers.
Qaraqosh is among the towns surrounding Mosul that have been taken back from IS' control in the ongoing offensive, as Iraqi troops backed by U.S. air forces are aiming to retake one of IS' last remaining strongholds in Iraq.
The terror group, which has also captured a number of cities in Syria, has been slaughtering and driving Christians out of their ancestral homelands for the past two years, threatening them with death or enslavement if they stayed.
This forced many of the 125,000 or so Christians in the region to abandon their homes in or around Mosul, but now they are hoping to see IS driven out for good, so that they can return and live in peace.
"Our role today is to remove all the remnants of Daesh [ISIS]," the archbishop continued. "This includes erasing sedition, separation and conflicts, which victimized us."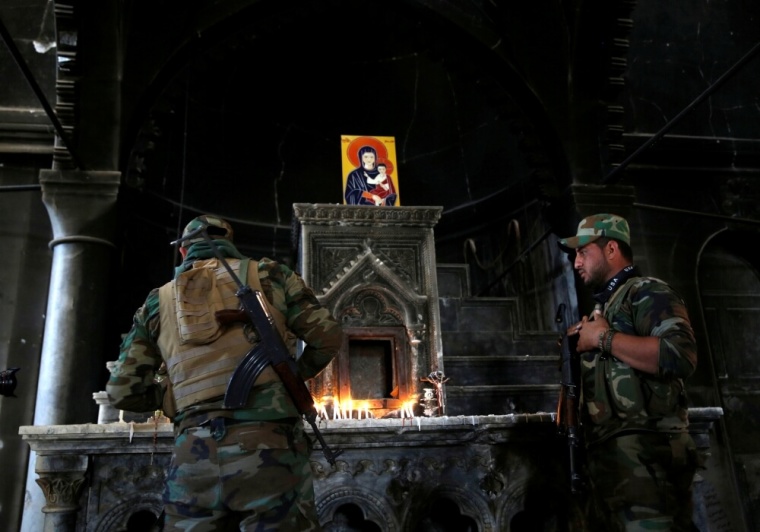 "Political and sectarian strife, separating between one man and another, between ruler and follower, these mentalities must be changed," he said.
Chaldean Archbishop Bashar Warda told The Christian Post earlier in October that the effort to free Mosul is giving hope to thousands of displaced Christian families after the small villages of Bartella and Mar Oraha were two of the first to be liberated.
"These are two Christian villages. Of course, no one was there because they were evacuated two years ago when Daesh [ISIS] forced the Christians to leave these two villages and other villages," Warda said.
"[Displaced] people were delighted yesterday and they gathered at the church in Ankawa," he told CP. "They prayed with candles. The place has been liberated and people are waiting for the rest of the Nineveh Plains to be liberated."
The gradual liberation of the Mosul region, if it continues to make gains, will be an answered prayer for Iraqi Christians as a whole, though faith leaders are quick to point out that there is a lot of work ahead.
"They've been waiting for this day after being forced out in the summer of 2014, and many Christians have been living in very miserable conditions since. A number are eager to go back," Father Emanuel Youkhana of the Assyrian Church of the East said in October.
"Of course the military operation is just the first of several phases paving the way for their return. They will need security and other guarantees before they go back," Youkhana added. "Also much reconstruction and rehabilitation of the region occupied the Islamic State militants will need to take place."