ISIS Executes Pregnant Mother, Kidnaps Her 4 Children for Trying to Escape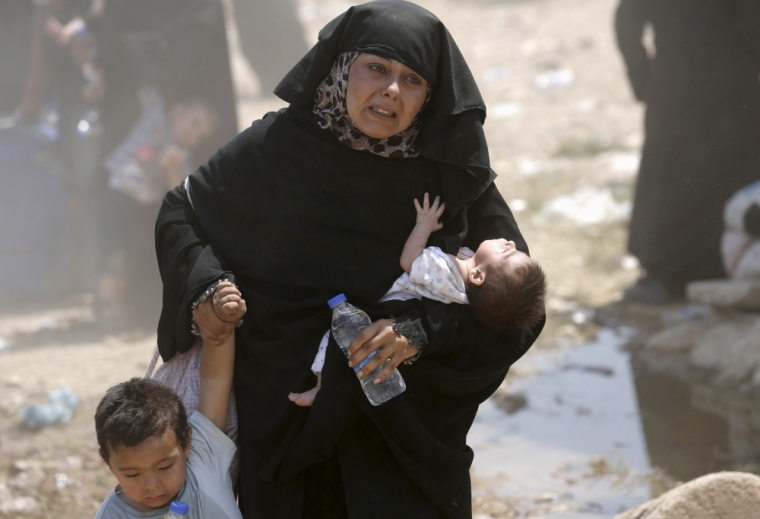 The Islamic State terror group has reportedly executed a pregnant woman and taken away her four children, punishing the family for trying to flee the village of al-Marir in Iraq.
MailOnline reported on Wednesday that witnesses saw the mother taken away and executed by the Islamic extremists after she was caught trying to guide her children out of the village, which is located nearby the city of Mosul, one of IS' main bases.
The mother was trying to reach an Iraqi military base, but was spotted and stopped by the jihadists before she could escape with her children.
It is not known what will happen to her children, but reports said they were taken away to another village under IS' control.
The U.S.-led air strikes operation on Iraq and Syria against terror targets has been focusing on Mosul, with British warplanes bombing one of the palaces of former Iraqi dictator Saddam Hussein in the captured city.
British Defense Secretary Michael Fallon said that IS continues to lose ground in 2016, a claim that the U.S. government has also been repeating.
"Daesh has been losing followers and territory for months, and emphatic strikes like this show that we and the coalition will not waver," Fallon said after the Mosul bombing, using an alternative name for IS.
"Daesh fighters, both foreign and home-grown, can see that they are targets inside this cult," he added.
CIA Director John Brennan said back in June that the effort against IS has not been so successful, however, and even suggested that he would give the U.S. an "F" grade so far.
"Unfortunately, despite all of our progress against ISIL on the battlefield and in the financial realm, our efforts have not reduced the group's terrorism capability and global reach. The resources needed for terrorism are modest. The group would have to suffer even heavier losses on territory, manpower and money for the terrorist capacity to decline significantly," Brennan said at a hearing back then.
The Islamic terror group has been carrying out vast atrocities against women and girls in its captured territories across Iraq and Syria.
The Tehran-based Al Alam International News Channel reported of a particularly grizzly story back in June, when IS fighters beheaded a 4-year-old girl in the Syrian stronghold of Raqqa, and forced her mother to soak her hands in her daughter's blood.
"They rape women, take children to war, loot houses and threaten people in Raqqa with beheadings if they don't agree with their daughters' marriage with the ISIS members," a Syrian woman who escaped IS captivity said.