ISIS Leader al-Baghdadi Reportedly Alive, Declares Jihadis Will 'Not Stop Fighting' in Audio Message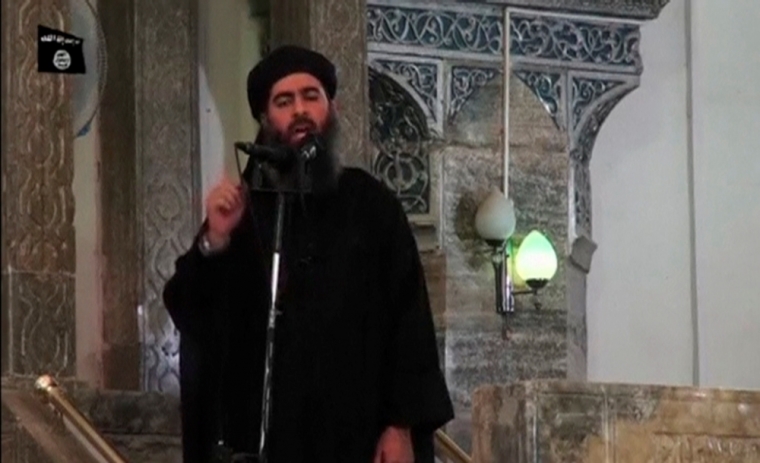 Terror group ISIS leader Abu Bakr al-Baghdadi is reportedly alive and has posted a new audio message where he's said that the jihadis will "not stop fighting" against the U.S.-led coalition powers. Al-Baghdadi was believed to have been wounded in an airstrike on a convoy of militants in Iraq last week.
"Even if only one soldier of them remained, they will never abandon fighting, because they defy humiliation and injustice," the voice in the audio recording says. "They will never abandon fighting, because they did not taste honor and dignity except by fighting. They will never abandon fighting. Indeed, they are triumphant. They will be triumphant even if only one man of them is left. They are triumphant and upon certainty of Allah's support for them."
CNN reported that the 17-minute audio message was spread around ISIS social media websites, but it can't be established with certainty if the man speaking who identified himself as al-Baghdadi is indeed the ISIS leader, or when the message was recorded.
The message claims that the U.S.-led coalition, which has been attacking terror targets across Iraq and Syria, is "terrified, weak and powerless." It goes on to say that the western effort has been a "failure" and that the coalition will be "forced" to "send ground forces to their deaths and destruction."
The comments refer to President Barack Obama's numerous statements that although the U.S. will continue to heavily support Iraqi regional governments, combat troops will not be sent into battle against ISIS. Al-Baghdadi made reference to the recent deployment of 1,500 additional U.S. troops to Iraq, but suggested that he doesn't believe that they will only serve the role of advisers.
Conflicting reports emerged regarding al-Baghdadi's status last week, with Iraq's Defense and Interior Ministries stating that the ISIS leader had been wounded in the airstrikes, while U.S. Pentagon officials insisted that the information could not be confirmed.
Al-Baghdadi, a former Islamic preacher, became a militant following the 2003 U.S. invasion of Iraq to bring down the government of Saddam Hussein. He had also been detained for a short period of time by U.S. forces at Camp Bucca, according to Defense Department officials.
Little else is known about al-Baghdadi, although he's claimed that he comes from a family lineage linked to the tribe of the prophet Muhammad.
BBC Security Correspondent Frank Gardner offered that the release of the audio recording is very likely to be addressed at rumors of his well-being. He added that ISIS is making false claims that the U.S.-led airstrikes have not had an effect on the terror group, but noted that the jihadis are gaining in numbers with an allegiance with other terrorists in Egypt, Algeria and Libya.
"In fact, the airstrikes have done exactly that in military terms, driving IS fighters off key dams, but there is no denying the spread of IS's popularity among violent extremists across the Middle East and even in Europe," Gardner wrote.
Laith Alkhouri, a senior analyst that tracks jihadi websites, said that the audio appears to be authentic.
It was "issued on the top-tier Islamic State web forum and other top jihadi web forums," Alkhouri said. "It was posted by the handle of the Islamic State's official media correspondent. Al-Baghdadi's voice is clearly heard in the audio."