ISIS Lures 20,000 Foreigners, At Least 150 Americans, to Join Islamic State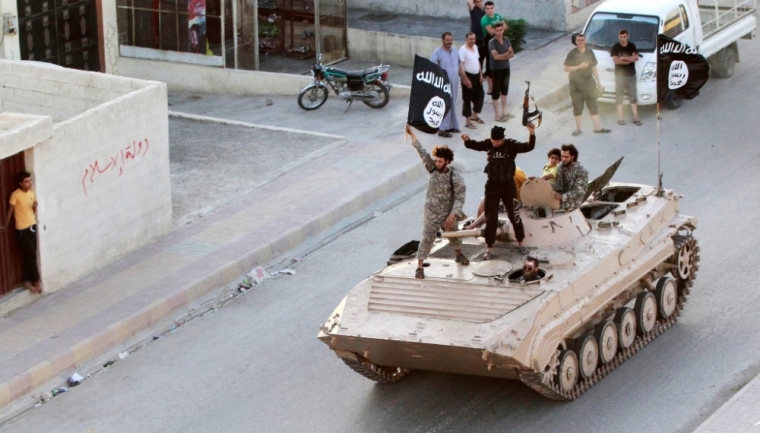 U.S. intelligence officials said that at least 20,000 foreigners from around the world, including 150 American citizens, have attempted or are still trying to join the ranks of terror group ISIS in its mission to establish an Islamic caliphate in Iraq and Syria. Some, like Rep. Michael McCaul, R-Texas, have said that Syria has seen "the largest convergence of Islamist terrorists in world history."
CBS News said that an American intelligence official confirmed the news on Tuesday, which is an update on previous estimates concerning terrorism concerns.
Nick Rasmussen, chief of the National Counterterrorism Center, revealed that the rate ISIS is recruiting foreign fighters is "without precedent," and far exceeds foreign fighters who have joined jihadist campaigns in countries like Afghanistan, Pakistan, Iraq, Yemen or Somalia.
The 150 or so American citizens who have attempted to join ISIS have suffered different fates. Some have been arrested on their way to Iraq and Syria, others have been killed, but there are also those who have successfully made the journey and are currently fighting for the extremists.
McCaul, who chairs the House Homeland Security Committee, said in prepared remarks:
"I am worried about our ability to combat this threat abroad, but also here at home. I wrote to the president recently as part of my ongoing investigation and raised concerns that we have no lead agency in charge of countering domestic radicalization and no line item for it in the budgets of key departments and agencies. I am also concerned that the few programs we do have in place are far too small to confront a challenge that has grown so quickly."
The U.S. and a broad coalition of allies have been launching air strikes against terror targets and aiding local forces fighting back against ISIS since 2014, when the jihadists captured a number of cities across Iraq and Syria.
Back in October 2014, a U.N. report estimated that there are as many as 15,000 foreign fighters who have come to Iraq and Syria to fight for the terror group.
The latest update by the U.S. noted that at least 3,400 of the foreign fighters have come from Western nations, such as Britain and France. Intelligence officials noted that the foreign fighters have come from a total of 90 different countries. They also shared of fears that some of these fighters are looking to return home to Europe or the U.S., where they can attempt to carry out terror operations.
On Tuesday, it was revealed that President Barack Obama is set to ask Congress for new war powers that will allow him continued operations against ISIS. Congress is set to vote on a blueprint for war for the first time in 13 years, since it approved former President George H. Bush's request in 2002 to use force against the Iraqi government of Saddam Hussein.
Sen. Orrin Hatch, R-Utah, has said, however, that a new war authorization should be flexible and allow for operations to be carried out not only against ISIS, but also against all supporting groups.
"Most importantly, the authorization should not impose any artificial and unnecessary limitations such as those based on time, geography and type of force that could interfere with our strategic objective of defeating Islamic State," Hatch said at the Senate on Monday.