ISIS Parades Dead Bodies of Iraqi Soldiers in Front of Children in Mosul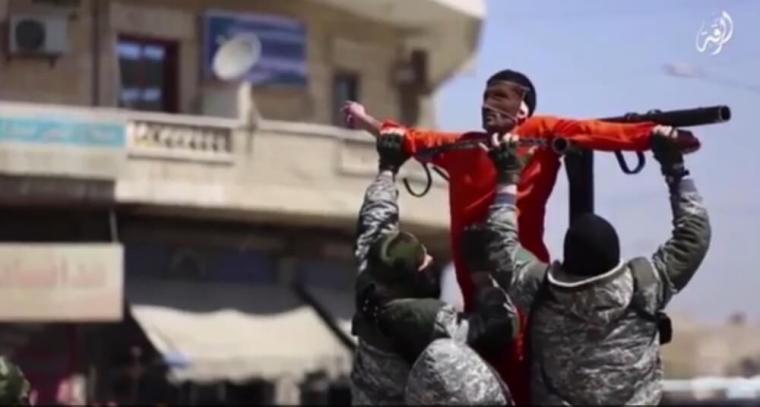 Islamic State militants are parading the dead bodies of Iraqi soldiers in its stronghold of Mosul to invoke fear in residents who might attempt to escape as coalition forces battle the terror group to recapture the city.  
The website Heavy has posted several graphic photos of IS militants dragging the bodies of Iraqi soldiers through the city, accusing them of being "Rafidis."
"'Rafidi' is a derogatory term for Shia Muslims used by Sunnis. It means 'rejectors' because Shia Muslims believe in a different line of successorship for Islam following the death of its founder [the Islamic prophet] Muhammad. ISIS uses it to refer to the Iraqi government and Iran as a whole," Heavy reports.
The photos, which show that militants are purposefully parading the corpses in front of young boys — some of whom are seen eating desserts while looking at the deceased — were reportedly released on Wednesday on the terror group's online channels.
CNN has reported that more than 100,000 soldiers are now surrounding Mosul, with ground forces made up of Iraqi government troops, along with Shia, Kurdish, and Christian minority groups.
The U.S. continues to provide air and ground support in the mission to drive IS out of the region. And the route between Mosul and IS' main base in Raqqa, Syria, has now been taken over by coalition forces that have cut off vital resources and supplies to the terror group.
Reuters reports that U.S. Air Force has managed to further restrict IS' movements between the city's east and west by hitting a bridge over the Tigris River.
Iraq's Joint Operations Command has so far refused to release military casualty numbers in the fight with IS, explaining that it will only provide such information after the operation to free Mosul is over.
Ground troops continue to find evidence of IS' atrocities in the region, and a mass grave containing the bodies of at least 300 former police officers was uncovered near Mosul earlier this month. 
"This is another piece of evidence of the horrific mass murder by ISIS of former law enforcement officers in and around Mosul," said Joe Stork, deputy Middle East director at Humans Right Watch.
The mass executions reportedly took place at the end of October, with the corpses of the officers dumped near a mass grave on the outskirts of the village of Hammam al-Alil.
The HRW report added that IS has been using human shields in its efforts to defend its Mosul territory.
"Widespread or systematic murder carried out by a state or organized group as part of an attack against a civilian population — as part of a policy to commit murder — constitutes a crime against humanity. The killing of prisoners, civilian or military, during an armed conflict constitutes a war crime," the report added.