ISIS Publicly Crucifies, Cages 94 Civilians for Breaking Fast During Ramadan, Monitoring Group Calculates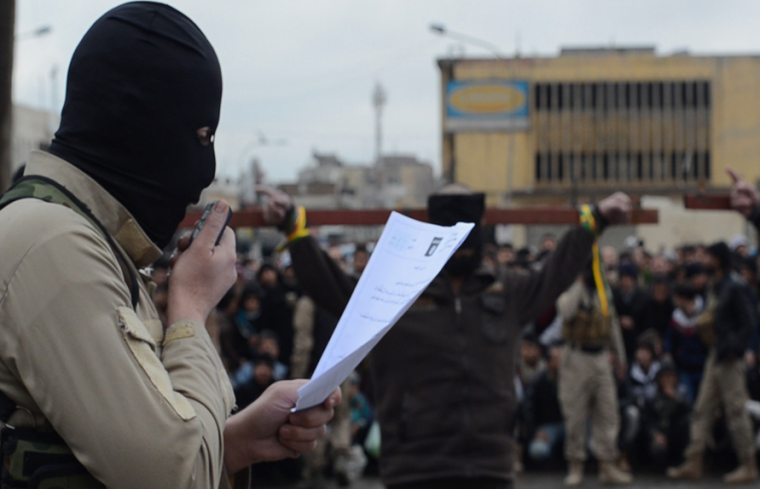 As the Islamic holy month of Ramadan came to an end on Friday, a monitoring group estimates that the Islamic State terrorist organization tortured at least 94 civilians, which included five children, for breaking their fast during daylight hours.
Reuters reports that the British-based Syrian Observatory for Human Rights, a monitoring group close to the ISIS conflict, said Thursday that ISIS punished at least 94 individuals by flogging them, putting them in steel cages, or "crucifying" them in the streets of three Syrian provinces that the group controls.
As The Christian Post previously reported, a video was posted to YouTube in early July that showed how ISIS crucified dozens of civilians by tying them to electric poles with signs hung around their necks stating the alleged offense they had committed. Meanwhile a Syrian activist explained how the group was humiliating fast violators by putting them in cages on the streets for the public to see.
"Those who break Ramadan are being crucified on electricity poles in Deir Ezzor," one witness told ARA News. "The roads are filled with crucified men who violated the group's strict religious regulations during Ramadan. There are dozens of victims who remain hanged on electricity poles across the province."
Syrian activist Saray ad-Din explained that the militant group's purpose for building steel cages and caging fasting violators was for sheer humiliation.
"The group made cages to lock up these 'fasting violators' and show them to the public in order to humiliate them among people," ad-Din told ARA News. "The alleged caliphate under Baghdadi has seen various kinds of punishments during Ramadan."
As the month of Ramadan runs from June 17 to July 17, SOHR stated that ISIS has instituted these types of punishments in the public squares of the Syrian regions of Raqqa, Deir Ezzor and Aleppo since last month. Although these punishments are cruel and unusual, the monitoring group cited sources on the ground who assert that all who were punished for violating the fast survived their torture.
Although young children are not expected to obey the fast, they are expected to fast once they reach puberty and are encouraged to begin fasting when they are as young as 7 years old. SOHR founder Rami Abdelrahman said that the five teens who were punished for eating during daylight hours ranged from ages 13 to 16 years old.
SOHR states that one of the children was caged, while the other four were all hung up by their arms crucifixion-style. Two of the children were crucified in late June and were forced to display signs hung around their necks which stated "not fasting in Ramadan."
Al Arabiya reports that the Shaam News agency posted a picture on Facebook last week of one boy hanging by his arms with a sign that read "Broke fast without justifiable excuse under Shariah."