ISIS Rakes in $800 Million in Black Market Oil Sales Per Year, $2 Million Daily, Report Estimates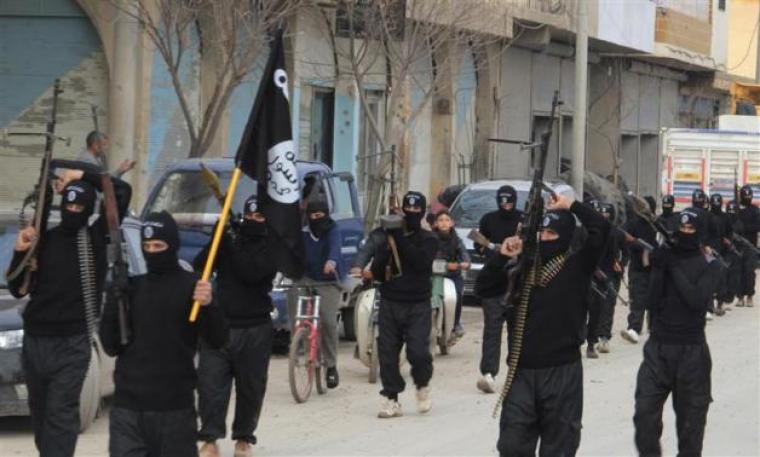 The Islamic State terror group is raking in an estimated $800 million per year, or $2 million per day, in crude oil sales which is produced in oil regions the group captured in the past year in Iraq and Syria, a U.S.-based global analytics group reported on Monday.
A report by IHS, a leading source in global information and analytics, found that ISIS is making twice as much off of their oil production per day than the $1 million per day figure that U.S. lawmakers were previously told when the Deputy Director of the National Counterterrorism Center Nicholas Rasmussen testified before Congress in September.
The IHS report stated that the Islamic State generates the income needed to continue funding its deadly jihadist movement through the production of over 50,000 barrels of crude oil per day, which is sold to black market traders. The report also added that ISIS is only producing "a fraction" of the total oil capacity of the oil regions it controls.
"Oil fuels ISIL's war machine, notably including the military vehicles vital to its movements and fighting capabilities," the report said. "Oil directly finances ISIL's myriad activities and encourages the activities of middlemen who sell, transport and export the oil and thus have a vested interest in ISIL."
Depending on the day, the report estimates that ISIS is producing about roughly 50,000 to 60,000 barrels of oil per day. The report states the territory ISIS controls is capable of producing roughly 350,000 barrels per day. The report indicates that ISIS is not able to reach the daily capacity of their oil regions because of the militants' limited "technical prowess" in working in the oil fields along with the group's concentrated war efforts in attempts to expand their "caliphate."
ISIS has been able to sell their oil at about half of the going international rate of crude oil by selling on the black market without having to account for any international oil price regulations.
The report details ISIS' black market tactics stating that terror group ships the oil on trucks that use smuggling routes to get to the Turkish border. At the border, ISIS sells the oil to black market traders for about $40 a barrel, on average. Prices of ISIS' oil fluctuates from $25-$60 per barrel, while the international benchmark for crude oil is about $85 per barrel.
Bhushan Bahree, a co-author of the IHS report, said that ISIS also sells to middlemen who traffic oil to Jordan and other areas of Iraq that are not controlled by the militants. Once the oil has been trafficked out of ISIS territory it is often mixed with other oil and sold off to unsuspecting buyers.
"It is very hard to intercept," Bahree said. "There has been smuggling of all sorts of things in this place for thousands of years."
The IHS report provides more credence to an ABC News report in early August that highlighted interviews with Middle Eastern energy experts and researchers who said the Islamic State is using oil production to build "significant" portion of the group's financial resources. The experts interviewed by ABC News also estimated that ISIS is selling their oil for about $30 a barrel.
While most terrorist organizations usually have to rely on foreign contributions and ransoms to fund their terror efforts, the Islamic State has its eyes set on building and maitaining its own "state" and a sustainable economy by capturing and utilizing Iraqi and Syrian oil fields, Theodore Karasik, director of research and consultancy at the Institute for Near East and Gulf Military Analysis, told ABC News.
"[ISIS] are trying to establish a state, and these types of revenues are important for the state's formation because it makes up a significant chunk of their revenue," Karasik said. "They can take over eastern Syria without oil revenue, but seizing these types of fields are part of an ongoing plan to develop their own economic system."
Although the IHS report shows that the Islamic State is earning $2 million per day off of oil production, Robin Mills, a Dubai-based energy analyst, told ABC News that the militants could potentially earn up to $3 million per day.
With the ongoing U.S.-coalition airstrikes that have been targeting Islamic State oil refineries and opposition ground efforts from Syrian rebels and Kurdish forces, the IHS report states that the future of ISIS' oil revenues will depend largely on the what territories are gained and lost in the next few months.