ISIS Strapping Suicide Bombs on Puppies in Desperate Fight for Land, Video Shows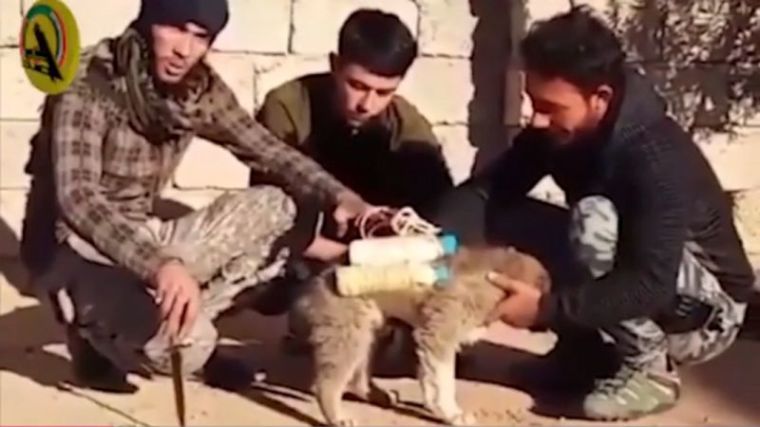 Islamic State terror group fighterS have resorted to strapping puppies with suicide belts in their desperate attempts to keep hold of their captured territory in Iraq, a video shows.
The Express shared a link to the video, published by the PMU, or Al-Hashd Al-Sha'abi militia group which is fighting IS, showing three jihadits wrapping a small brown puppy with explosive devices, before sending it to the front line.
The report noted the authenticity of the video is not yet clear, but the fighters who hold the dog still explain that they are strapping four bottles, likely filled with shrapnel, to its body. The jihadists apparently claim that the bomb could kill three to four people.
"ISIS has just sent an innocent animal with explosives wrapped around it to our position to try and blow our troops up," the PMU group members said, revealing that they later managed to disarm and rescue the dog.
"[The] animal is being sent to the Baghdad Zoo for a nice break from the war zone and well away from ISIS fighters trying to blow animals up for their sick war."
"What was this animal's crime? Even animals, ISIS booby traps them and send them out against us," the milita members added.
 MailOnline suggested that IS fighters are getting desperate in their quest to keep hold of Mosul and other cities and towns in Iraq, after suffering a series of heavy defeats throughout 2016.
IS has been known to use children as soldiers, and has equipped remote control drones with improvised hand grenade holders as a means for the radicals to attack rival fighters.
The terror group has committed various shocking human rights abuses, and earlier in February it was reported that the Islamists burned 15 civilians to death, including children, for trying to escape from the so-called "land of the caliphate."
A security source told Iraqi satellite media outlet Alsumaria that the civilians were discovered on the roadside by IS and taken to the town of Hawija, where they were executed.
"Daesh militants have burned to death 15 civilians belonging to three families from al-Shajarah village in Hawija," the source said.
He detailed that the victims were covered in tar and then lit on fire, and onlookers were warned of a similar fate if they try to escape.
Meanwhile, Iraqi forces have continued their liberation operation in Mosul, with a village outside the stronghold celebrating its freedom by erecting a giant Christian cross on one of its hills.
"This is our land and this is our home," said Chaldean Catholic Patriarch of Baghdad, Louis Sako, who added that the cross will announce "to the world that this is our land, we were born here and we will die here. Our ancestors were buried in this pure land and we are going to remain to preserve them with all our might and for future generations."