ISIS Responsible for Killing Nearly 100 in Suicide Bombing Massacre, Turkish PM Claims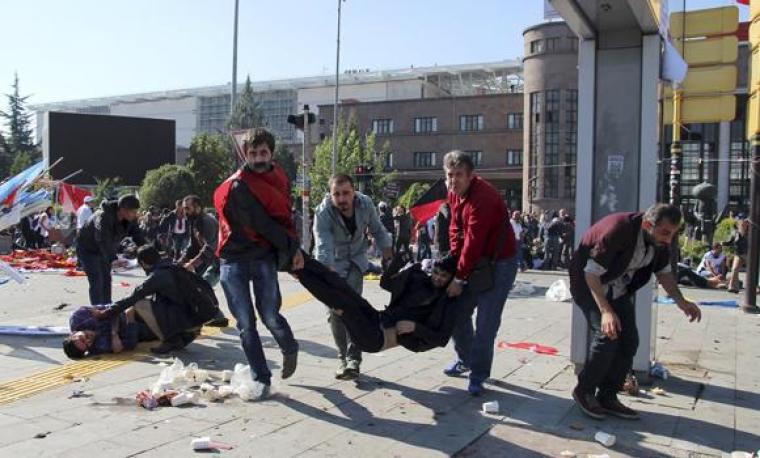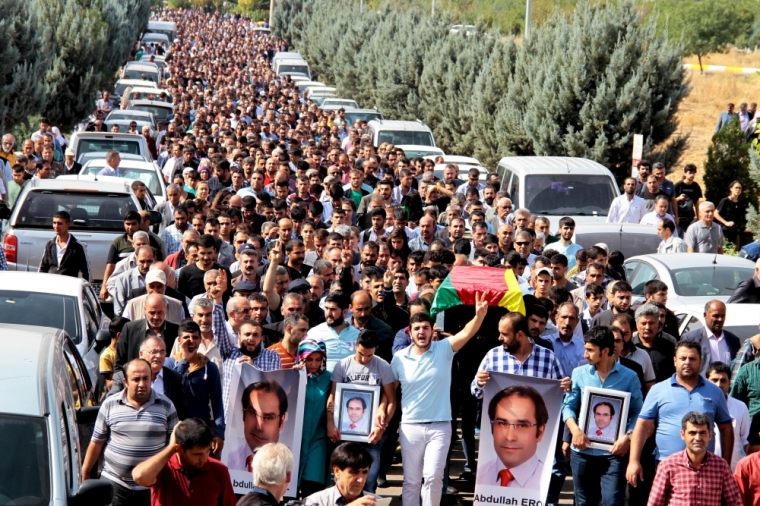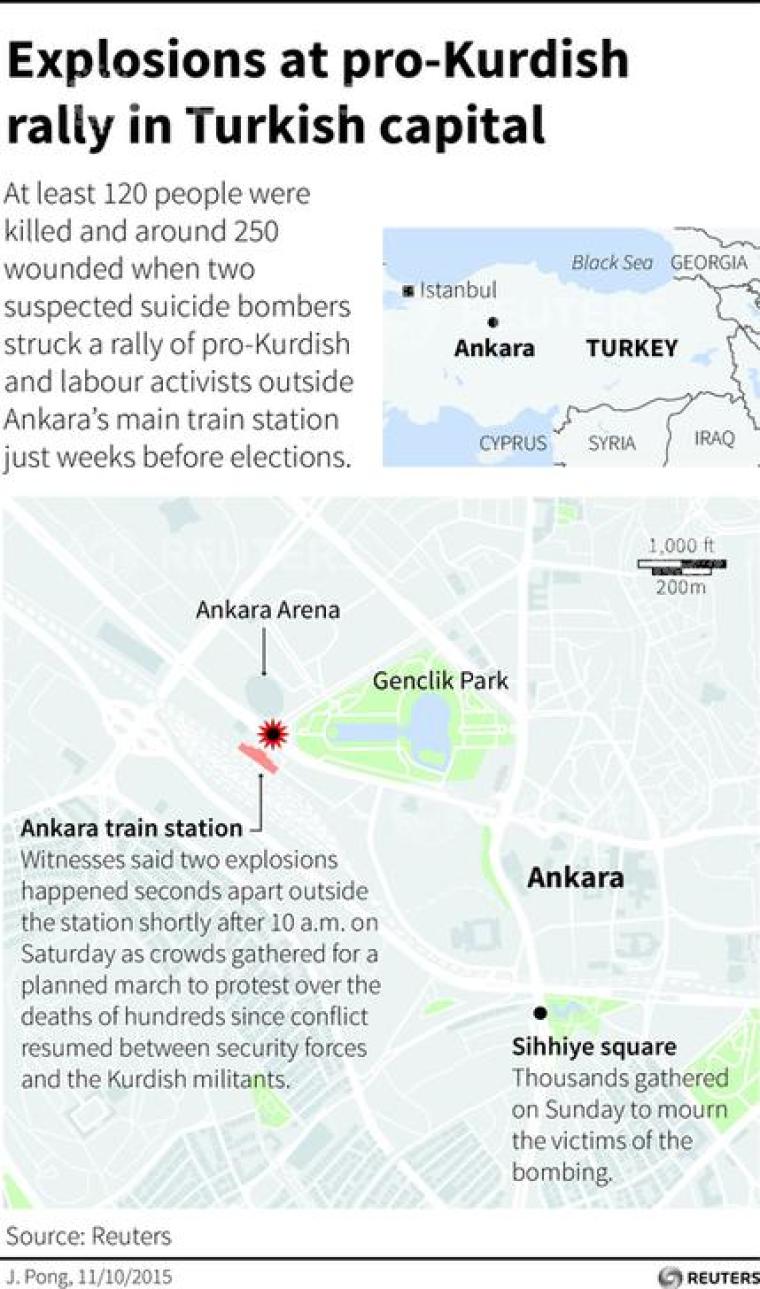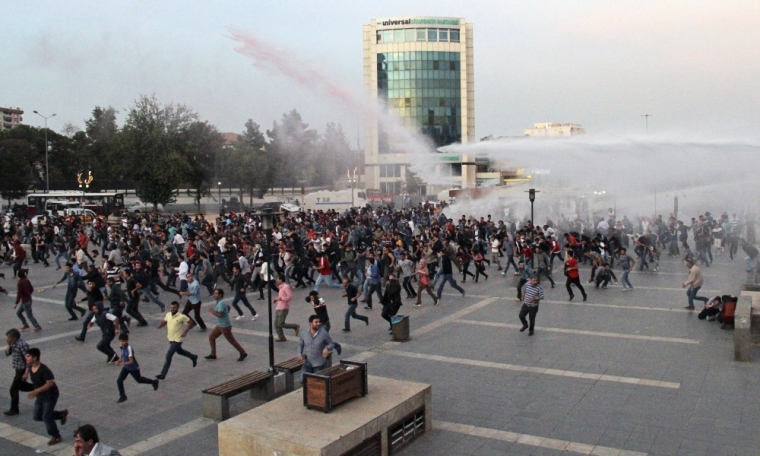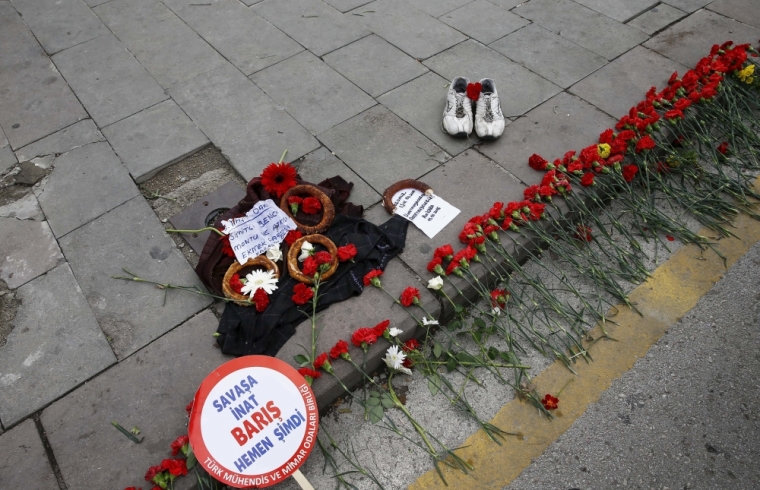 View Photos
Turkish Prime Minister Ahmet Davutoglu has accused the Islamic State terror group of carrying out the suicide bombing in Ankara on Saturday that killed 97 people. Davutoglu vowed, however, that he will not let Turkey be torn apart like Syria.
"These attacks will not turn Turkey into a Syria," Davutoglu said on Monday, according to BBC News.
"We investigate Daesh (IS) as our No. 1 priority. There [has] been good progress toward identifying a name. That name points to an organization."
Police say that two male suicide bombers carried out the attack on Saturday during a peace rally at the Turkish capital, plunging the entire country into mourning.
CNN reported that the explosions shook high-rise office buildings and left bodies scattered across the ground.
The rally was calling for an end to violence between Turkish government forces and the Kurdistan Workers' Party, a conflict that has prompted Turkey to send forces into Iraq to combat what it says is a terror group.
The Kurdistan Workers' Party, or PKK, has fought with the Turkish state for over 30 years in what it says is a battle for independence.
A large number of the victims of Saturday's bombing were pro-Kurdish HDP party activists.
Turkish air strikes over the weekend against the PKK killed close to 50 members of the group, the semi-official Turkish news agency, Anadolu, reported.
While no group has yet taken responsibility for the bombings, local media have pointed to evidence that suggests IS-linked jihadists, involved in the bombing of the border town of Suruc in July, could also have played a part in the Ankara attack.
"This is an attack on the whole of Turkey. This is an attack directed at our democracy and at our people as a whole," Davutoglu added.
The Turkish PM also suggested that the bombing was an attempt to disrupt the country three weeks away from its elections.
"There is also an attempt to cast shadow on the elections. One should not use this for small political calculations. Statements should not be made referring to the elections at this time," he said.
President Tayyip Erdogan vowed that the elections will continue, though opponent groups blame him for stirring a nationalist campaign against the Kurdish militants, and provoking such an attack.
Reuters says that while Turkey is vulnerable to attacks by IS, it is not yet proven whether the terror group really is responsible for the Ankara bombings. It noted that IS often boasts about its significant attacks through social media, yet has made no reference to this, or previous attacks, on Turkey thus far.
One senior Turkish official, who wasn't named, said that the country will be stepping up its security with the approaching election on Nov. 1.
"Because of the rising risks, the security at election rallies, which is already being increased, will be raised further. The election will be held in a secure way," the official said.