ISIS Terror Threat 'We Are Coming' Spray Painted on Ohio College Campus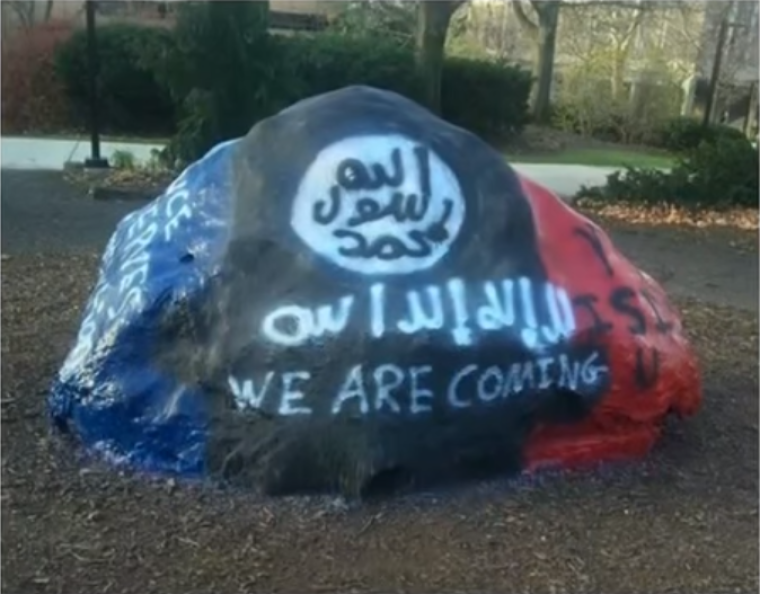 As students at Youngstown State University walked to class Monday morning, they were shocked to find Islamic State terror messages painted on a well-known on-campus boulder, which promised "We Are Coming."
Between Sunday night and Monday morning, a large rock on the Ohio campus that is commonly used to post messages, promote student groups and campus events had been vandalized with jihadi-themed graffiti.
The rock, which is located just outside Youngstown's Kilcawley Center, had been spray painted with IS' black flag logo and provocative pro-terror statements that included "France deserves destruction," "Jihad over God," and "YSU supports ISIS."
The most disturbing message, however, is the threat that simply stated "We Are Coming."
Shannon Tirone, YSU assistant vice president of university relations, told WKBN 27 that the university found out about the pro-IS messages as faculty and students started arriving Monday morning. Officials contacted the university police and local FBI to see whether the threat was credible or not.
"We contacted our grounds department and made sure that they cover that over with white paint immediately, just to stop all the tension and the concern across campus," Tirone explained. "There was a lag before we actually announced anything because there was nothing actually to tell at that point. We could not, in any good judgement, tell our students, faculty and staff until we knew from the local authorities."
After a couple hours, the university alerted students through the institution's email and text alert systems about the messages found on the rock. They also sent emails to international students.
"I was disgusted," YSU student Jenna Portale told a local CBS affiliate. "This is our school, this is our home for most of us."
YSU students responded by gathering later that afternoon to paint the rock with the U.S. flag and sayings like "God bless America" and "world peace."
"It was just something that we wanted to say that our university is strong, America's strong and we just wanted to do the right thing," student Carmen Martinucci added.
University President Jim Tressel praised the students paint job by saying, "It takes a true leader to paint on this rock in broad daylight."
The university police are investigating in hopes of finding the individual or individuals responsible for the jihadi propaganda on the rock. Tirone promises that the school will prosecute if they are able to find a culprit.
"To do it in the middle of the night and to threaten will not be respected and we will prosecute if we can," Tirone promised.
Todd Werth, the head of FBI's Youngstown office, told Vindy.com that "at this point, there is no specific, credible threat to Youngstown State or the Youngstown area."
"This is the world we live in now but we can't take any of these [threats] not seriously," Tirone stated. "We need to treat everyone of them just as if it was the first."