ISIS Threat Spurs Increased Security at US Military Bases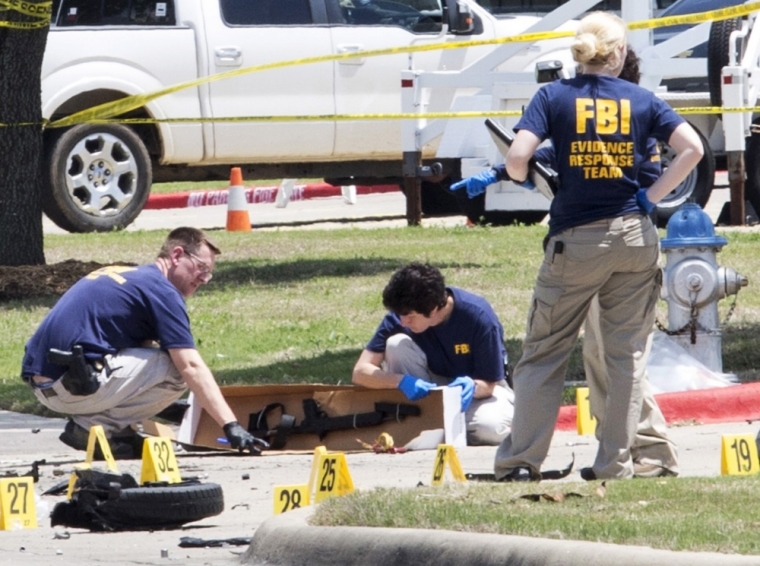 U.S. military bases heightened security measures across the country Friday due to "increased and predictable threat of terrorism" amid reports that Islamic State is trying to recruit "hundreds, maybe thousands" in the United States and some of its trained terrorists are ready to carry out attacks similar to the recent shooting at a cartoon contest in Texas.
The Department of Defense raised the level of security conditions at military bases to "Force Protection Bravo," which means an "increased and predictable threat of terrorism," a U.S. official told CNN on Friday.
The announcement comes days after the shooting at a cartoon contest featuring images of the Muslim prophet Muhammad in Garland, Texas, but military officials said it's not due to a specific threat but an overall increase of such incidents.
"It's a dangerous world," Army Col. Steve Warren, a Pentagon spokesman, told USA Today, explaining that the increased security measures include inspection of every vehicle entering a military base.
Warren added that it's unclear as of now how long the Bravo-level security will remain in place. The measures "must be capable of being maintained for weeks without causing undue hardship, affecting operational capability, and aggravating relations with local authorities," according to the military.
The military got concerned after one of the suspected terrorists linked to the Garland attack tweeted the name and address of a U.S. military officer connected to the military's Syrian rebel training program, according to CNN.
In addition, FBI Director James Comey told reporters Thursday that the Islamic State terror group, also known as ISIS or ISIL, is attempting to recruit "hundreds, maybe thousands" of potential terrorists across the country.
Earlier this week, ISIS posted a warning on a file-sharing site, attributing it to Abu Ibrahim Al Ameriki, the moniker of an American believed to have joined a terror group in Pakistan several years ago. It said ISIS has 71 trained soldiers in the United States, at least 23 of who are ready to carry out attacks in 15 states.
"Out of the 71 trained soldiers 23 have signed up for missions like Sunday, we are increasing in number," reads the warning, referring to the attack in Texas. "Of the 15 states, five we will name: Virginia, Maryland, Illinois, California, and Michigan."
U.S. officials believe it comes from a low-level militant rather than ISIS leadership.
The Garland incident involved two terror suspects who opened fire outside the Curtis Culwell Center and were later shot dead by a police officer.
The event was hosted by political blogger Pamela Geller, president of the American Freedom Defense Initiative, in response to the controversial Islamic "Stand with the prophet" conference held at the same location in Texas on Jan. 18 featuring New York-based Imam Siraj Wahhaj, who was an alleged "co-conspirator" in the 1993 World Trade Center bombings.
ISIS is an offshoot of al-Qaeda and wants to establish a caliphate in the Levant region and beyond. It has gained control over large swathes of territories in Syria and Iraq.
Since last June, when ISIS declared its "caliphate," the terror group has killed more than 2,000 people, about two-thirds of them civilians.