New ISIS Video Shows Child Soldiers Taking Hunger Games-Style Training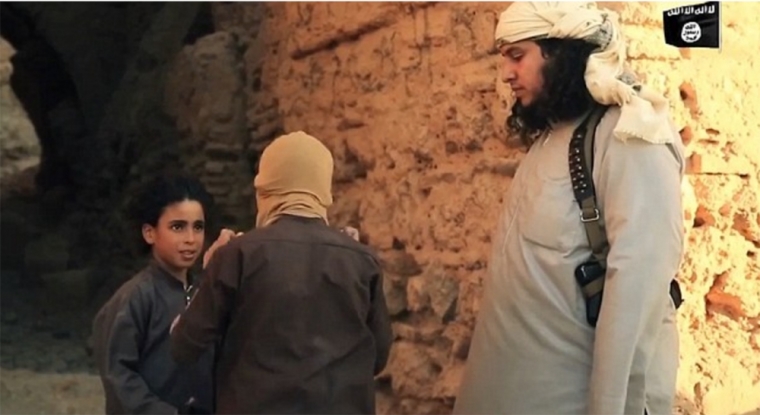 In a new propaganda video, titled "To the Sons of Jews," the Islamic State terror group shows child soldiers executing shackled prisoners in a "game" of hide-and-seek.
The video released by ISIS, also known as IS or ISIL, starts with an unidentified person browsing the Web on a computer, looking for images of Israeli Prime Minister Benjamin Netanyahu, according to alarm.ir.
The person then posts a message and video to Facebook.
A group of young ISIS terrorists are then shown studying and practicing martial arts with an instructor. The next seen shows the selection of six of the young recruits, all masked and apparently below the age of nine, by the instructor to play the "game."
They stalk six tied-up victims in an ancient fortress; they shoot five of them in the head from close range and behead the sixth one. The prisoners were all accused of spying in the ISIS territory.
The young recruits appear to come from North Africa and Tajikistan, and the video was reportedly shot in the Wilayat al-Khayr region of Syria.
The child soldiers then report back to their instructor, and give the balaclava and the handguns to other recruits.
ISIS recently released another video in English, threatening the United States and its allies that are fighting the Sunni terror group in Iraq and Syria to "bring it on" and mocking the U.S. army with the claim that 6,500 American soldiers kill themselves each year.
The roughly four-minute video says the Caliph's territory is larger than Britain, eight times the size of Belgium and 30 times the size of Qatar.
"America, you claim to have the greatest army the history has known," the voiceover says. "You may have the numbers and weapons," but U.S. soldiers are still scarred from their "defeat" in Afghanistan and Iraq, and they have become suicidal, it claims, saying over 6,500 U.S. soldiers commit suicide annually.
The video also says that the U.S. army is fighting on behalf of "legislators, liars, fornicators, corporations and for the freedoms of sodomites," and that it is "too weak" to fight on the ground in territories of Islamic State in Syria and Iraq.
"Gather your allies. Plot against us and show us no respite. Our ally is the greatest. He is Allah and all glory goes to him."
It cites a prophecy, saying ISIS will fight "80 banners," or partners in the international coalition fighting the terror group. As of now, 60 nations are part of the coalition, which the video refers to as a "coalition of devils."
"Our prophet said (the coalition) would reach 80 in number and then the flames of war will finally burn you on the hills of death," the video adds. It then warns, "Your numbers only increase our faith."