Islamic Militants al-Shabaab Kill 36 Mainly Christian Quarry Workers After Separating Them From Muslims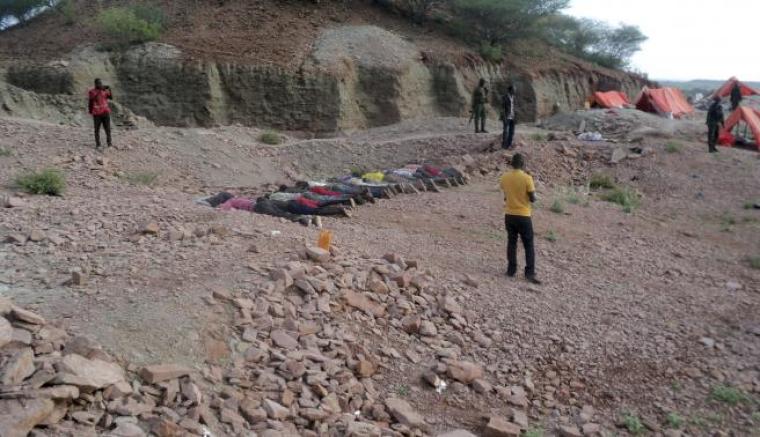 Islamic militant group al-Shabaab has killed 36 non-Muslim quarry workers, mainly Christians, after separating them from Muslims at a camp in Kenya. The attack, 10 miles from the town of Mandera, was reportedly carried out in retaliation for the Kenyan army's presence and anti-terror operations in Somalia.
"The militia separated the Muslims, then ordered the non-Muslims to lie down where they shot them on the head at close range," said Hassan Duba, an elder at a nearby village, according to Reuters.
President Uhuru Kenyatta announced that he will change his top security officials following a series of such attacks in recent weeks. The al-Shabaab militants were also accused of hijacking a bus and killing 28 passengers a week ago near the same area at the border with Somalia.
Another 67 people were killed by the jihadists in an attack on Nairobi's Westgate shopping mall last year.
Kenyatta, who accepted Police Chief David Kimaiyo's resignation on Tuesday, said that internal political conflicts in Kenya cannot help in the fight against terror.
"Our bickering only emboldens the enemy," the president said.
An al-Shabaab spokesman said that the attack was against "Kenyan crusaders" that are battling Islamists in Somalia.
"We are uncompromising in our beliefs, relentless in our pursuit, ruthless against the disbelievers and we will do whatever necessary to defend our Muslim brethren suffering from Kenya's aggression," spokesman Ali Mohamud Rage said.
Muslim leaders in Kenya have condemned the attack, calling it a "beastly tactic."
"This unfortunate and ugly incident should not be used to divide peace loving Kenyans who have lived harmoniously for centuries -- along religious or ethnic lines, but rather it should be taken to reflect on improving the security situation of the country," Nairobi's Jamia Mosque said in a statement, according to CNN.
Kenya's population is predominantly Christian at 82.5 percent, while Muslims make up close to 11 percent of the population.
Al-Shabaab, which also has ties with al-Qaeda, has said that it will drive out Christians "from Muslim lands" and will continue carrying out attacks in Kenya.
In September, the U.S. carried out airstrikes against the jihadist group in Somalia that are believed to have killed a senior al-Shabaab figure.
"U.S. drones managed to hit the representative of al-Qaeda in Somalia, who is also the leader of al-Shabaab, Ahmed Godane," Lower Shabelle region Gov. Abdikadir Mohamed Nur Sidii revealed at the time.
"We can tell that a senior figure from the group was killed due to the way they reacted after the attack, as they have started committing atrocities in the area, they have beheaded some of the people who had mobile phones and arrested many others [accused of spying]."
Kenya's military operations in Somalia have caused internal debate, however, with some government opponents saying that Kenyan troops have not managed to safeguard the country and need to be pulled out.
"They were supposed to create a buffer between our countries and the chaos on the other side. But it has not done that. So we are saying leave," said Dennis Onyango, a spokesman for opposition politician and former prime minister Raila Odinga.