Islamic Mobs in Egypt Are Burning Down Christians' Homes, Forcing Families to Flee for 'Insulting' Facebook Posts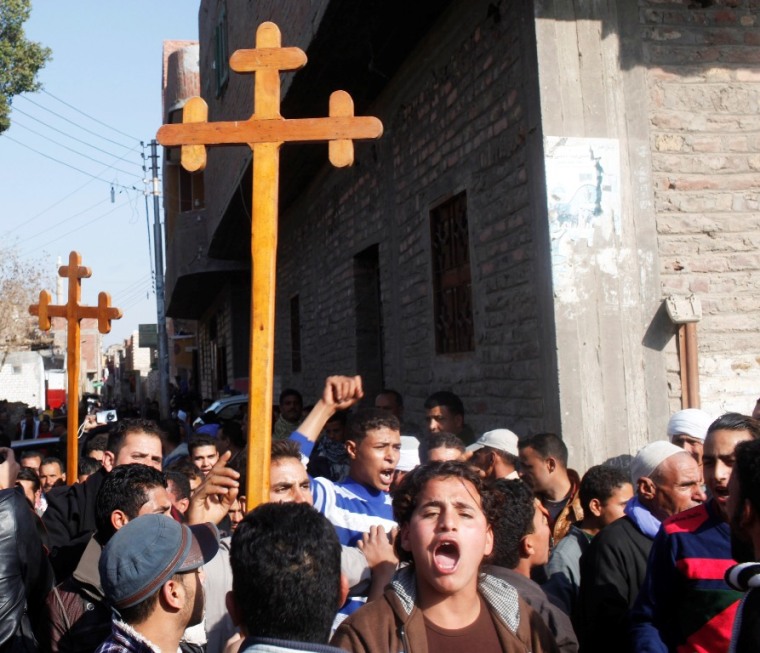 Several reports over the past week have said that Coptic Christian families in the Beni Suef governorate in Egypt have seen their homes burned down and have been forced to flee angry Muslim mobs who accuse them of insulting Islam in Facebook posts.
Nigeria's Pulse news website reported that Coptic homes in the region have been stoned and attacked with Molotov cocktails, setting several houses on fire, despite attempts by some Muslim youths to defend the Christians.
Daily News Egypt added that the accusations concern posts on Facebook of cartoons deemed insulting to the Muslim prophet Muhammad.
Ayman Youssef Tawfiq, from the village of Kafr Darwish in Al-Fashn, has been accused of posting such cartoons, though the man has denied the charge. Tawfiq and four of his relatives' families were forcefully displaced from their homes as a result of the incident, however, which led to another 10 Coptic homes being burned down.
"Ayman is an illiterate person who usually lives in Jordan who was accused of sharing the picture by locals at his village in Beni Suef when he returned. At first, a case was filed against him and the people in the village wanted to charge him with a fine. They later changed their minds and decided they wanted him to leave," explained Ishak Ibrahim, a researcher at the Egyptian Initiative for Personal Rights.
"Ayman has three brothers, each with a family, and elderly parents in their 70s and 80s living in the village. All of them were made to leave the village."
Ibrahim noted that the charges for insulting religion are vague in Egypt, and there is no clear definition of which acts are considered insulting or not. He pointed out that most cases concerning such offenses are targeted at Christians or atheists.
The Egyptian Initiative for Personal Rights, a human rights group, has added that cases of insulting Islam have risen significantly in the wake of the Arab Spring uprising in January 2011. EIPR representative Ishaq Ibrahim said that since the penal code is not well-defined on such charges, defendants do not often get a fair trial.
Coptics in Egypt have faced heavy persecution in the past couple of years, especially when they were targeted by Islamic radicals who blamed them for the fall of former President Mohamed Morsi in 2013.
Morsi himself has been found guilty of oppression and incitement of deadly crimes committed against Christians and others during his rule, for which he was initially handed down the death sentence, though the decision is currently being reconsidered.
Coptic church leaders, like Bishop of Assiut Anba Kyrillos, have protested against Morsi's death sentence despite his crimes against Christians, and said the church does not compromise on defending life in any circumstance.