Islamic Radicals Who Massacred Christians on Easter Sunday Kill 14 in Lahore Bombing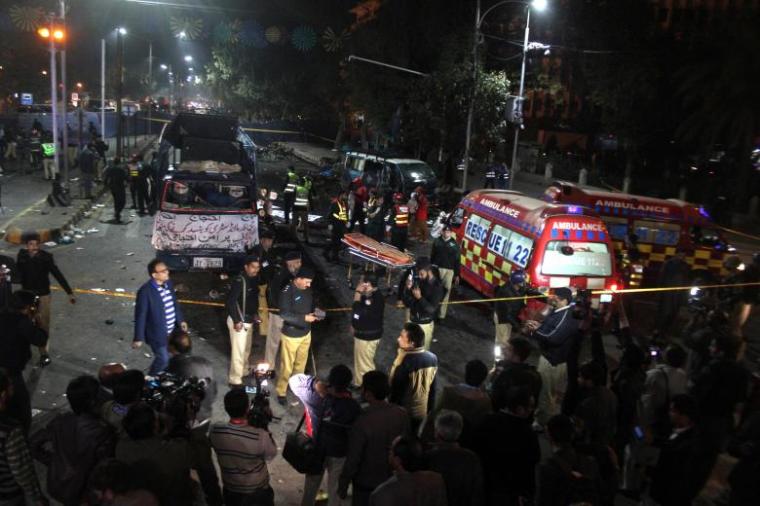 A radical Islamist group that killed 73 Christians and Muslisms in Lahore last Easter has carried out a bombing in the Pakistani capital Monday night, killing at least 14 people at a rally.
Fourteen people were killed and another 59 injured, according to CNN, with Jamat-ul-Ahrar, a splinter group of Pakistan's Tehreek-i Taliban, claiming responsibility. The blast occurred at Charing Cross in Lahore when a suicide bomber rammed his motorcycle into protestors.
Mushtaq Sukhera, inspector general of police in Punjab Province, said that five police officers were among the dead, and said that the protest organized by Pakistan's chemists and pharmaceuticals manufacturers was nearing its end.
"It was a suicide attack. The bomber exploded himself when successful negotiations were underway between police officials and the protesters," Sukhera told reporters, according to Reuters.
Caritas Pakistan operations manager Rojar Randhawa told Asia News that Catholic schools in the area are closing down over security concerns.
"More than eight schools have been closed in the city after yesterday's brutal attack. Two of these were located on mall road, near the targeted site. The gates of Sacred Heart Cathedral and Caritas Pakistan Lahore CPL (located near Punjab assembly) have been closed and security guards have been asked to inquire all visitors," Randhawa said.
"We were having a meeting when we heard a loud noise outside, it even shook our computers. We started getting phone calls from our families. My 5-year-old son did not stop crying until I returned home," he added.
Prime Minister Muhammad Nawaz Sharif has vowed that the government will do all it can to bring those responsible to justice.
"Such cowardly acts cannot deter the resolve of the nation to stand against terrorism and our government is committed to root out this menace," Sharif said.
Asad Mansoor, a spokesperson of Jamat-ul-Ahrar, explained that the attack is part of its larger mission to destabilize the country.
"This blast is among the initial chain links of our operation Ghazi (Muslim warrior). We warn the apostate departments of Pakistan that they are on our target in this operation around the country," Mansoor said.
Jamaat-ul-Ahrar's bombing at a fun fair on Eater Sunday last year killed mostly women and children, in what was one of the most devastating terror attacks in recent years in the country.
The group vowed back then that it will continue to carry out terror attacks in the region, with spokesman Ehsanullah Ehsan stating that the radicals are planning "more devastating attacks that will target Christians and other religious minorities as well as government installations."
Archbishop Sebastian Francis Shaw shared the Church in Pakistan's "heartfelt and deepest sorrow" at the latest attack, and said that he sympathizes "with all the families that lost their relations in this callous and devilish act of terrorism."