Pakistani Christian Grandpa Arrested, Beaten After Trumped-Up Blasphemy Allegations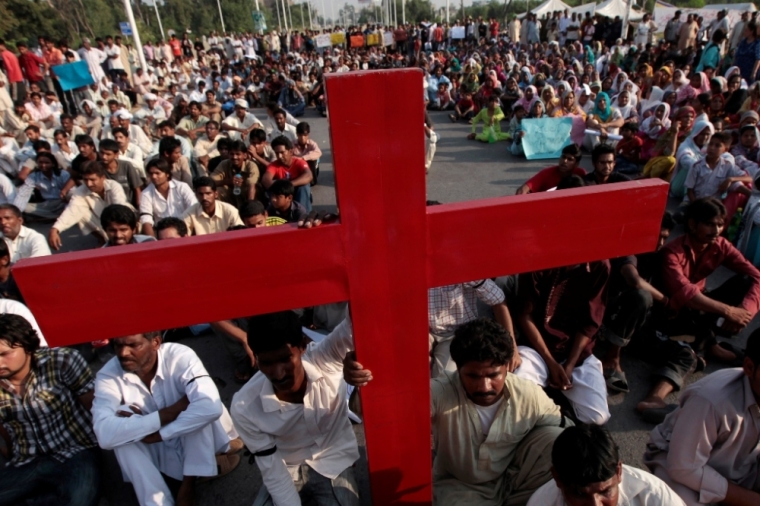 A 70-year-old Christian grandpa in Pakistan was arrested and beaten by police in an attempt to extract a confession after he was accused of writing letters that were deemed insulting to Islam. Now he could face years in prison or possibly death.
The London-based charity British Pakistani Christian Association has reported that Mukhtar Masih and his family were taken into custody in the village of Lambanwali in the Punjab province on Jan. 28 after police stormed his home around 10 p.m. and informed him that a blasphemy case had been lodged against him.
According to the accusation of local Muslim residents filed at the Rahwali police station, Masih allegedly wrote blasphemous messages with derogatory comments toward the Muslim prophet Muhammad and the Quran.
The BPCA reports that Masih was accused of pinning the notes on Gulzar Mosque. Qadri Shahbaz, the imam of the mosque, claims to have found the note on Jan. 26 and two other local Christians were initially accused of writing the notes. But having been pressured, the two Christian reportedly incriminated Mukhtar and claimed he was the man who penned the note.
Along with Shahbaz, the case was filed by other local Muslim men.
The charges filed against Masih fall under Section 295-A and Section 298 and is punishable by up to 10 years in prison and fines. However, BPCA warns that it is possible that the severity of the charge against Masih could possibly be increased during trial to Section 295-C, which is a blasphemy law against insulting the name of Muhammad and is punishable by death.
As Masih was the only member of his family to be accused, the BPCA participated in long negotiations with police officials to release the other family members. Although Masih's daughter and three grandchildren were released, the police continued to detain Masih's 40-year-old son, Anjum, until Jan. 30 for questioning.
All of Masih's family members have been placed in the BPCA safehouse inside Pakistan to protect them from societal backlash. BPCA will also cover the legal costs for the family.
"These charges are completely false, my father is innocent. We tried explaining this to the police but they still arrested us and they beat my elderly father and I with their lathi trying to force a confession," Anjum told BPCA. "I am sure that if you look at the letters the writing will not match my father's. He would never dare enact such an offensive crime knowing it would endanger his family."
As Pakistan's corrupt blasphemy laws are frequently taken advantage of by Muslims looking to settle personal scores with religious minorities business and property owners, Anjum told BPCA that men have been "chasing us for our property." However, the family was receiving low-ball offers.
"They threatened to kill us if we did not leave and now this has happened," Anjum said. "There is never any peace for Christians in Pakistan. Muslims hate us."
Masih is far from the first Christian to fall victim to Pakistan's blasphemy laws.
Last month, it was reported that a Christian evangelist in Lahore, his wife and daughter were arrested after he was accused of tearing pages out of a Quran.
Last year, a 16-year-old Christian boy named Nabeel Masih was arrested and charged with blasphemy over a post on his Facebook page.
Arguably, Pakistan's most notorious blasphemy victim is Christian mother of five Asia Bibi, who has been sitting on death row for years after local Muslim women accused her of insulting the prophet in 2009. Although she was supposed to have her appeal heard by Pakistan's Supreme Court last year, her hearing has been delayed.
BPCA reports that a new date for her hearing could be set by March.
Pakistan currently ranks as the fourth worst country in the world when it comes to the persecution of Christians, according to Open Doors USA's 2017 World Watch List.
"Now this elderly man Mukhtar Masih will probably die in prison or by hanging for a crime he did not commit," BPCA Chairman Wilson Chowdhry said in a statement. "This dilemma is compounded by the knowledge that Britain and America plough the taxes of their citizens into a nation of extremists, much of which supports security forces including the police whose blind prejudice ferments persecution."
For more information on BCPA, visit https://britishpakistanichristians.worldsecuresystems.com/.