Israel Houghton, Wife Adrienne Release 'Secrets' Music Video Directed by Meagan Good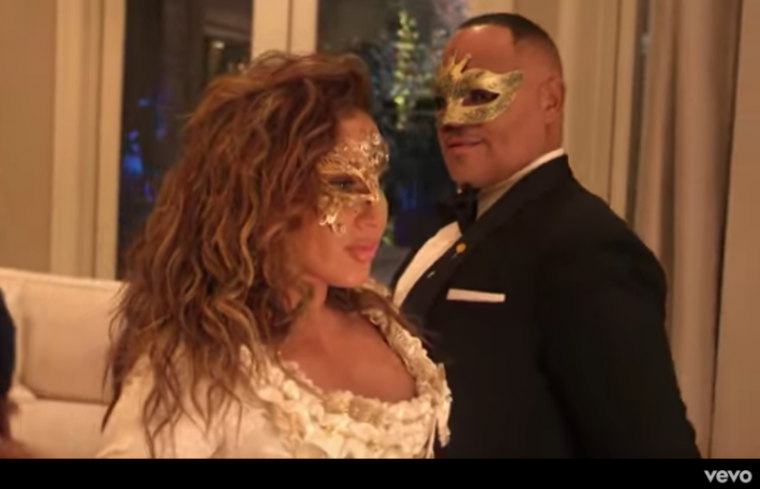 The relationship of Israel Houghton and his wife, Adrienne, was riddled with scandal when the couple first came together in 2016, and their new music video "Secrets" gives people an insight to what they had to overcome.
Directed by actress Megan Good, "Secrets" takes viewers on a journey through the odds the Houghtons had to defy to get to their new-found freedom in truth and love together as husband and wife. Filmed at the couple's Beverly Hills mansion, the couple are seen attending a masquerade ball. The masks on the guests signify the fake personas everyone puts on to cover up their secrets.
Adrienne is the only person wearing white at the elaborate party and as she passes through the crowd everyone gives her mean looks as they gossip. When Israel sees her, he's noticeably intrigued. After playing a game of cat and mouse, the pair eventually come together and remove their masks.
They leave the ball together and end up walking out of a cave and onto a beach. The premise of the song is that God loves them despite their secrets and helps bring true freedom to those who think they have to wear a mask.
The couple debuted their song Friday on the hit daytime talk show "The Real" where Adrienne is a co-host. While there, Israel spoke openly about what the song means to him after dealing with the backlash over his divorce and second marriage.
"I understand what it means to have peace that surpasses understanding," he explained. "When you are willing to take your mask off and lose everything, I was willing to lose everything because I had platforms, I had accolades, all the things people are after, but I had no peace."
"The mask, for most of us, feels like it's protective but really it's suffocating," the Grammy Award-winning singer added. "So instead of a platform, I found peace for the first time in my life, you can't beat that."
Israel has said many times that he has no regrets about the events that unfolded that led him to marry Adrienne.
"I literally could say I have no regrets," he said on BET's "Lift Every Voice."
"I have a lot of things that I wish I had done differently given the opportunity to redo it. But that would have changed everything, and I am very content with where I am today."
Israel said what he found most appealing about Adrienne was that she encouraged and demanded honesty from the beginning of their friendship.
The former Lakewood Church worship leader and his new bride tied the knot in November 2016 in an intimate ceremony in Paris, France. With only 50 people in attendance, the happy couple gathered in the midst of their closest friends and family to celebrate their union.
Earlier in 2016, the "Friend of God" singer publicly announced that his marriage of some 20 years was legally over. And despite the naysayers, the singer gave marriage another shot. News of the couple's romance first surfaced when she was photographed wearing a bikini on a beach in Mexico with the worship leader.
"I met Adrienne Bailon a bit over two years ago, we worked together and became friends. Our circles connected and we remained good friends. From a friendship, as two single adults we have very recently begun to explore a dating relationship," he previously confessed in a Facebook post.
Israel addressed his divorce in an open letter he posted on Facebook not long before he started dating Adrienne. "It is with a collective heavy heart that we announce that after over 20 years of marriage and a long separation, Meleasa and I are officially divorced," he wrote.
"Several years ago I failed and sinned in my marriage," he confessed. "Though this is new to many, it is not new to us as we have been working through this for over five years. Although we tried, the challenges in our relationship have proven too much to overcome."
Adrienne was accused of causing the couple's divorce after photos from their vacation in Mexico surfaced. But the actress insisted that she didn't even know him at the time of his personal failure, and said that the public blaming her for his marriage ending was "hurtful."
The couple first met when they worked together on the 2013 flick "I'm in Love with a Church Girl" that was produced by Israel. 
Their single, "Secrets," is off of Israel Houghton's new album, The Road to DeMaskus which is now available.