J. Moss Exclusive: Grown Folks Gospel Singer-Songwriter Explains Free Concert Tour, Hearing God Amid Devastation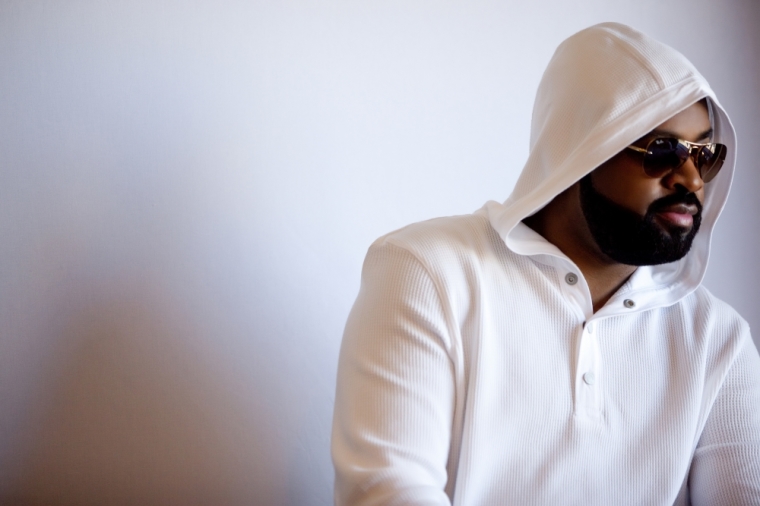 J. Moss is anything but your typical gospel singer, so it should come as no surprise that he's spearheading a somewhat unconventional tour.
The gospel music singer-songwriter, composer, producer and arranger who was born James Moss released his fourth consecutive No. 1 album, Grown Folks Gospel, late last year. The album was the first to be released on his PMG Gospel independent record label that was formed with his PAJAM production company partners Paul Allen and Walter Kearney.
PAJAM has been creating hits for countless artists including Patti LaBelle, Kirk Franklin, Dru Hill, N'Sync and Karen Clark Sheard for close to 20 years. While most established artists of Moss' caliber prepare to embark on nationwide tours with elaborate tour buses and big ticket sales that fans would pay top dollar for, he decided to do things a bit differently.
Much like other music tours, J. Moss plans to promote his GFG record along with his PMG Gospel music duo 21:03 who are promoting their upcoming Outsiders album. However, he has decided to travel the country in an RV instead of a tour bus, and perform for fans in free mini concerts instead of collect money from big ticket sales.
J. Moss spoke to The Christian Post about how much fun he is having on the "RV: Road Trip Promo Tour," which he's conducting in an effort to give back to his fans.
"We're having a lot of fun on this RV tour, we've deemed March as the give back month. A month that we could somehow find a way to say thank you to all of our supporters that have been there for us throughout the years," Moss told CP. "Whether it's our music that we've written and produced for other artists, whether it's our artists or whether it's ourselves. People who have held us down, we find a way to show them our appreciation."
J. Moss and 21:03 are priding themselves on doing more than just selling records to their fans on what they have deemed a March Madness tour. They are spending quality time with fans by exchanging hugs and selfies with those who have come out to support them.
"(People) get up close and personal with us for a month without all of the big tickets, the security guards and all of that stuff. (It's) just something that we could do to show them that we love them and that we don't forget where we came from," Moss said. "It's them that actually keeps us going."
Late last year, Moss found a way to connect with his fans like never before 10 years after the release of his debut album, The J. Moss Project. During the post production of GFG, all of his belongings were destroyed in a fire that ravished through his family home. The Detroit, Michigan, native recalled the difficulties that came along with being forced to tell his wife and two sons that they had lost all of their possessions.
"Having to tell your wife, 'our house is gone.' Having to tell your children, 'there's nowhere to sleep tonight' because of the fire, it's devastating," Moss shared. "As the leader of my family I had to get a grip and try to find some recourse somewhere. And of course, all I know to do is to turn to God."
When his family was safe at his mother-in-law's home after the fire, Moss took some time alone to go for a drive. There, he spoke to God about why he was going through such a difficult time.
Moss said the Lord told him that there was a reason he had to go through the devastation right before releasing his album.
"I went for a drive and I just talked to the Lord like, 'what's going on? Now tell me what's really up,'" the singer explained. "And basically, He said, 'put that album on now and hear what I'm trying to get you to feel. These are the people you're going to be singing to."
Moss said God told him he would now be in a place where he could relate to people who felt hopeless on a different level.
"During this project that was a huge, huge challenge for me just trying to understand what God was trying to get me to see in taking all of our earthly things away that were in our home. And then He showed me, it's not about our stuff; I'm going to give you all of your stuff back," the singer recalled God telling him. "I need your anointing to be a little more piercing for the plateau and the level that I'm about to take you. I want you to be able to speak from a place, sing from a place, and minster from a place that you're experienced and not just something that you heard."
After decades of success in the industry, J. Moss remains motivated to help people through his music and explained why it's a feeling that won't fade anytime soon.
"When you have your calling, and it's there, it's in your heart, it's just a part of your everyday life and it's just a part of who you are ... you have to. God has equipped me well, so now I'm really ready to put it into action and make it happen. So what drives you everyday is the fact that you're changing lives. You're changing people; you're changing the way they see things; you're moving them closer to the knowledge of Christ, and that's a big thing."
For more information about J. Moss and his tour dates, click here.