Jamal Bryant gets rock star welcome at New Birth, offered full support of county gov't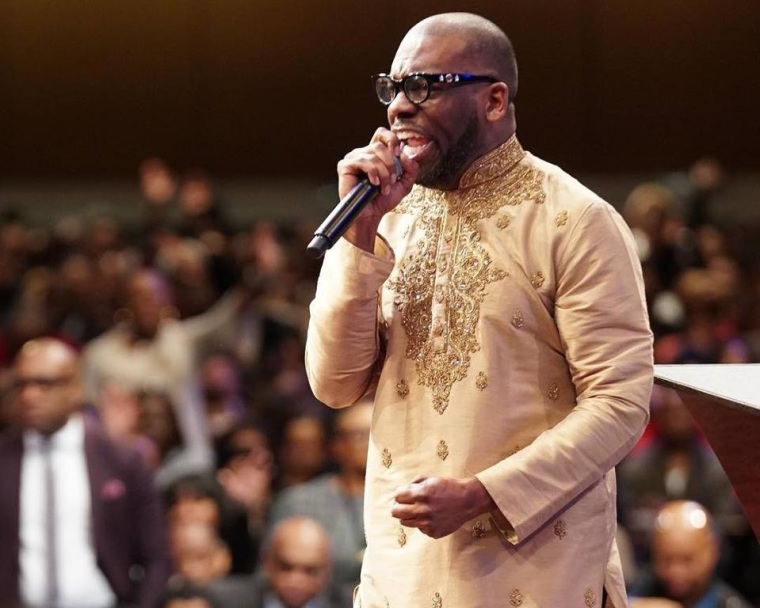 Megachurch Pastor Jamal Bryant got a rock star's welcome and an offer of "full support" from the Dekalb County government as he officially took over as the new senior pastor of New Birth Missionary Baptist Church in Georgia on Sunday.
Addressing the church's packed sanctuary, DeKalb County CEO Michael Thurmond said the gathering at the church to welcome Bryant, whom he called an "anointed, spirit-filled, young new pastor," showed that the spirit of Bishop Eddie Long was "still alive and well."
"I offer to you, pastor, the full total support of our county government. New Birth is Dekalb and Dekalb is New Birth. And I commit to you that we will work with the congregation to continue to move forward in the 21st Century," he said to wild applause. "For those who may have thought that New Birth may have fallen … the devil is a liar!"
Bryant was chosen from a pool of 138 candidates to take the reins of New Birth, which once boasted 25,000 members in its heyday. Membership at the church has since dropped to about 10,000 after Long, the church's late preacher, was hit in 2010 by a series of sex scandals involving allegations from multiple young men that haunted him until his death in January 2017.
Bishop Stephen A. Davis, who took over leadership of New Birth shortly after Long's death, resigned from the church in June.
Thomas W. Dortch Jr., an Atlanta businessman and chairman of New Birth's board, said part of the reason Bryant was chosen was because he had a plan to reduce the church's $31 million debt.
"He didn't come in talking off the cuff," Dortch said. "This is one guy who's an architect for religion."
On Sunday as he welcomed Bryant, he told the congregation that their new pastor who had been leading the 10,000-member Empowerment Temple in Baltimore, didn't come to New Birth because he "needed a job."
In his remarks on Sunday, Bryant took time to honor Long's widow, Vanessa, as "the First Lady" as well as his children, including Bishop Long's eldest child. Elder Edward Long who publicly declared that Bryant was not his choice.
"I'm a third generation preacher's kid. So I know what it's like to live in a fish bowl, to be undervalued and to be underappreciated. But in this place, we honor and respect and we love the children of Bishop Long and thank God for them. Would you join me in thanking God for the Long family? They are our Royal family," Bryant said.
He further noted, "New Birth is a resilient people. No matter what pit they try to throw us in, God always throws us a trampoline for us to be able to bounce back."
Just days before he officially took the helm of New Birth, Bryant was forced to dismiss a claim from an Ohio businesswoman that she is pregnant with his child.
"Bryant doesn't know who this person is and has no current ties, no past relationship of any sort, nor any form of past history with this person. Regrettably, this is the unstable behavior of a social media stalker," a spokesman for Bryant said in a statement to V-103 Atlanta late Thursday.
The woman, Tenola Oliver, 43, who says she is a domestic abuse survivor, first made the claim in a letter to The Christian Post last month. She repeated the claim on Thursday night in an Instagram post from V-103 Atlanta.
Previously, Bryant's former ministry at Empowerment Temple was almost destroyed after he admitted to an extramarital affair while he was married to now ex-wife Gizelle Bryant, who stars on Bravo TV's "Real Housewives of Potomac." Since his divorce, he was also alleged to have fathered a child with 34-year-old Latoya Shawntee Odom.
Despite his controversial past, New Birth congregants on Sunday lined up to greet and take pictures with Bryant.
Bryant's mother, the Rev. Cecelia Williams Bryant, his sister, Dr. Thema Bryant-Davis, a tenured professor at Pepperdine University, and several other supporters from Baltimore joined him at New Birth on Sunday for his first sermon as senior pastor at the megachurch.