James Dobson Reflects on 40 Years in Broadcasting: I Will Never Apologize for Defending Unborn, Marriage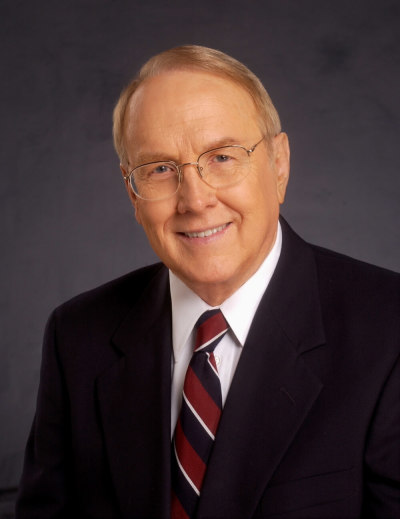 James C. Dobson, one of the most respected and influential American evangelical leaders, is marking his 40th year in broadcasting, having reached hundreds of millions of people over the decades ministering to marriages and families.
In 1977, Dobson opened a two-room office in Arcadia, California, leaving what he calls "a plumb position" in academia as a professor of Pediatrics at the University of Southern California where he had taught and conducted research for 14 years. In a recent interview with The Christian Post about his past four decades as a public figure, he said when he embarked on this journey it was kind of scary.
"I loved what I was doing, I could have been happy there for the rest of my life," Dobson told The Christian Post about his previous job.
"But I saw the institution of the family starting to disintegrate," he said, noting how even in the late '70s marriage was in trouble, parents were struggling with their kids, and the culture was deteriorating rapidly.
Though it meant sacrifice, he stepped out to do what he felt God was leading him to. And before he blinked twice his ministry and influence skyrocketed.
"The Lord immediately put His blessing on it and it kind of went through the roof," Dobson said.
Within a few years, what would become an international ministry called Focus on the Family had hundreds of employees, and Dobson's programs were aired on hundreds of radio stations.
In 2003, Dobson stepped down as president and CEO of Focus on the Family but remained chairman of the board until 2009 when he left that post, citing philosophical differences with his successor, FOTF's current president, Jim Daly. The following year, Dobson founded Family Talk, a nonprofit organization that produces his radio program, "Dr. James Dobson's Family Talk," which currently has nearly 7 million likes on its Facebook page.
Although the technology has changed significantly over the decades, the topics Dobson speaks on have not.
The need to bring wholeness and healing to families "is greater than ever," Dobson said. "[My] message has not changed at all and I don't believe it will because these are eternal issues."
"The culture changed so dramatically in the late '60s, scared everybody badly, and it continued into the '70s where there were just all kinds of pressures on families. So I began talking a lot more in that era about child discipline and building confidence in kids and getting them into the hands of the Lord."
Those things still matter and he continues to speak about them, he added, though he has focused many broadcasts on pressing issues in the culture as the years went by.
In 2004, Dobson began engaging politics more deliberately, launching a political action committee called Focus on the Family Action where he was able to endorse candidates and support pro-family legislative initiatives and not compromise the ministry of Focus on the Family's 501c3 nonprofit status.
Don Hodel, who replaced Dobson as CEO of Focus when he stepped aside in 2003, told The New York Times in 2004 that Dobson's move into the public policy realm would be supplemented by Focus "crank[ing] up its communications capacity about what Focus on the Family really is."
Such increased capacity was to show that the ministry of Focus would retain its brand of outreach through the family, Hodel maintained, but to also "make the point that Dr. Dobson is going out into the political arena not because that is what he wants to do; it is because that is what he feels he has to do."
CP asked Dobson how he navigated the challenges of speaking to political matters and the misunderstandings that happened even among conservative Christians who enjoyed his radio broadcasts but did not care for his attention on political matters.
"Well, it was a bum rap to start with because of the misunderstanding of a word. When people accused me of getting into politics, 'politics' means parties and candidates, votes. That's what politics is all about," he replied.
"But I will never, ever apologize for defending the unborn child or defending marriage. That's not politics ... that's not saying 'vote for a Republican.'"
"So I had a lot of people that criticized me for saying that I had gone political when in fact I was defending the same things I hoped they were," he continued.
Dobson told CP that in the 1980s he remembers a staff member telling him that if he stopped talking about abortion his audience would leave him. He took that advice to heart and never quit.
"[The audience] only grew," Dobson said. "It never did shrink."
By the time Dobson departed Focus, he was reaching 220 million people a day in 150 countries.
But if people do believe that untrue bum rap "that's ok, I mean, who cares?" Dobson said. "If people want to draw that conclusion, that's not offensive to me."
Throughout the course of his years advocating for the sanctity of human life he has frequently said that the plight of the unborn means more to him than his very life.
"There has never been a Holocaust like this," Dobson said, referring to Roe v. Wade and noting that over 50 million babies have been killed ever since the Supreme Court decided to legalize abortion in 1973. He added that he wished every Christian leader had defended unborn life but many did not "because of cowardice."
While it is possible that the landmark decision will be overturned, Dobson does not foresee the day when abortion will be completely outlawed, though he would welcome the High Court returning the matter to the states.
CP asked Dobson what advice he would give to the rising generation of Christian broadcasters who desire to speak to issues plaguing the family.
"The needs of Christian people have not really changed that much," he said. "Marriage is still the foundation for the entire culture, and it will always be and it must be preserved. And we must continue to teach and train parents in how to raise their children."
But parents have one responsibility that stands above the rest, he added.
And that is, "to get your children into the hands of Christ."
"If you fail at that, life will be pale and washed out as you get older. Looking back, that is the most important task you have. And if it is, it ought to get priority."
When asked what he has learned most from God having been a voice for His righteousness in broadcasting for 40 years, Dobson said his career grounded him in the necessity of putting first things first.
"All the other stuff that comes along with living are distractions from what I think the Lord has given not only to me but to other people," he stressed.
"Living a clean life, trying not to make the big mistakes that people [make], chasing after money which really doesn't matter very much. The things that you find in Scripture are valid, you can trust them, you can believe them and you stay the course," he concluded.