James Dobson: Top 3 Reasons Evangelicals Backed Trump Over Clinton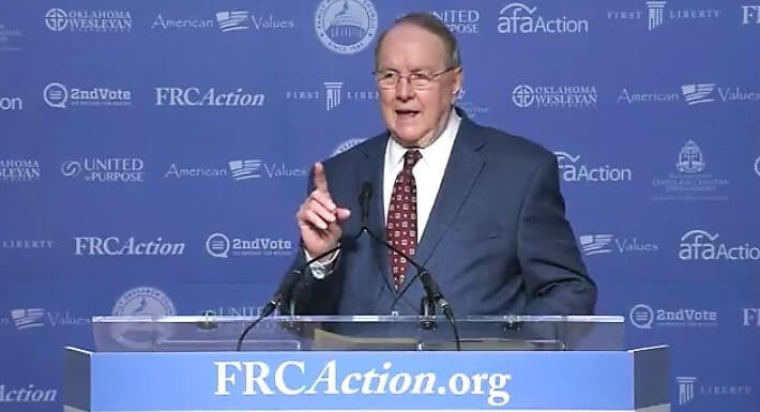 Evangelical leader Dr. James Dobson has claimed that there are three main reasons why President-elect Donald Trump was chosen by evangelical Christians over his Democratic rival Hillary Clinton in November's elections, arguing that the fight against abortion was deemed the most important issue by believers.
Dobson, who is the founder of Focus on the Family and Family Talk radio, pointed out in his January newsletter that "virtually ever pundit" before the election predicted that Clinton would win, but argued that what was missed in the discussion was how deeply Christians care to protect the sanctity of life.
"Almost a month after the election, many Democrats and liberals still do not understand Trump's appeal to evangelical voters. The explanation is not such a mystery. A survey commissioned by the Family Research Council produced similar results," the Christian author stated.
"It indicated that nearly 60 percent of Trump's voters were impacted by the sanctity of human life and religious liberty issues and the GOP platform. That platform is said to have been the most conservative in party history."
Dobson praised conservative leaders, such as Tony Perkins, president of the Family Research Council, and the Rev. Franklin Graham, President of the Billy Graham Evangelistic Association, who encouraged Christians to vote in the elections based on their values.
Dobson said that "three primary factors" led Christians to pick Trump over Clinton.
"They are: the sanctity of human life, the Constitutional guarantees of religious liberty that are being shredded, and the promise by Mr. Trump to appoint pro-life Justices to the Supreme Court. These issues are all related, of course," he wrote.
Focusing on the pro-life issue, Dobson said that "nearly 60 million babies" have died since the 1973 Roe v. Wade ruling.
While Clinton backed abortion rights and even received a fist ever primary elections endorsement from abortion-providing Planned Parenthood, Trump declared that he would appoint Supreme Court Justices who will be "defenders of life."
Dobson accused Clinton of supporting "the killing of babies through the entire period of gestation and delivery," along with affording unborn children no rights, which he said was not something that Christians could support.
He argued that in the face of Clinton, Americans "were being asked to vote for a president who would impose baby-killing on the nation for any reason, or for no reason, throughout the full term of pregnancy, and to re-establish its legality in American jurisprudence forever. God help us."
Trump's team offered a sharp contrast, however, with Vice-president elect Mike Pence claiming in 2016 that that a victory for Trump could lead to Roe vs. Wade "consigned to the ash heap of history where it belongs."
Dobson has been highly critical of some Republican politicians who he argues have not done enough to support the rights of unborn children, such as Ohio Gov. John Kasich.
In December, Kasich vetoed a restrictive abortion ban that would have banned abortions at the point that a fetal heartbeat is detected, arguing that such a measure would be "clearly contrary" to the Supreme Court's ruling on abortion.
Dobson argued that despite the Ohio governor signing a law banning abortion past 20 weeks of pregnancy with no exceptions for cases of rape or incest, the "heartbeat bill" veto was "cowardly and shameful."
"Signing the bill would have been the constitutionally correct thing to do; it would have also been morally correct to do," he argued at the time.