Jan Crouch Dies at 78; Christian Leaders Send Condolences to Trinity Broadcasting Network Co-Founder's Family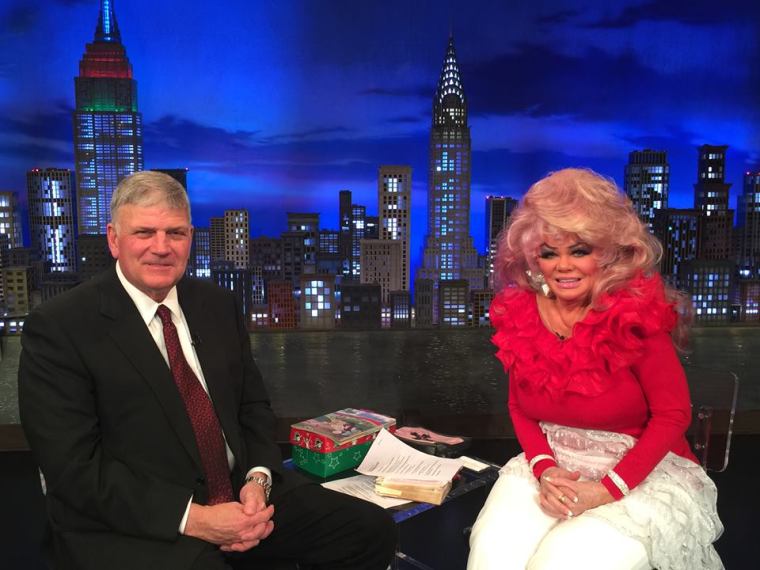 Jan Crouch's death, announced by her son and Trinity Broadcasting Network Tuesday morning, has sent a flood of condolences and fond memory posts on social media, including some from well-known Christian leaders.
Jentezen Franklin, senior pastor of Free Chapel in Georgia and New York Times best-selling author, took to Instagram with his touching tribute. "Jan Crouch will always be remembered for her love for Jesus and her love for souls. What she and her husband did in building @trinitybroadcastingnetwork is nothing less than remarkable. She gave me my start, I will forever be grateful.@mattandlauriecrouch and family we love you, we stand with you, and we are praying for you!"
Jan and her late husband, Paul Crouch, together built the world's largest Christian cable network and changed the course of Christian television for over 40 years. Last week, Jan Crouch was hospitalized after suffering a massive stroke, and her son and TBN successor, Mat Crouch, announced early Tuesday morning that she passed away at the age of 78.>
"Laurie and I have just watched the transition of our precious Mother from this world to the next; watched her step into the presence of Jesus and into her heavenly reward," Mat and other family members announced in a statement. "Jan Crouch, known around the world as Momma Jan, has gone home."
They added, "Those who battled for the Kingdom of God knew her as a fighter — someone who didn't give up, someone who fought relentlessly to get the Gospel around the world… To thousands of orphans around the world, and those orphaned in spirit, she was Momma Jan, quick with a smile, a gift, and a word of encouragement."
Gospel singer and pastor Donnie McClurkin, who is a TBN regular, tweeted, "My heart is broken in several different ways.MY dear FRIEND..JAN CROUCH has passed away. PRAY for the crouch family"
Megachurch pastor Ron Carpenter's tribute spoke of the impact that the Crouches had on him. "Paul and Jan Crouch invited me into the TBN family 2009.. that microphone changed my life forever. I'm saddened by her passing. #legacy"
Popular Singaporean preacher Joseph Prince shared his grief on Facebook. "Deepest condolences to our dear friends, Matt & Laurie Crouch, on the passing of Jan Crouch. I speak God's love and great comfort over the entire Crouch family. We mourn with you during this time."
Evangelical Charismatic minister Jesse Duplantis, who is regularly seen on TBN, talked about his reaction to the news of Jan's passing. "Even though Jan Crouch is in heaven I feel a little empty inside. I will always cherish the moments we had together. Rest in peace my friend," he tweeted.
Grammy Award-winning worship leader Israel Houghton wrote, "My deepest condolences to the @TBN & Crouch family. I knew Momma Jan for 25 years. She was always kind to me"
Singer Nicole C. Mullen likewise added, "Ms. Jan Crouch was a wonderful lady who had a Big heart for people...especially the little ones, the least of"
Young celebrity pastor Rich Wilkerson Jr. shared, "Jan Crouch was a legend. I will miss you"
Christian pioneer and Crouch family friend Carman Licciardello said on Facebook that he considered Jan "family."
"We have won countless souls to Christ together through that network. She is the best friend you can ever have when you're going through a crisis and feel like everyone has abandoned you. Example: when I went through 10 months of cancer treatment and sent out 600 letters to 600 churches I've ministered at, for support, and not one responded, it was Jan who paid my bills so I could focus on my fight with cancer," Licciardello revealed.
Jan Crouch's husband and TBN co-founder, Paul Crouch, had died in November 2014 due to chronic heart problems.
At this time no further details about Jan Crouch's funeral arrangements are available, but to read the complete statement on her passing, visit mattandlauriecrouch.com.