Japanese Hostage Apparently Killed; ISIS Demands Prisoner Swap for the Other Hostage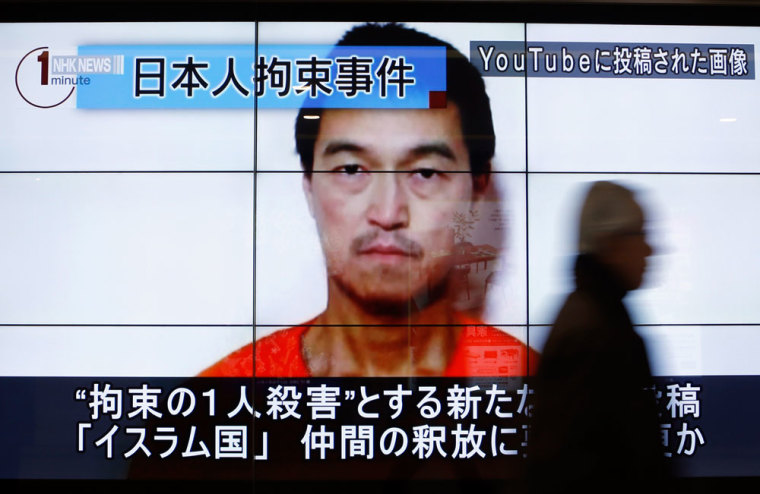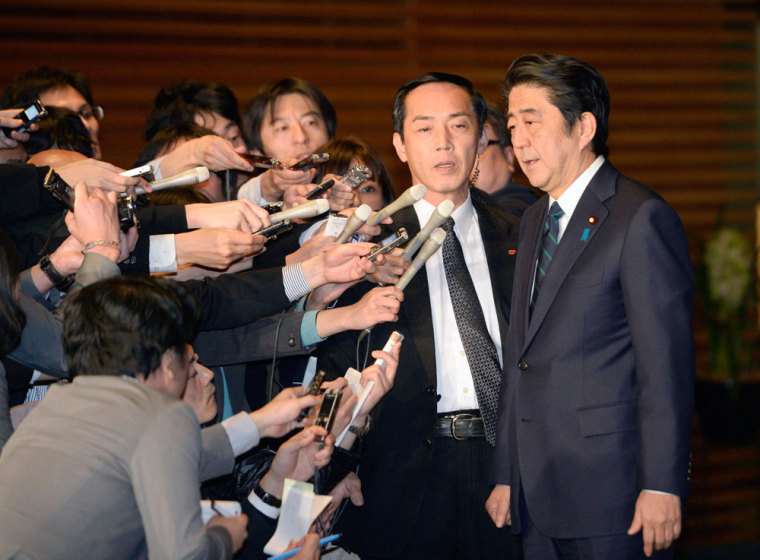 View Photos
A video purports to show the killing of one of the two Japanese hostages by ISIS in Syria after Tokyo failed to pay a ransom, even as the terror group now demands the release of an Iraqi woman jailed in Jordan for her role in a 2005 bombing in exchange for the other Japanese captive.
A three-minute video, reported by the SITE Intel Group that tracks the online activity of terrorists, showed a picture of 47-year-old Kenji Goto holding an image of the alleged beheaded body of 42-year-old Haruna Yukawa, and an audio message by Goto demanding a prisoner exchange to save his own life.
Japanese Prime Minister Shinzo Abe strongly condemned the alleged assassination. "Such an act of terrorism is outrageous and impermissible, which causes me nothing but strong indignation," he said, according to Reuters. "Again, I strongly demand that Mr. Kenji Goto not be harmed and be immediately released. The government of Japan will, in its entirety, do its utmost in order to have him released."
"You have seen the photo of my cellmate Haruna slaughtered in the land of the Islamic caliphate. You were warned. You were given a deadline and so my captors acted upon their words," the recording in the video said.
Goto is a freelance journalist, and Yukawa wanted to launch a security company in Syria.
"Abe, you killed Haruna," the voice in the video added. "You did not take the threat of my captors seriously and you did not act within the 72 hours. Their demand is easier. They are being fair. They no longer want money. So you don't need to worry about funding terrorists. They are just demanding the release of their imprisoned sister, Sajida al Rashawi."
Sajida is an Iraqi held in Jordan and sentenced to death for her role in a 2005 attack on a hotel in Amman.
Japan's deputy foreign minister Yasuhide Nakayama is currently in Amman to coordinate rescue efforts.
The video appeared online but was later deleted. An ISIS militant said the message was fake, but another said it was meant only for Goto's family, according to The Independent. A third militant said the video was not issued by ISIS.
"I have a strong sense of anger," said Abe, who also suggested that the video appears to be genuine. "We will not give in to terrorism," he added.
ISIS, or Islamic State, had released another video Tuesday threatening to kill Goto and Yukawa if Japan failed to pay $200 million within 72 hours, saying the amount corresponds to the financial aid pledged by Abe to countries affected by ISIS.
Japan is one of the members of the Group of Seven nations that oppose paying ransom. The United States has also advised Japan not to bow to the demands of ISIS.
U.S. President Barack Obama also condemned the apparent killing.
"The United States strongly condemns the brutal murder of Japanese citizen Haruna Yukawa by the terrorist group ISIL," he said in a statement. "Our condolences today are with the people of Japan for their terrible loss. We renew our call for the immediate release of Kenji Goto and all other remaining hostages. We stand shoulder to shoulder with our ally Japan and applaud its commitment to peace and development in a region far from its shores. We will work together to bring the perpetrators of these murders to justice and will continue to take decisive action to degrade and ultimately defeat ISIL."
British Prime Minister David Cameron also issued a statement.
"The reported brutal murder of Haruna Yukawa and the further threats made by ISIS are yet another reminder of the murderous barbarity of these terrorists," Cameron said. "Britain stands in solidarity with the Japanese people at this difficult time and we will continue to offer the Japanese government all possible assistance."
Goto's mother, Junko Ishido, said Friday that Goto went to Syria only to rescue his friend, Yukawa.
"I am filled with disappointment, that it has finally come to this," Yukawa's father, Shoichi, told public broadcaster NHK. "I feel pained, that he (Goto) risked his life out of concern (for my son) and ended up being captured. I hope he can be released as soon as possible, and return to Japan to continue his activities."
Goto's mother said, "Of course, first of all, I wish it weren't true, that it's some mistake. I'm a mother so it's unbearable. What I want to tell Islamic State is that Kenji's ideal is world peace."
Goto said in a video in October near the Turkish-Syrian border that he was determined to cover what was happening in the region. "It is my responsibility if something happens," he said. "Syrian people suffering three years and a half. It's enough. So I would like to get the story of what ISIS wants to do."
ISIS, an al-Qaeda offshoot which seeks to form an Islamic emirate in the Levant region through "jihad," has released videos showing the beheading of five Western hostages since August – of British hostages David Haines and Alan Henning, and U.S. citizens James Foley, Steven Sotloff and Abdul-Rahman Kassig. The Sunni group has gained control over large territories in Iraq and Syria.