Jay Sekulow's Christian Nonprofit Under Investigation by 2 States for Paying Family Millions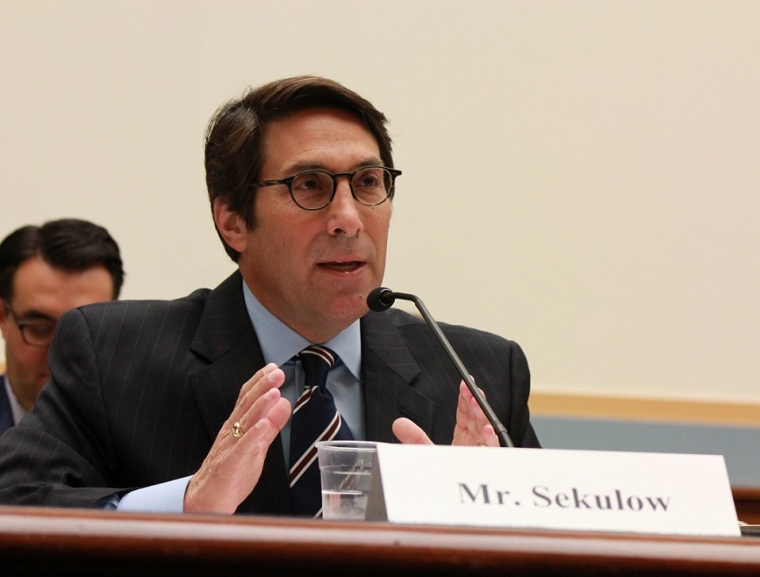 President Donald Trump's attorney and prominent Christian conservative lawyer Jay Sekulow is now being investigated by top lawyers in two states after a report surfaced this week claiming that millions of dollars were steered from his Christian nonprofit to himself, family members and related entities.
On Tuesday, The Guardian reported that tax records indicate that Sekulow, the chief counsel for the American Center for Law & Justice who joined Trump's legal team amid an investigation of possible campaign ties to Russia, used a little-known Christian nonprofit called Christian Advocates Serving Evangelism to direct about $60 million to himself, family members and organizations owned by Sekulow family members through salaries and donations since the year 2000.
Headed by Sekulow, CASE is the sister organization to ACLJ, a well-known Christian conservative law firm founded by Pat Robertson that is dedicated to protecting religious and constitutional freedoms and does not charge for its services.
The Guardian reported that CASE was founded in 1988 by Sekulow after he was successful in defending the group "Jews for Jesus" in the United States Supreme Court, which gave him a platform to promote himself as a defender of Christians in the courtroom after an earlier career as a real estate attorney.
CASE has been able to raise tens of millions of dollars per year through phone and email marketing campaigns. Telemarketing contracts obtained by The Guardian indicate that fundraisers warned donors about the effects of the political left's agenda and the efforts to "undermine traditional Christian values." A telemarketing script obtained by The Guardian shows how fundraisers were used to pressure callers who claimed they were poor to give "sacrificial" gifts.
According to a Washington Post analysis of tax records, the ACLJ finalized an arrangement in 2011 in which donations made to the ACLJ are routed to CASE, which is solely controlled by the Sekulow family. The Post stated that the ACLJ relies on CASE for almost its entire budget, which was $53 million in 2015.
According to an infographic published with The Post's analysis of tax filings, CASE raised over $229 million in donations from 2011 to 2015.
During that time, CASE paid Sekulow about $467,000 in salary and other compensations as its CEO and director. Meanwhile, his brother, Gary, was paid $2.6 million as the CASE COO and CFO; his wife, Pam, earned $54,000 as its secretary and treasurer; his nephew, Adam, earned $518,000 as CASE's director of development; his son, Logan, earned $471,000 as a director; and his son, Jordan, earned $137,000 in salary as a director for CASE during those four years.
The infographic also shows that CASE made about $4.4 million in payments to Regency Productions, a private business run by Sekulow, during those four years. Meanwhile, CASE made $3.1 million in payments to PFMS, a business owned by Sekulow's sister-in-law.
From 2011 to 2015, CASE gave the ACLJ $78 million, according to the infographic. 
During that time, ACLJ paid Gary Sekulow $1.2 million in salary and other compensations as ACLJ's COO and vice president of finance. Adam Sekulow was paid $75,000 in salary as ACLJ's director of major donor development.
Additionally, ACLJ paid $16 million to the Constitutional Litigation and Advocacy Group during those four years. The Constitutional Litigation and Advocacy Group is a law firm that is half owned by Sekulow.
The Post reports that the ACLJ did not pay Sekulow as a staff member from 2011 to 2016 but paid the Constitutional Litigation and Advocacy Group $21 million during that time.
In addition to the millions paid to members of the Sekulow family and their associated entities, The Guardian notes that CASE was also used to give loans and property deals to members of the Sekulow family.
Although the millions made in payments to members of one family from a nonprofit organization might seem odd, Sekulow's spokesperson Gene Kapp wrote in an email to The Guardian that the "financial arrangements between the ACLJ, CASE and all related entities are regularly reviewed by outside independent compensation experts and have been determined to be reasonable."
"In addition, each entity has annual independent outside audits performed by certified public accounting firms," Kapp added. "Further, the IRS has previously conducted audits of the ACLJ and CASE and found them to be in full compliance of all applicable tax laws."
The Guardian report states that some experts on nonprofit law have said that the Sekulow family risks violating a federal law that prohibits excessive benefits from being paid to organizers of the organization.
In light of the reports, the attorneys general of North Carolina and New York stated on Wednesday that they will be "looking into this matter."
"The reports I've read are troubling," North Carolina Attorney Gen. Josh Stein said, according to The Guardian. "My office is looking into this matter."
Amy Spitalnick, a spokeswoman for New York Attorney Gen. Eric Schneiderman, told The Guardian in an an email that "we're reviewing their filings."
Neither the ACLJ nor CASE are accredited by the Evangelical Council for Financial Accountability.
"It's more like a family business than a public charity," Daniel Borochoff, president and founder of Charity Watch, told The Washington Post. "You would have to have a lot of trust in this family in order to want to give them your money."
Borochoff stated in an interview with The Guardian that a setup like the one between CASE and ACLJ is "highly unusual" and "gives an appearance of conflicts of interest that any nonprofit should want to avoid."
"The organizations should be merged to avoid confusion," Borochoff said.