Jeff Sessions Defends Sentencing Memo: Violent Crime Increased Under Obama's Policies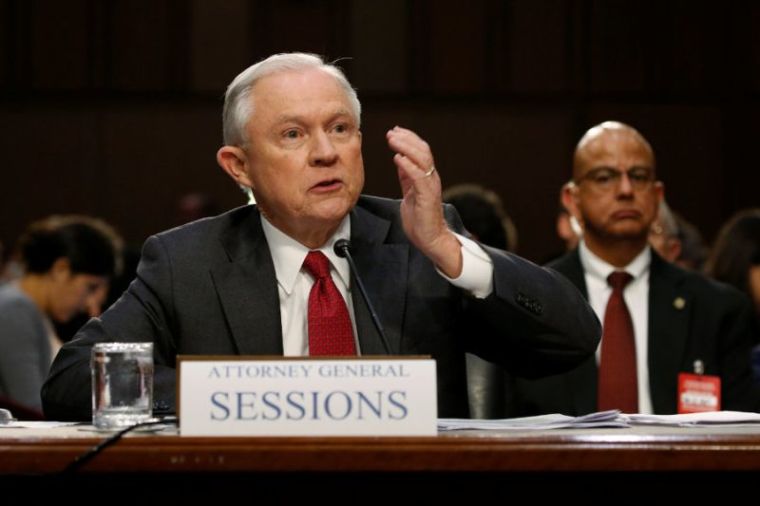 Attorney Gen. Jeff Sessions has defended his controversial sentencing memorandum in an op-ed published Sunday that accuses Obama-era leniency on drug crimes of fostering an increase in drug abuse and violent crimes in the United States.
Sessions has received criticism from both sides of the political aisle after he issued a May 10 memo on "Department Charging and Sentencing Policy," which instructs federal prosecutors to pursue "most serious, readily provable" offenses, even if they are nonviolent drug offenses.
The memo effectively nullified a policy put in place by former Attorney Gen. Eric Holder that instructed prosecutors to avoid charging nonviolent drug offenders with crimes that carry mandatory minimum sentences.
Criminal Justice Reform advocates fear that it could lead to more nonviolent offenders being sentenced to unfair mandatory minimums currently prescribed in federal law. Earlier this month, a bipartisan group of Senators, including Mike Lee of Utah and Rand Paul of Kentucky, sent a letter to Sessions telling him that his memo will "result in counterproductive sentences that do nothing to make the public safer."
In response to critics, Sessions wrote an op-ed published by The Washington Post in which he attempted to defend the policy.
Sessions began by criticizing the policy initiated under Holder in 2013, arguing that federal prosecutors were instructed not to include the amount of drugs being dealt in charging documents in order to avoid mandatory sentences.
"Prosecutors were required to leave out objective facts in order to achieve sentences lighter than required by law. This was billed as an effort to curb mass incarceration of low-level offenders, but in reality it covered offenders apprehended with large quantities of dangerous drugs," Sessions wrote, noting that federal prosecutions decreased by 23 percent from 2011 to 2016 and average sentence length decreased by 18 percent from 2009 to 2016.
"Before that policy change, the violent crime rate in the United States had fallen steadily for two decades, reaching half of what it was in 1991. Within one year after the Justice Department softened its approach to drug offenders, the trend of decreasing violent crime reversed," he continued. "In 2015, the United States suffered the largest single-year increase in the overall violent crime rate since 1991."
Sessions also maintained that data shows violent crime is "rising across the country." He cited FBI data that shows that there were 15,000 murders in 2015, an 11 percent increase from 2014. Sessions noted that "was largest increase since 1971."
Jasmine Heiss, director of coalitions and outreach at the Coalition for Public Safety, told The Christian Post on Monday that Sessions' suggestion that the rise in violent crime in 2015 and the previous administration's sentencing guidelines are somehow linked "flies in the face of some of the things that we in the criminal justice base know to be true about what actually prevents or deters crimes."
She asserted that a number of claims in the Sessions' op-ed are "incorrect."
"There was an 11 percent rise in homicides in 2015 from the previous year in 2014," Heiss admitted. "But that is largely because murders spiked in larger cities, not because this is a nationwide epidemic, which is important to notice. There really is no national crime wave, even if that has been sort of the political fear in terms of a talking point. Property offenses and overall crime declined last year."
"Today, the national crime rate is still half of the all-time highs in 1991, and violent crime rates have decreased by 50 percent," she added. "So the idea that we have returned to the most violent part of our history is simply incorrect."
Heiss also pointed that it is a bit of a stretch to link the quantity of local violent crimes to federal charging policies "given that the majority of crime is actually prosecuted at the state and local levels."
"So the idea that the Holder memo or lighter federal drug sentencing would somehow be directly responsible for any increase in crime, more directly ties federal prosecution to local crime than actually happens in practice," she stated. "The surge in drug abuse happened before the Holder memo and many people would say that sort of the accompanying surge in violence in particular cities is unrelated to drug abuse and has much more to do with those other things, like access to guns and membership in gangs, etcetera."
Sessions' op-ed also states that only 3 percent of federal offenders sentenced to imprisonment in 2016 were convicted of simple possession and added that most of those cases involved drug dealers who accepted plea bargains in return for reduced sentencing.
However, Heiss explained that there have been instances in the past where those caught dealing drugs have been overcharged as if they were drug "kingpins."
"There are stories of people being overcharged to get them to plea, people who were maybe addicted to cocaine who were selling to a couple of people in their community or their college and are charged as drug kingpins," she said. "On the other side, there are always people who plead down and don't get convicted of those kingpin charges even if it is overcharging."
Although Sessions stated that federal drug offenders include drug traffickers, gang members, importers, manufacturers and cartel members, Heiss said that the definition of what a drug trafficker is can be a bit blurry.
"This is part of a dangerous mythology that we have also seen play out both at the federal level and some states with the desire to have mandatory minimums for traffickers, that there is this sort of clean, hard line between people who traffick drugs and people who use drugs," Heiss explained.
"Very often, people who are convicted of trafficking are themselves struggling with addiction. It is not necessarily every single person on the street decided to prey on people and make money. It's not such a clear dichotomy. So the idea that we can clearly delineate between victims and perpetrators in that case is a little misguided."
The letter that was sent to Sessions earlier this month by the bipartisan Senate delegation asked for the Department of Justice to respond by answering six questions included in the letter. One of the questions was whether or not the department studied the impact that the May 10 memo would have on deterring crime and reducing recidivism.
A spokesperson for Lee's office told CP on Monday that there has been no direct response received from the Justice Department regarding the letter.
At the state level, Pew Charitable Trusts submitted a letter to the President's Commission on Combating Drug Addiction and the Opioid Crisis on Monday outlining data that shows that there is "no statistically significant relationship between states' drug offender imprisonment rates and three measures of drug problems: rates of illicit use, overdose deaths, and arrests."
Heiss also said that data has shown that states that have taken steps to reform the criminal justice system and reduce prison rates have seen reductions in crime. She pointed to Connecticut, where consensus says that they are at an "all-time low for crime." By comparison, Tennessee has experienced an increase in violent crime despite its "alarming number of mandatory minimums," Heiss added.
"This is an opportunity for federal government to look to the states as the laboratories of democracy, to understand what has been working and what the data shows," she concluded.