'Jeopardy!' contestants fail to identify famous portion of the 'Lord's Prayer'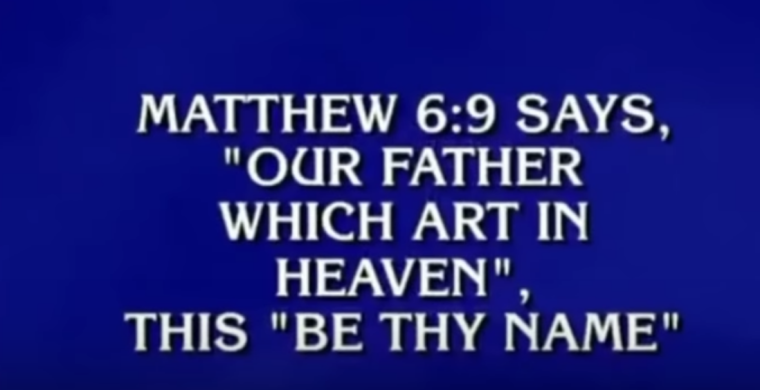 All three contestants on Tuesday's episode of "Jeopardy!" were unable to fill in one missing word from Jesus' famous model prayer, commonly referred to as the "Lord's Prayer."
Contestants Laura Blyler Scanland, Suresh Krishnan and Joe Seibert were stumped when host Mayim Bialik read the clue: "Matthew 6:9 says 'Our Father which art in heaven' this 'be thy name.'"
After Bialik read the famous verse, there was no response from any of the three contestants.
"Hallowed be thy name," Bialik responded. 
Delivered by Jesus during the famous Sermon on the Mount, Matthew 6:9 is part of a model prayer Jesus taught His followers, which finishes with an invocation for God's kingdom: "your kingdom come, your will be done on earth as it is in Heaven."
Considered one of the most well-known passages in the Bible, some "Jeopardy!" fans — even those who don't identify as Christians — were stunned that none of the contestants responded with the answer. 
This was a clue on Jeopardy last night & not one contestant got it right. This may seem like a silly example of cultural decay.

But my 5-year-old knows the entire Lord's Prayer and loves to recite it at dinner time. Parents can change the world with how they raise their children pic.twitter.com/ZgCfWBUIof

— Jason Howerton (@jason_howerton) June 15, 2023
The flubbed response spawned discussion in online forums over whether "Jeopardy!" has "too many" Bible and Christianity-related questions.
In January 2020, the long-running game show was the source of another biblical controversy after identifying Israel as the place of Jesus' birth.
Late host Alex Trebek read the $200 clue from the category "Where's that church?" which read, "Built in the 300s A.D., the Church of the Nativity."
Contestant Katie Needle responded: "What is Palestine?" but the answer was rejected. Contestant Jack McGuire then hit his buzzer and answered, "What is Israel?" which was ruled correct.
The Church of the Nativity is in Bethlehem, part of the West Bank, known in the Bible as Judea and Samaria. The historical land was renamed "Palestine" under Roman rule in the second century A.D.
During last November's Tournament of Champions, "Jeopardy!" fans were up in arms after a clue suggested the Apostle Paul wrote the New Testament epistle to the Hebrews, which, while widely accepted among many scholars, is still considered in dispute.