Jeremy Lin Debut With James Harden and Houston Rockets Well-Received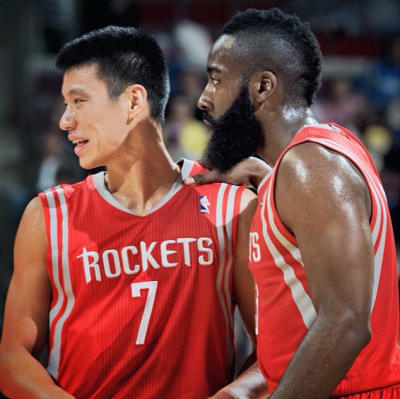 Former New York Knick Jeremy Lin and former Oklahoma City Thunder James Harden impressed fans Wednesday night in the Houston Rockets' season opener game against the Detroit Pistons, with one observer concluding that "basketball's duo with the most to prove" makes the Texas team one to watch this year.
After their trade deals brought them to Houston this season, Lin, 24, and Harden, 23, have been keeping fans speculating on how the Rockets backcourt might pan out. The team's 105-96 victory over the Pistons Wednesday night, and specifically the pair's performance, has put most concerns to rest.
Harden, who dominated and made NBA history in last night's game with 37 points and 12 assists, was acquired just over the weekend in what the Rockets call a "blockbuster trade."
The shooting guard was helped along by backcourt partner Jeremy Lin, who managed 12 points and eight assists and four steals -- although he also managed to give up four turnovers.
"Those two kids, with a combined age of 47, are setting out to show their former teams and the rest of the league that they are worth every penny of their contracts and then some," writes sports columnist Jake Simpson, who insisted Houston has the "NBA's most fascinating backcourt" this 2012-13 season.
He adds, "The offensive burden will fall on Harden and Lin night after night. And the two players have very similar styles that depend on being the dribble man on pick and rolls, a role that will likely be split between them now. They will have to develop a symmetry on offense that allows them to leverage the best part of their respective styles: Harden's outside shooting and careening drives to the basket, and Lin's interior passing and pick-and-roll game."
Tom Ley, writing for DeadSpin.com, said Harden, nicknamed "The Beard" for his trademark facial hair, and Lin indeed held their own Wednesday night, calling the former Oklahoma City Thunder's performance "flawless."
"Lin quietly had a very good game as well... reminding everyone that it wasn't pixie dust that made him such an adept point guard in New York," Ley wrote. "More importantly, Lin and Harden played together. Throughout the game they took turns initiating the offense and getting open looks for each other."
Andrew Keh wrote in The New York Times that the Christian point guard's debut with the Rockets was essentially "the start of Linsanity: Volume 2".
Keh noted that Rockets fan applauded Lin's plays, "just as it had when Lin's name was announced during pregame introductions."
He added, "The stands, which seemed only two-thirds full, were dotted with people wearing his jersey — both his No. 17 shirt from last season and his new No. 7 Rockets jersey. He was targeted with jeers, too, another indicator of his celebrity."
The report noted Hardens' view of his new teammate.
"Similar to me, he can create and score the ball, so I'm excited to have him as a backcourt partner. We're going to make our team better," said Harden.
"It's a brand-new chapter in my life, and so I'm excited to get this thing going. And hopefully, if we keep this up, it's going to be a really fun season," Lin told reporters after the game.
Meanwhile Harden, who gave God the glory for his victorious debut last night, has inspired fans to join him this month in growing out their beards in celebration of "No Shave November".
The Rockets next game is against the Atlanta Hawks on Friday, Nov. 2, at 7:30 p.m. ET.
Next Media Animation provided an overview Lin's and Harden's journeys, including the Oct. 31, 2012, Houston Rockets game against the Detroit Pistons:
James Harden: Rockets debut overshadows Jeremy Lin