Jeremy Lin Pranks Fans at Madame Tussaud's Wax Museum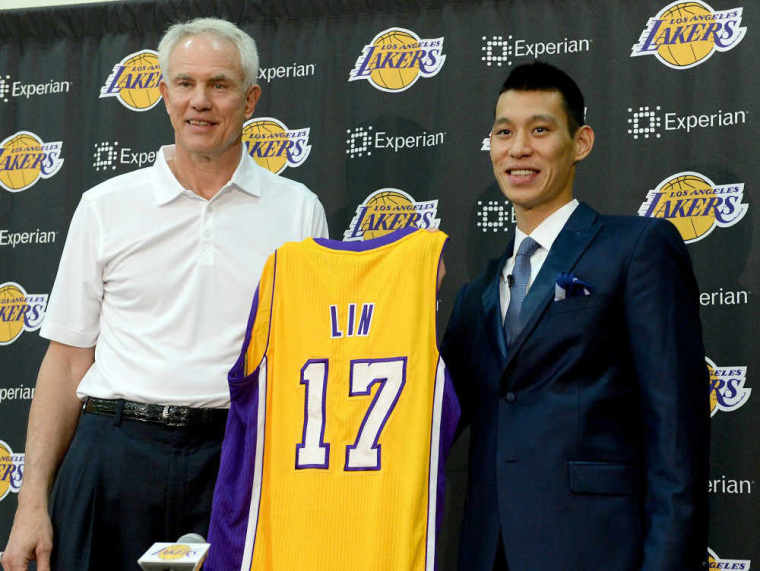 Los Angeles Lakers guard Jeremy Lin might not have an NBA Championship Ring or MVP Award, but he does have a statue at Madame Tussaud's Wax Museum. And to celebrate, he posed as his wax figure to scare unsuspecting fans.
Lin, a native of Palo Alto, California, surprised passing guests in the San Francisco Madame Tussaud's wax museum, even fooling his uncle and mother. The unveiling of the figure took place back in August and the museum posted the segment to its Youtube page this week.
Lin became an overnight sensation in 2012 as a New York Knicks player, who due to injuries on the team got the chance to play and maximized his opportunity. For weeks Lin dazzled crowds in Madison Square Garden, and had huge games against some of the best teams in the NBA. It resulted in a large fanbase that followed him when he signed a free agent deal with the Houston Rockets the same year.
The Lakers acquired Lin for a future first round pick in July from the Rockets. The Los Angeles made the deal because Lin is under contract for only one more season, therefore preserving the team's cap space next summer. ESPN reports that the Lakers also covet draft picks, "after trading away their first-round picks in 2015 and 2017 to Phoenix and Orlando as part of the Steve Nash and Dwight Howard trades, respectively."
Lin has been active in the Los Angeles community already and due to his Asian decent, experts believe he will raise ticket and merchandise sales because of the large Asian population in the Los Angeles area.
But Lin isn't concerned about the hoopla he may or may not draw. He claims he is focused on becoming a better basketball player with each day. "I'm not trying to recreate Linsanity. I'm not trying to be that phenomenon that happened in New York. I think I just want to be myself, more than ever," said Lin in his introductory press conference in July. "It's definitely been an up and down year for me. When I look back on the past two years, I think I've grown and learned a lot as a person, as a Christian and also as a basketball player. From the minute I stepped into Houston till now, I'm definitely a more complete player."