Jeremy Lin Reflects on NBA Season, Thanks His Prayer Warriors Ahead of Draft as Free Agent
Jeremy Lin Reflects on NBA Season, Thanks His Prayer Warriors Ahead of Draft as Free Agent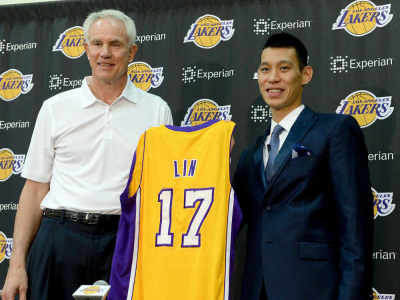 Jeremy Lin is reflecting on his strenuous NBA season and asking fans to help him deal with the frustrations he's felt as a result.
Lin, the 26-year-old Los Angeles Lakers point guard, missed the playoffs this season but he's still praising God and thanking fans who joined his digital prayer group during a tumultuous basketball season.
"Praise God for helping me through this past season. Also, thank God for all you prayer warriors," Lin said in an email addressed to his prayer group which reads "Jeremy's Prayer Requests 8."
"This was the first year that I've sent out prayer requests and it is something I plan on continuing because I feel SO blessed to have people willing to pray and support me spiritually!"
The NBA player made sure to also also expressed his gratitude for the opportunity he got to rest physically, mentally and spiritually after his season ended three to four weeks ago. Still, Lin admitted that he was dealing with the after effects of a stressful basketball season and asked people to pray for his patience and love.
"In many ways, I feel burnt out from the season so please pray that I continue to regain passion and joy in all aspects of life," he wrote. "It's been increasingly difficult to deal with the frustrations of life, as I feel like I'm faster to reach my patience limit (another by-product of feeling burnt out), mostly because the season took a lot out of me."
Now that Lin is gearing up to become a free agent, the basketball star asked if people could keep his future in the league in their prayers.
"This is a huge summer for me, and I would appreciate prayer that God would speak clearly to me and be over every step of the process," Lin wrote. "That I would be able to clearly hear His voice and discern where He wants me to play next year."
While Lin spoke about the impact of his basketball season, he also revealed that he's taking a trip to Asia in June. He asked people to pray that Jesus Christ would be glorified and that souls would be saved in the process.
Last year, Lin introduced the prayer group to fans which sends an email of prayers to those who subscribe on his website.
"The journey I've been on has had its ups and downs and I appreciate all of your support throughout. Some of you have asked how to pray for me so I decided to start a prayer group where I can send out requests for those that want to pray and support," Lin wrote on his website last year. "Please feel free to share with others you think would be interested. So much of what happens is out of our control, but prayer has been a place I have consistently found peace with God."