Jerry Falwell Jr. Says He Encouraged Trump to Improve Russian Ties; Putin Hails Christianity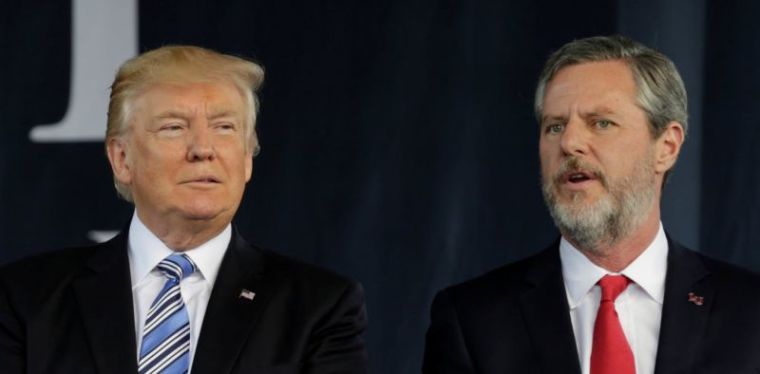 Liberty University President Jerry Falwell Jr. revealed on Saturday that he kept advising U.S. President Donald Trump last year to improve his relationships with Russia and its leader Vladimir Putin, speaking on the importance of the historical ties.
"I remember telling @realDonaldTrump in a private phone talk in 2017 to keep trying to improve the relationship between US & Russia despite the criticism and not to forget we might've lost WWII w/o Russia as an ally," Falwell wrote on Twitter on Saturday, referring to joint Russian and U.S. efforts against Nazi Germany in the Second World War.
"Glad to see him reaching out to them from a position of strength," he added.
Falwell's comment was posted to his personal Twitter page, not a Liberty University page. 
Trump and his recent initiatives to ease tensions with Putin have garnered much debate, including his meeting with the Russian president in Finland earlier in July.
Trump has denied that his presidential campaign gained favor due to Russian election meddling in 2016, but has received strong criticism from both Democrats and some Republicans for initially suggesting that Russia did not interfere with the 2016 election.
Some, such as Russell Moore, president of the Ethics & Religious Liberty Commission of the Southern Baptist Convention, said that no one should forget how evangelical Christians are treated in Russia.
"Vladimir Putin ruthlessly persecutes those who preach the Gospel of Jesus Christ, holds orphans hostage from waiting families for his political purposes, murders dissidents and journalists, attacks democratic institutions and nations," Moore wrote on Twitter in response to the summit.
"Morality is not relative," he added.
Others, such as the Rev. Franklin Graham, hailed Trump as pursuing peace above politics.
The Billy Graham Evangelistic Association president retweeted Trump's own words about the meeting, where the latter said:
"Nothing would be easier politically than to refuse to meet, to refuse to engage, but that would not accomplish anything. ... I would rather take a political risk in pursuit of peace than to risk peace in pursuit of politics."
Putin has been strongly criticized on a variety of issues, including for the war in Ukraine that flared up following the annexation of Crimea in 2014, as well as for his continued support for Syrian President Bashar al-Assad, accused by the U.S. and world leaders of using chemical weapons on children in the country's civil war.
Moore and others have also slammed Putin for the controversial restrictions on evangelism imposed in 2016, which effectively banned people from sharing their faith anywhere that is not a government-sanctioned house of worship.
The laws have led to the arrests of some pastors and the targeting of some ministries, though the Russian government has insisted that the measures are part of anti-terror efforts.
Putin, who is known for his strong ties to the country's Orthodox Church, separately said on Saturday that Christianity makes up the very foundation of Russia.
Putin spoke at a ceremony marking the 1,030th anniversary of the adoption of Christianity by Prince Vladimir, the Associated Press reported, where Putin said that adopting the religion was "the starting point for the formation and development of Russian statehood, the true spiritual birth of our ancestors, the determination of their identity."
"Identity, the flowering of national culture and education," he added.
Meanwhile, existing laws also continue to punish expression that is deemed offensive to Christianity.
RadioFree Europe reported last week that a 19-year-old film student from the Siberian city of Barnaul is facing up to five years in prison for pushing memes likening Jesus Christ to a "Game of Thrones" character on Russian social-media.
Daniil Markin, the student, found resemblance between physical representations of Christ with T.V. and book character Jon Snow, and wrote captions such as "Jon Snow is risen! Truly he is risen!"
Investigators have reportedly accused Markin of promoting "linguistic and psychological elements degrading the human dignity of a group of individuals united by their adherence to Christianity."