Jerry Falwell Sr. Made 'Yo Momma' Joke in Dream About Chelsea Clinton, Son Says at GOP Convention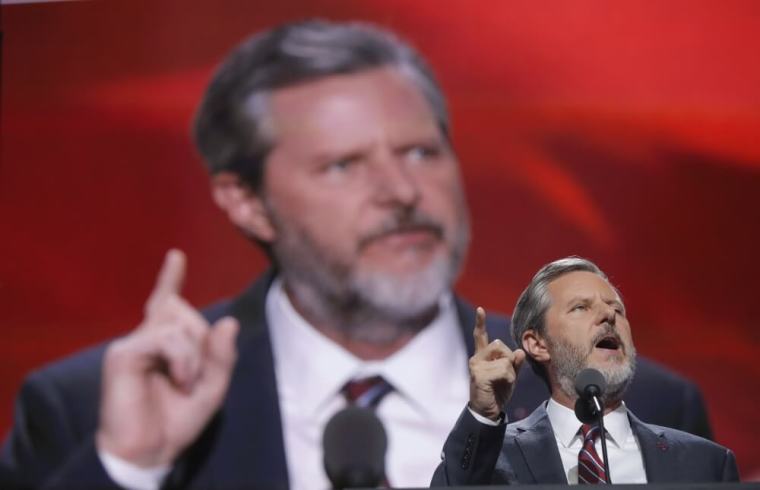 Late evangelical leader Jerry Falwell Sr. once had a dream about Chelsea Clinton in which he told her a "yo mamma" joke, recalled Liberty University President Jerry Falwell Jr. at the Republican National Convention Thursday night.
Just hours before Donald Trump took the stage at the Quicken Loans Arena in Cleveland to formally accept the GOP nomination for president, Falwell Jr., one of Trump's earliest and most dedicated evangelical endorsers, addressed the convention crowd just like his father, who founded the political organization Moral Majority, did 32 years ago.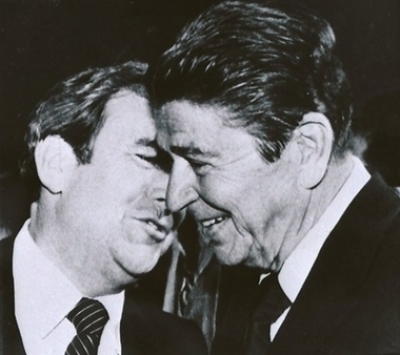 "In 1984, my father stood at this convention and offered the opening prayer before our party's candidate, Ronald Reagan, went on to accept the nomination and win in a landslide," Falwell explained. "A little over 30 years later, I stand here with the sincerest prayer that history is about to repeat itself with the election of Donald J. Trump."
As was the case with Reagan, Falwell argued that America's most effective politicians are ones who don't spend their lives serving in public office. He praised Trump as a great visionary and a "champion of the common man."
"The most effective politicians were never career politicians, but surveyors, architects, ministers, farmers, businessmen and even actors who were successful in the private sector before serving in government," Falwell said. "Donald Trump follows in this rich tradition. He has created jobs for thousands and is one of the greatest visionaries of our time."
Falwell added that he feels Trump can restore America, just like Falwell, a lawyer, helped his father restore Liberty University to "financial health."
"Since 2007 Liberty has become the largest and most prosperous Christian university in the world and I am convinced that Donald Trump can work the same magic for a nation $19 trillion in debt," Falwell said.
Falwell praised Trump for vowing to repeal the Johnson Amendment, which allows the IRS to strip churches and other non-profit organizations of their tax-exempt statuses if they get involved in politics or make political endorsements. Falwell said that the amendment is often only enforced against conservative institutions.
"Mr. Trump has added a plank to this party's platform to repeal IRS rules sponsored by Lyndon Johnson in 1954 barring churches and non-profits from expressing political free speech," Falwell said. "Conservative universities and churches have been investigated while authorities have too often turned a blind-eye toward liberal groups, including universities where left-wing ideology is so pervasive that they have in effect become Democratic-voter indoctrination camps. Trust me, this will create a huge revolution for conservative Christians."
As Falwell was criticized heavily by a number of evangelicals for endorsing Trump during the primaries, there are still some #NeverTrump evangelicals who won't vote for Trump.
Falwell, who claimed this week that Southern Baptist ethicist Russell Moore might be a "closet liberal" because he doesn't support Trump, told the convention that not voting for Trump will only lead to the election of presumptive Democratic nominee Hillary Clinton.
"A decision not to vote or to vote for a third-party candidate is a de facto vote for Hillary Clinton. If Hillary Clinton is allowed to appoint the next few Supreme Court justices, that in itself could be a fatal blow to our republic," Falwell warned.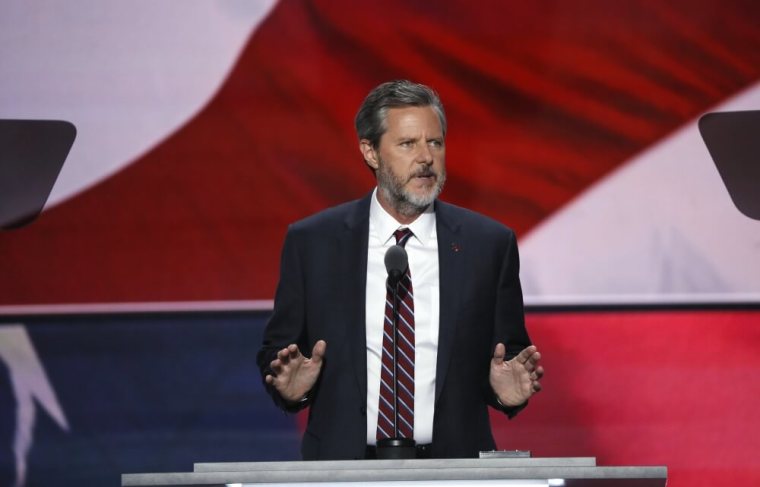 "On the other hand, a vote for Donald Trump is a vote to uphold the 2nd Amendment right to bear arms. A vote for Trump is a vote to stop Iran, a nation committed to the destruction of the state of Israel, from becoming a nuclear power. A vote for Trump is a vote to appoint conservative pro-life justices to the Supreme Court."
In concluding his speech, Falwell spoke about a dream that his late father had one night.
"In the days before my father passed away in 2007, he joked with CNN that he dreamed Chelsea Clinton had asked him in an interview about the three greatest threats facing the nation," Falwell said. "He replied, 'Those three greatest threats are Osama, Obama and yo' Momma.'"
"Osama is now gone, Obama has six months left on his term and the only way to make America great and one again is to tell Chelsea's momma, 'You're fired,'" Falwell continued. "And, the only way to do that is to elect Donald Trump and Mike Pence as president and vice-president of the United States."