Jessa Duggar Wedding Invitation Released; '19 Kids & Counting' Star Marrying Nov. 1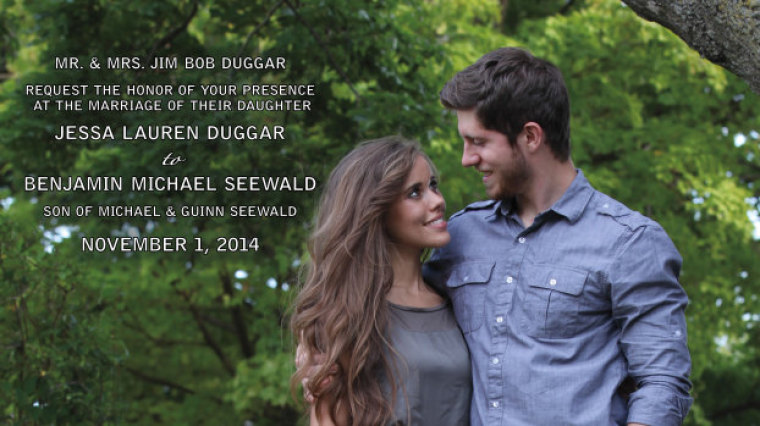 Jessa Duggar and Ben Seewald are preparing to say "I do" this weekend, and photos of their wedding invitations have just been released.
Jessa and Ben have been engaged for a short time and are planning a rather low-key event compared to the elaborate wedding of sister Jill and her husband Derick Dillard. Jessa previously spoke of wanting to re-use her sister's wedding decorations for her own celebration in order to save on funds. The couple wants to spend the majority of their money on the honeymoon, which will be the first time they will be able to be alone together.
Per Duggar family tradition, Jessa and Ben practiced a traditional courtship and did not hold hands or have any physical contact except for a quick side-hug. They were always accompanied by guardians on their dates, which generally meant that one or more of Jill's brothers or sisters would be invited on the outing. More recently, Ben moved onto Duggar property, meaning he was closer to his bride-to-be, but the rules remained the same. They were never alone and only held hands once they were engaged. Ben and Jessa will exchange their first kiss at the wedding ceremony.
The couple's wedding invitation is rather simple, with just a photograph of the two of them and the necessary information provided. Ben planned a scavenger hunt to propose to Jessa, and he chose to do so at the Thorncrown Chapel in Eureka Springs, Arkansas. Religion is important to the couple, as is having a large family. Both have spoken about welcoming any children God blesses them with but also planning to adopt at some point.
The wedding will be filmed for TLC's "19 Kids & Counting" and air next season. This season, fans got to see Jill and Derick's ceremony. Both couples met through the girls' dad, Jim Bob, who has said that he approves any suitor for his daughters.