'Jesus Revolution' sees stunning opening weekend, finishes third at box office: 'miraculous'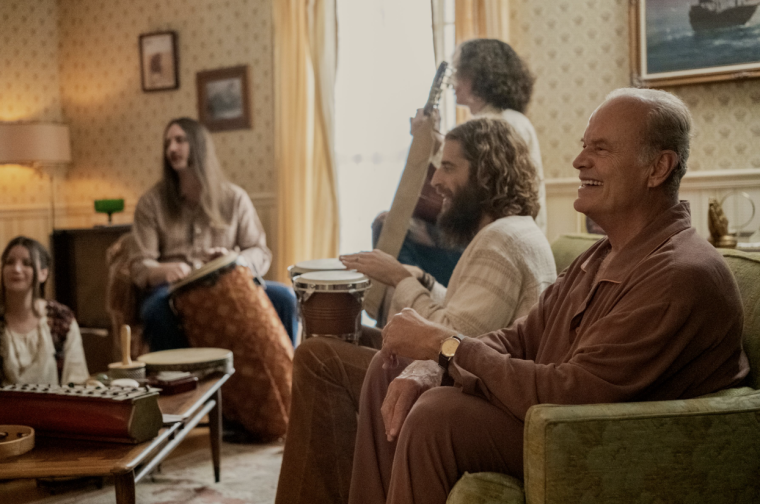 "Jesus Revolution," an overtly faith-based film highlighting the revival that took place in the '60s and '70s, surpassed expectations on opening weekend, finishing at No. 3 at the box office. 
The film, from Jon Erwin and Brent McCorckle and starring Kelsey Grammer, Jonathan Roumie and Joel Courtney, brought in an estimated $15.5 million, more than double the original estimate of between $6 million to $7 million.
"Jesus Revolution" came in just behind "Marvel's Ant-Man and the Wasp: Quantamania" and "Cocaine Bear" and beat out "Magic Mike's Last Dance," "80 for Brady" and "A Man Called Otto." Deadline called the film's success "miraculous," adding: "You never see that on any movie, including MCU and Star Wars titles."
"Jesus Revolution" follows Greg Laurie in the 1970s as he searches for truth and meaning on the West Coast. There, he meets a charismatic young evangelist, Lonnie Frisbee, who introduces him to Jesus and invites wandering youth to church, challenging traditional church culture. What followed was a countercultural movement that continues to impact society and the Church today.
Encouraging Christian audiences to vote for more positive, faith-filled content at the box office, McCorkle previously stressed the importance of audiences seeing "Jesus Revolution" in theaters opening weekend.
"You vote for your content at the box office and opening weekend will determine a lot. It'll determine how long it stays in theaters, it will determine Hollywood paying attention to the numbers," he told The Christian Post.
"If this is content that you want to see, if you want to see more of this, you have to go support the content that you want to see more of," he added. 
Laurie also encouraged Christians to bring their non-believing friends to theaters, voicing hope that the film can be a catalyst for further revival. 
"Pastors, encourage your people to take non-believers into the theater, buy two tickets, one for yourself, and one for an unbeliever. Take them to see the movie, and I think that you will see people actually come to Christ as a result."
"Jesus Revolution" also received a 99% audience score on Rotten Tomatoes and an A+ CinemaScore, marking the first time in history that a director has scored four A+ CinemaScore Grades since the company publicly released the results in 1986. Erwin previously received  A+ for the faith-based films "I Can Only Imagine," "American Underdog" and "Woodlawn."
Ahead of the movie's official theater release in over 2,400 theaters, Lionsgate organized church screenings and university screenings that attracted tens of thousands of viewers.
Erwin shared how the film has uplifted and encouraged pastors. He described the film as "very, very authentic," emphasizing just how uncommon it is to see the name "Jesus" highlighted in a Hollywood film title.
"The fact that Lionsgate let us make a movie called 'Jesus Revolution' is astounding and a miracle," he said.
"For every story that our industry tells of a pastor gone bad, televangelists, whatever, there's 10,000 pastors doing great work on the ground all across America. I think the American pastor is one of the most … under-celebrated, under-seen jobs in American society that binds us together. And they're doing great work. And a lot of times those stories are not told," he said. 
"I wanted to tell a story of a pastor that threw his doors open to something he didn't understand, and opened his doors to an audience of people that in the religious context of the day, a hippie going to church at the time, was like, go home, get a job, cut your hair, rejoin society, now maybe you can come to church. Instead, Chuck just threw his doors open to this group of people. And I think that is a challenge to pastors all across America."