'Jesus Revolution' red carpet: Greg Laurie, cast share how film will reach 'lost' generation in need of hope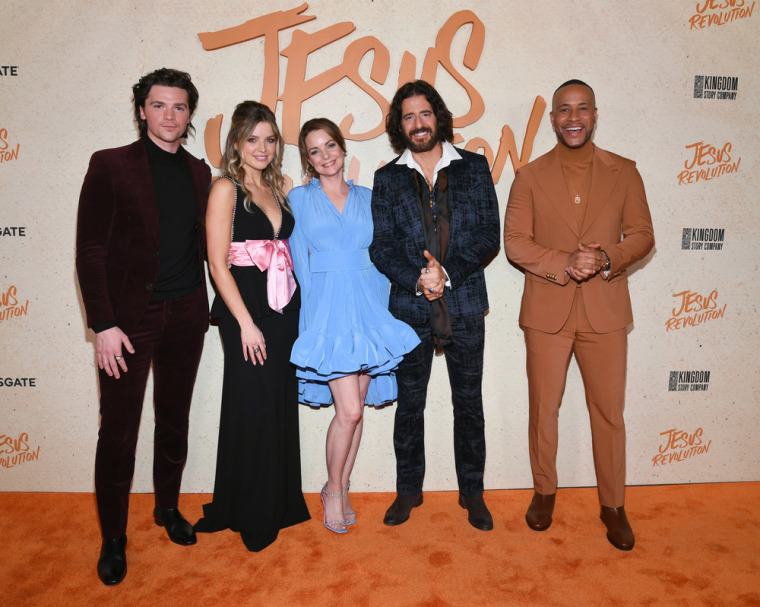 LOS ANGELES — The filmmakers, cast and real-life people behind "Jesus Revolution" descended on the Chinese Theater last Wednesday to celebrate the film's release and reflect on the story's timeliness — especially for young people today. 
Hitting theaters on Friday, "Jesus Revolution" stars Kelsey Grammer ("Frasier"), Jonathan Roumie ("The Chosen"), Joel Courtney ("The Kissing Booth") and Anna Grace Barlow. It's directed by Jon Erwin ("American Underdog," "I Can Only Imagine") and Brent McCorkle.
Based on a true story, the film follows a young Greg Laurie as he searches for purpose and meaning in all the wrong places. After meeting Lonnie Frisbee, a winsome hippie street preacher, he embraces the Gospel, and alongside Pastor Chuck Smith, helps launch a revival that leads to what Time magazine later called the "Jesus Revolution."
Laurie, who today pastors Harvest Christian Fellowship, told The Christian Post that the film will provide hope to today's lost and searching generation —  not unlike the climate he grew up in. He shared how the film was delayed for several years, which at the time was discouraging. 
"And now, as I look back on the schedule and where we're at in this moment in American history, I think this is the exact right moment for this film to be coming out," he said. "So now I look back and I see that God had His hand on it all along. It's a true story; it's a relevant story. I think we're representative of a generation of young people back then that's very similar to a younger generation, searching for answers now. … This generation needs hope, just like our generation needed it."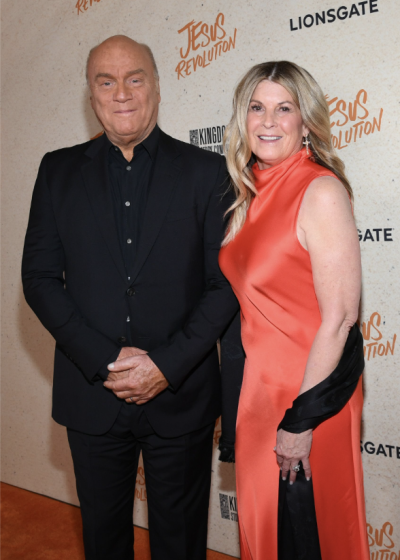 Heavily featured in the film is the love story between Laurie and his now-wife, Cathe. They met as rebellious teenagers, casting aside all rules in a bid to find freedom. After embracing the Gospel, both of their lives were radically changed. Today, the couple has been married for 50 years. 
Cathe Laurie told CP that as a young woman, she was looking in "all the wrong places to find meaning and purpose for living and something beyond myself" — until God stepped in. Many of the internal struggles she faced, she said, she sees in young women today. 
"I feel like today, young people are lost. They're looking at social media, they're looking at their friends and looking in all the wrong places like I did," she said. "And what they're really searching for is a truth to stand on, and I know that the Bible is alive, and Jesus wants relationships with anyone who is willing to ask Him into their lives. I believe that today, people want to experience that."
"They've taken God out of everything; out of classrooms, our government, it seems like everything is pushing down the reality of Jesus Christ," she added. "And yet, the hunger and thirst for spiritual truth, a deeper truth, is in every human heart."
Courtney, who plays a young Greg Laurie in the film, shared how his own spiritual journey was impacted as he brought the pastor's story to life. Laurie grew up with an alcoholic mother and an absent father, and struggled to find hope and meaning in life. In the film, it's a near-death experience that finally causes him to open his heart and mind to the truth of the Gospel. 
"I had such a fun time filming this movie in that I really took in the grace that is shown to all in Christ," Courtney said. "Learning about Greg and taking on his past and the hardship that he really went through and then the excitement to understand that grace was extended to him was incredible. Your life doesn't just become easy once you become a Christian, but there is a foundational strength and power, God's power, that we can lean on to get through the tough times in life."
Courtney said he's hopeful there will be another revival in his lifetime, adding: "Not only do I think that we need it, but Lord willing, I believe it will happen."
"My hope for this film is that people will go see it and have conversations afterward," he said. "I think art strives to create a conversation. I hope people appreciate it for the story and the art that that it is, and then talk about it, because I think really good conversations can come from it."
To young people who might be struggling to find meaning and purpose today, Courtney offered a word of encouragement: "There is a love that lifts that burden off your shoulders … God gives you strength. If you put your faith in Him, there is hope. If you're struggling with you're identity, look to the Bible for strength."
Anna Grace Barlow, who plays a young Cathe, said that getting to know the real-life Cathe Laurie and witnessing her faith firsthand also strengthened her own faith. She expressed hope that viewers, too, will be inspired to find hope and purpose outside themselves. 
"The reminder that there's something bigger than me and it's guiding me and it loves me and it's keeping me safe — that has taken me through hard times I've had since filming," she said. "My hope for this movie is that so many people see it and they're so uplifted and they love the music and they love the clothes and they take home that feeling; a renewed reassurance that everything is taken care of and it's going to be OK."
"Jesus Revolution" is scripted by Erwin and Jon Gunn. Producers are Kevin Downes, Jon Erwin, Andrew Erwin, Daryl Lefever, Joshua Walsh and Jerilyn Esquibel. Lionsgate opens it Friday only in theaters.