'Jihadi John's' Emails Claim British Officials Harassed Him; Ex-ISIS Militant Says He was 'Strange, Loner'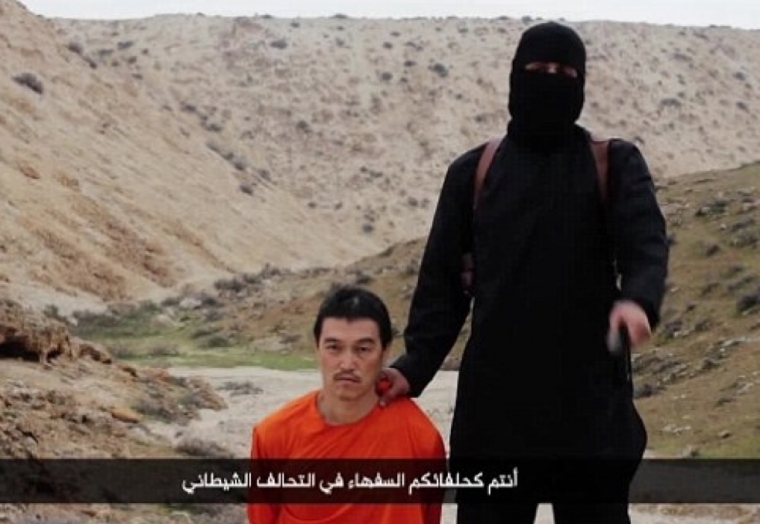 Islamic State's masked executioner "Jihadi John," who was recently identified as a Kuwaiti-born Londoner, sent emails to a Muslim advocacy group between 2009 and 2012 claiming he was "harassed" by British security agencies. An Islamic State defector says he was cold and remained aloof in Syria.
"I told them [security officer] that I want to be left alone, as I have an ambition of moving from the UK and settling in Kuwait. That is why I found a job and a spouse!! But they laughed," says an email sent by Mohammed Emwazi, who is now known as "Jihadi John" in the British press, on June 3, 2010, according to the recipient, Muslim civil rights group CAGE.
"One of them got aggressive with me, he pushed me to the wall. ... I was just baffled I did not know why he had done that after this long 6-hour interview, fingerprinting and searching. When I asked for their names they said 'We don't give out our names,'" Emwazi, a computer-programming graduate, wrote about his experience at a British airport while traveling to Kuwait in 2010.
The treatment, he said, reminded him "of criminals that you see on TV who have committed a serious crime, only I was a person never charged or arrested for anything. I was a person looking to start a new life in my country Kuwait!"
Narrating such incidents, Emwazi urged CAGE to help him.
"Please help me as I don't want to stay in the UK because I have found a job in Kuwait, found a spouse in Kuwait and thus found a new start for my life in Kuwait. Kuwait is where I'm from, I was born their [sic]. I just want to go their [sic] and start my new life again!!" he wrote, according to CNN.
CAGE released the emails during the weekend.
However, some analysts do not agree with CAGE's suggestion that he became a terrorist because of the way British security officials treated him, saying he already had links with terrorist groups.
"You can't start the story at how he's been treated by U.K. officials. You certainly can't start the story from the email trail," Rashad Ali, director at the counter-extremism consultancy CENTRI and a fellow of the Institute of Strategic Dialogue, was quoted as saying. "You have to go back to why the intelligence services got in contact with him. Well, because he was part of a group of a people who were going to join Al-Shabaab – a very extremist organization and jihadist group that got involved in horrific terrorist attacks in Somalia."
Meanwhile, an ex-ISIS fighter, identified as Abu Ayman, told BBC that Emwazi wanted to appear in ISIS videos that have purported to show beheading of Western and other hostages.
Ayman, who met Emwazi in Syria about two years ago, said Emwazi appeared strange to him the first time he met him.
"He was cold. He didn't talk much. He wouldn't join us in prayer. He'd only pray with his friends," Ayman was quoted as saying. "The other British brothers prayed with us, but he was strange. The other British brothers would say 'hi' when they saw us on the road, but he turned his face away. The British fighters were always hanging out together, but he wouldn't join them."
Asked how Emwazi turned into a brutal soldier of ISIS, also known as ISIL, Ayman said, "ISIS have professional psychologists. They know who to choose from the fighters and how to make them famous. Still, there was nothing special about Jihadi John… anyone could have become like him. The emirs give the orders – and in return you get promoted. Many brothers joined ISIS for new weapons, luxury guns, to drive better jeeps and to show off."
British Prime Minister David vowed Friday to do "everything we can" to bring to justice terrorists such as Emwazi.
"When there are people anywhere in the world who commit appalling and heinous crimes against British citizens, we will do everything we can with the police, with the security services, with all that we have at our disposal to find these people and put them out of action," Cameron said at an event in Cardiff.
Cameron defended the security services, including the British intelligence agency MI5 that has been criticized for how it handled Emwazi's case.
"All of the time they are having to make incredibly difficult judgments and I think basically they make very good judgments on our behalf," he said. "Even in the last few months their dedication and work has saved us from plots on the streets of the United Kingdom that could have done immense damage. So I think it is a moment to stand up and thank them for the work they do on our behalf."