Jimmy Carter's New Book Warns Misinterpretation of Bible Verses Causes Gender Inequality
In his new book A Call To Action, former U.S. President Jimmy Carter warns that the misinterpretation of bible verses can lead to inequality for women.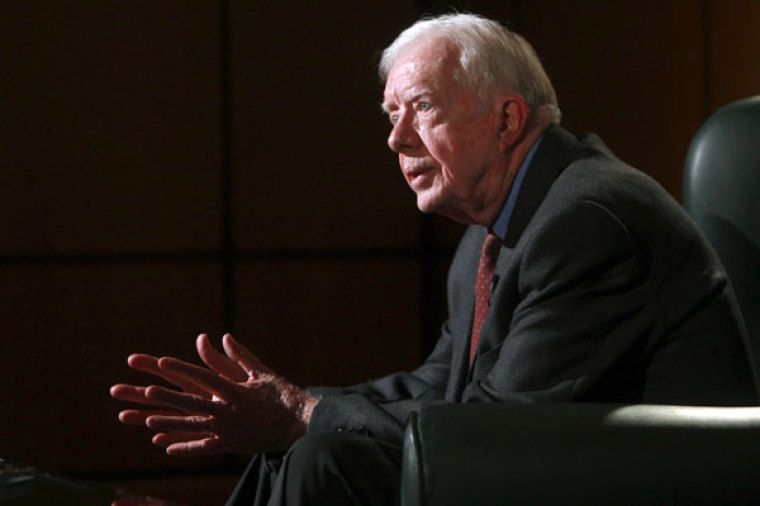 The 39th president's latest book, fully entitled A Call To Action: Women, Religion, Violence, and Power, suggests that there is a connection between scriptural teachings and misogyny, arguing that religious leaders may twist religious texts to make women subordinate to men. Carter's book was released on Wednesday, and it is the 25th book written by the former president.
According to a book review by the Associated Press, Carter suggests in his book that leaders of multiple religions may twist religious texts to denigrate women. The former president recalled his childhood living in the south when white supremacists would twist bible texts to preach segregation, arguing that a similar thing may be happening now with women.
The former president, a Baptist, lists the consequences of gender inequality later in his book, suggesting that a culture that treats women as lesser than men can cause sex-selective abortions, rape, prostitution, spousal abuse, and child marriage, among other issues.
Cater reiterated his views on gender inequality to The Huffington Post, telling the media outlet in an interview this week that there's no evidence in the bible that suggests Jesus preached the subordination of women.
"There's no evidence at all that Jesus Christ did anything except to exalt women. Never has a single word or action been alleged to him that would deprive women from their equal or superior rights," Carter said. "Everybody is equal in the eyes of God."
Carter famously left the Southern Baptist Convention in 2000, telling the Atlanta Journal-Constitution at the time that he believed leaders of the denomination were taking portions of the bible out of context, and such interpretation was resulting in inequality towards women.
"I'm familiar with the verses they have quoted about wives being subjugated to their husbands," he told the paper. "In my opinion, this is a distortion of the meaning of Scripture. […] I personally feel the Bible says all people are equal in the eyes of God. I personally feel that women should play an absolutely equal role in service of Christ in the church."
Carter now attends the New Baptist Covenant church in his hometown of Plains, Ga., where his wife is also a deacon.
Some have disagreed with Carter's teachings on women in church leadership roles. Francis Rooney, former United States Ambassador to the Holy See, told Newsmax TV this week that it is "disingenuous" of Carter to suggest that the Roman Catholic Church or the Southern Baptist Church may contribute to the persecution of women. Rooney argues that women play their own uniquely important role in the church, and both male and female roles hold different responsibilities.
"It just goes to show you that Jimmy Carter is the same old Jimmy Carter, there's no intellectual basis in [his argument]," Rooney said.
"When you look at the theology of the Catholic Church, which has the Virgin Mary at the top, and you look at the strong role that women have played in the church as nuns and as lay persons and all that, I think that's a little disingenuous to say."
"The fact is, the priesthood, as the church defines the calling, is a male-only, 100 percent can't be distracted by marriage kind of program which differentiates the church from other religions, and that may be debated and maybe not," Rooney continued. "But it's a far cry to debate that issue versus to say that the church has been responsible for persecuting women."