Joe Biden at Nuns on the Bus Iowa Rally: 'Things Are Out of Whack' With Income Inequality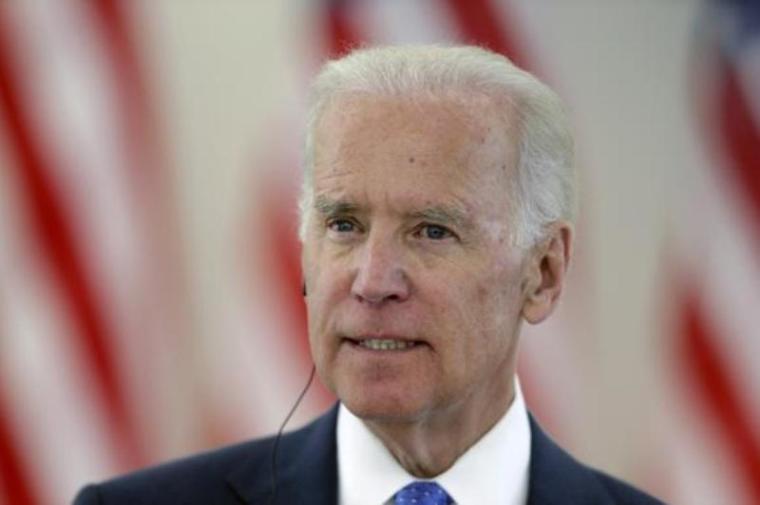 Vice President Joe Biden delivered a speech focusing on income inequality and the objective to restore the middle class during a rally at the Iowa State Capitol organized by the Nuns on the Bus campaign group on Wednesday.
Biden, a Roman Catholic, paid tribute to the Catholic Sisters and their efforts going around the country petitioning for social justice issues, such as health care, immigration reform, and income inequality, and their mission to urge people to vote in the upcoming general elections in November.
"You've gone state to state arguing for moral, economic and social imperatives. To establish a decent living wage. Because you know there's no reason in the world why any American should work 40 hours a week and be $7,000 dollars below the poverty rate. That should not happen in America," Biden said.
"There used to be a consensus in Congress. Democrats and Republicans constantly increased the minimum wage, because they understood. What happened to that consensus? And now once again, you're hitting the road, urging all American to participate, because that's the single most basic way to have your voice heard."
The Vice President also lamented the tax loop holes that corporations have taken advantage of, which he said only widens the inequality gap and slows American development.
"There is nothing inherently bad about corporations or wealthy people. They're just as patriotic as other folks. But something happened," he said.
"Things are out of whack. It comes down to a single question of fairness. Americans have always done best when we've acted as one America. Because when we do, the nation succeeds. When everyone is contributing their fair share, America grows."
Biden pointed out that the U.S. has been recovering following the financial crisis in 2007-2008, but middle class families have not yet felt the benefits of that recovery.
"We talk about recovery, and there is recovery, but what we don't talk about is that middle class people don't feel it. They are still not fundamentally better off. The country is better off, our economy is better off, but it's not like it was. Our job is to restore that," he added. "It's about basic, decent fairness."
The Nuns on the Bus campaign is part of the National Catholic Social Justice Lobby, founded over 40 years ago by a group of 47 Catholic Sisters. According to its website, the group's mission is "to be a Catholic leader in the global movement for justice and peace," and seeks to educate, organize and lobby for economic and social transformation.
However, the group, which is part on the largest umbrella group of American nuns, has been criticized by the Vatican, and Pope Francis has supported a crackdown on the Sisters who have been accused of promoting "radical feminist themes."
The umbrella organization, the Leadership Conference of Women Religious, has been accused by the Vatican in particular of undermining Catholic teaching on priesthood, abortion and homosexuality.
An assessment by the Vatican in 2012 reads: "Issues of crucial importance to the life of Church and society, such as the Church's Biblical view of family life and human sexuality, are not part of the LCWR agenda in a way that promotes Church teaching."
The first Nuns on the Bus tour was organized in the Summer of 2012, during which Catholic Sisters traveled across nine states to protest the effects of cuts to federal safety-net spending proposed by Congressman Paul Ryan. The group has also been engaged in other issues, such as immigration, and in 2013 led the "Raise Our Voices" campaign and travelled 6,500 miles advocating for comprehensive immigration reform.
The group has said that the purpose of the current tour is to encourage voting for the upcoming general elections in November, urging particularly a "100 percent" voter turnout in Iowa.
"This trip isn't about progressive or liberal. It's about 100 percent voting. It's a middle of the road issue," said Simone Campbell, the Catholic nun who is leading the tour. "Now, if you ask my advice on what to vote for, that's a different story."
Campbell has rejected the accusations that the Sisters have been unfaithful to the doctrine of the Church, but the group has clashed with the U.S. Conference of Catholic Bishops when it came to health reform. While the Sisters backed the Obamacare mandate that asked employers to provide insurance to employees that covered abortion-inducing drugs, the bishops strongly disagreed.
Nuns in 10 other states will also participate in the tour, and plan to host 75 events in 36 cities and cover 5,252 miles.
Biden, who has worked with the Catholic Sisters on a number of occasions, praised the group and said: "Conscience and passion matter in every endeavor. I know no group of people who bring a greater sense of justice and passion to what they do. It's intertwined in everything."