Joel Osteen: I'm 'for Everybody' but Same-Sex Marriage Is Not in the Bible
Lakewood Church Pastor Also Comments on 'The Bible' Series and Reconciling God With Suffering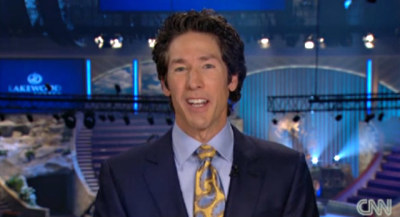 Megachurch pastor Joel Osteen cited the Bible in his belief of marriage being a union between a man and a woman in a television appearance Friday, which also saw the televangelist comment on "The Bible Series" and speak about reconciling the belief in a loving God with the existence of human suffering.
Osteen, who leads Lakewood Church in Houston, Texas, appeared on "The Lead With Jake Tapper" on Good Friday and the host referenced the Supreme Court taking on two cases this week involving the Defense of Marriage Act and California's Proposition 8, both of which have far-reaching consequences for the traditional definition of marriage.
Tapper asked Osteen if same-sex couples should be afforded the same rights as heterosexual couples, and the pastor cited the Bible to explain his beliefs about marriage.
"You know, Jake, it's a fine line. We're for everybody. But of course as a Christian pastor, my base is off what I believe the Scripture says," Osteen said. "Marriage is between a male and female. Again we're for everybody, but that's where I draw the line."
"I think we have to be compassionate about it all," Osteen added when asked about gay couples having hospital visitation rights. "We're not against everybody. There are certainly people that love each other and I believe they should have those rights."
He added, repeating his earlier remarks, "When I've come back to the Scripture, as much as I am for everybody, I don't see same-sex [marriage] in the Scripture."
Tapper also asked Osteen about serving as a consultant for the wildly popular "The Bible" series airing on the History Channel.
The Lakewood Church pastor was specifically asked for his thoughts on some viewers of "The Bible" series claiming that the actor who portrays Satan bears a resemblance to President Barack Obama, a suggestion that has been condemned by the series' producers, Mark Burnett and Roma Downey, who are also Osteen's friends.
The megachurch pastor echoed the couple's statements, calling the suggestion of actor Mehdi Ouazanni being intentionally presented to resemble the president "nonsense."
"I felt like it was nonsense," Osteen told Tapper. "People can draw funny conclusions." He went on to call Burnett and Downey two of the kindest people he knows.
The conversation also turned to the issue of human suffering and how the evangelical Christian pastor reconciles that reality with a belief in a loving God.
"You know, the way I reconcile it, Jake, is life is not always fair. But I believe that God has each one of us in the palm of His hand. And when we believe, when we trust, it doesn't mean we won't have difficulties and unfair things happen, but I believe God will give you the faith to make it through," Osteen responded, according to a transcript of the interview.
"Our hearts go out to these people that are hurting and suffering. And so we just believe in the power of prayer. And then when you turn your trust to Him, God will take you through some very, very difficult situations."
The megachurch pastor, whose gospel message has been criticized by some Christians as being prosperity-focused, also shared a special message in light of Easter Sunday, a day which sees Christians all around the world celebrate the resurrection of Jesus Christ from the dead.
"My message is that God is good. He's for us. He's a God of mercy. He's got a plan and purpose for all of our lives. A lot of people grew up seeing God as somebody far off and God's mad at me and God's full of rules," said Osteen, adding that his message is different.
"Our message is God is a loving father. And when you come into a relationship with the creator of the universe, God will take you places you've never dreamed of."
Osteen, a best-selling author who reaches millions of people globally through his ministry, has been serving as senior pastor of Lakewood Church since 1999. The nondenominational evangelical congregation has since become the largest church in the U.S., averaging 40,000 weekly worshippers.