Joel Osteen Talks Current Events; Opinion on Gov't Shutdown, the Pope, Homosexuals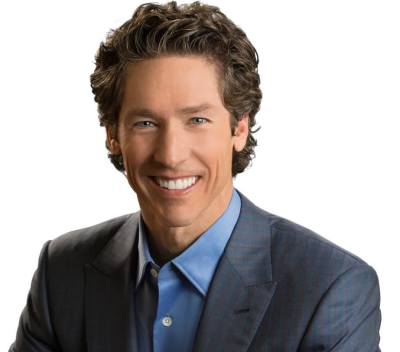 Joel Osteen shared about people needing proper focus and perspective during a recent interview in which he addressed the government shutdown, the Pope, and homosexuals, while giving insight into his childhood upbringing.
Osteen sat down with Huffington Post Live yesterday to also speak on his newly released book, Break Out: 5 Keys to Go Beyond Your Barriers and Live an Extraordinary Life in which he challenges readers to have a new perspective in order to let nothing hold them back, and to reject any labels that might limit them. 
"It seems like its gotten worse over the last 10 years," Osteen said, referring to changes in culture and politics. "It seems like there's more pushing people down these days. One of my chapters is on perspective and a lot of it is what we focus on. Whatever you focus on, gets bigger."
As noted by his previous books and posts though his popular Twitter account, the premise of Osteen's messages as well as his outlook on life are about being positive and hopeful. He says people can maintain that same optimism even in difficult times such as the current political gridlock in Washington, D.C. 
While speaking on current events, Osteen commended the Pope for his humble persona saying that he "loved what he said the other day" referring to the Pope's comments about God not being a Catholic God but Jesus Christ, his teacher and pastor.
"I think the Pope is fantastic, his tone, his humility…we may not agree 100% on doctrine and theology but the Catholic Church and our church, it's open for everybody," Osteen said.
Regarding the topic of homosexuals, Osteen said God "absolutely" likes and accepts them. He also noted that it is not his place to tell anyone what they are doing wrong while adding that God's disciples should love one another.
"I believe that God breathed life into every single person, we're all on a journey, nobody's perfect," Osteen said. "I believe every person is made in the image of God and you have to accept them as they are, as they're on their journey. I'm not preaching hate or pushing people down."
Although he spoke heavily on his views regarding current issues, he also spoke about embracing dreams and shared that he and his wife Victoria dream of opening orphanages around the world while adding that he "isn't ashamed to pray for that."
"I think a lot of times we pray for our food, protection, for simple things but scripture tells us to pray for our dreams, pray for the big things that God has put in your heart. That's what it means to release your faith."
He added, "I think that's the thing about this all powerful God, for me to ask Him for something is not limiting Him from doing something else. He's not a small God, this God is incredible."
Osteen's positive and faith-charged attitude stems from his upbringing, he said. That is the reason he trusts God to fulfill his petition of establishing worldwide orphanages. He also noted that his desire to help the less fortunate is because he saw that example in his father.
"My dad came from poverty, he grew up in the Great Depression so they didn't have much growing up... my dad was always for the underdog...I believe we are all supposed to be helping in some way. Sometimes it can be overwhelming and as people say, 40,000 kids are going to die today, but you've got to start somewhere," Osteen said.
During his interview, Osteen recounted childhood memories about accompanying his father who used to preach as well on evangelistic trips to India where he saw firsthand how the "poorest person here [America] has more opportunity than those," referring to the country's impoverished population.
In addition to speaking about chasing dreams, he touched base on the limitations that people oftentimes place on themselves to achieve their goals. His new book also focuses on the topic, while providing readers steps and encouragement for creating a life without limits. 
"We put a lot of limitations on ourselves, we think, 'I'm not that talented, I don't have the education, I'm the wrong nationality, we find a thousand reasons why we can't move forward but it's about taking those limitations off and knowing that God breathes life into you and He's got something great for you to do," Osteen said.
He also talked about how one gets to heaven.
"In the scripture, the only thing I see is a relationship with Jesus will get you to heaven. Now, do you have to be a certain denomination? I don't know that but you do have to have a relationship with Jesus, that's why He came," Osteen said.
"People don't all believe like me, but I believe God's mercy is very big and I thank God I'm not the judge of who gets to come, only He can," he concluded.