Joel Osteen's Lakewood Church Sheltering Over 400 Evacuees of Hurricane Harvey
Spokesman Says Church Could've Been a Deadly 'Flood Trap'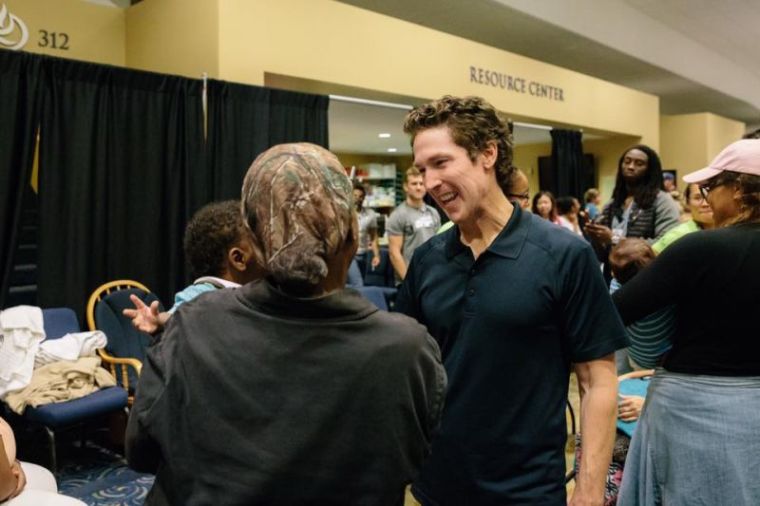 Pastor Joel Osteen's Lakewood Church in Houston, Texas, has provided shelter and aid to over 400 victims of Hurricane Harvey this week who were directed to the church after a nearby American Red Cross shelter reached its capacity.
Lakewood Church, which is housed in the 16,000-seat former home of the NBA's Houston Rockets basketball team when it was known as the Compaq Center, is now operating as not only a shelter for those displaced by catastrophic Hurricane Harvey that turned into a tropical storm over the region, but also a donation center for in-demand supplies that other shelters are beginning to run low on.
"We are housing around 400 and that number will grow and diminish as to the need. We also have all these items that are going to be distributed out to the shelters," Don Iloff, a Lakewood spokesperson and Osteen's brother-in-law, told The Christian Post Wednesday.
"We probably went over 400. I am using 400 as a round number. We probably went up to 420 and at some point you will have some people leave. But, the city may end up bringing more. Four-hundred is about the number right now."
In addition, several hundred volunteers have gathered at the church to offer their time and efforts to help the megachurch, which is one of the biggest in the nation, serve the Houston community in its time of need.
As Lakewood and Osteen received much criticism this week from many on social media and some in the mainstream media for not initially sheltering people inside the church, Iloff explained that church officials told city officials on Monday that flooding surrounding the church had subsided enough that the church could safely become a donation and distribution center that collects supplies to be sent off to other shelters.
Iloff said It was during the course of that phone call Monday that city officials explained to the Lakewood team that the capacity at the city's main shelter — the George R. Brown Convention Center — would be reached by Monday night.
"We talked to the city and told them that the water had subsided around the church and that we felt we could go ahead and safely do all this," Iloff said. "In our conversations with the city, the city mentioned that the convention center was near capacity and we said, 'We can take some.'"
Iloff said that by Tuesday morning, busloads of people seeking shelter were transported and offloaded at Lakewood.
According to Iloff, the American Red Cross dropped off about 150 cots to the church for people to sleep on. Most of the rest of the people seeking shelter in the church created makeshift sleeping places out of blankets, he said.
Each person and family that arrived at Lakewood, Iloff explained, has a different situation they are facing.
"People come in seeking shelter but a lot of them literally come in for a night or two. When they can get back into their house they may go in and live on the second floor and work on the first. Some people do it. You will have others who are there three days and then have relatives coming from out of town to pick them up." Iloff said.
"There are all kinds of different situations. You have people here at the shelter and then they take off in different directions. You might have a few that look up and say, 'We lost everything. We have nowhere to go.'"
Iloff assured that people who take refuge in the church are given hot meals, thanks to food donations from restaurants.
City officials sent the church a list of supplies that other shelters are in need of, such as baby food, formula, baby diapers, Depends for adults, and hygiene products.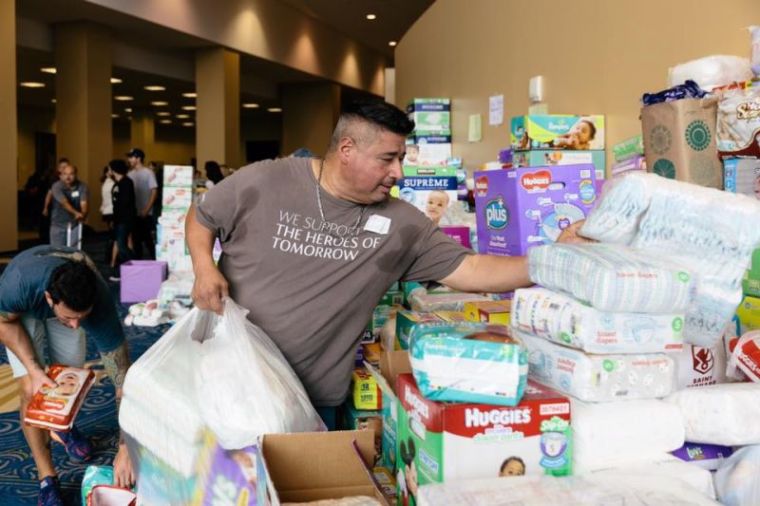 "We sent out an email, put a post on our website and went on social media and listed the items," Iloff said. "For 12 hours yesterday, the line of traffic never stopped. We have enough stuff to supply a city. It's unbelievable. It's just amazing. It's got to be a million pounds worth of stuff."
Iloff added that the line of cars to drop off supplies to the church wrapped "around the block."
"You had buses pulling up, dropping off the people that needed shelter and you also had a line of people registering and coming as volunteers," he said.
Moving forward, Iloff said the church is looking for other ways it can help. He mentioned that Lakewood is looking to partner with the Federal Emergency Management Agency to become a partnership center to help people fill out FEMA forms, which is something the church has done in the past.
Lakewood is also planning to partner with the evangelical humanitarian aid organization Samaritan's Purse.
"We will partner with the city, with FEMA, with anyone we can where we think we can be of help," Iloff added. "We have a general outline of what we are going to do. It's kind of like FEMA right now. FEMA knows what happens after these big storms but they don't know specifically what they are going to deal with until the waters die down and they start getting FEMA requests and they start really assessing."
Iloff added that while some areas of Houston have drained, there are low-lying parts of the city that are still flooded by the water runoff from the rest of the city.
As water continued to subside, Iloff said that church's individual ministries will begin to have a better idea of what missions they will take up in response to the hurricane. Iloff had previously told CP that he expects the church's ministries to be dealing with this damage caused by this storm for years to come.
While critics across the country have been quick to criticize Lakewood Church and Osteen for their so-called "sluggish" reaction to the hurricane and for waiting until Monday to decide to take in evacuees, Osteen spoke with a number of national media outlets on Wednesday to decry the "false narrative" that has been cast on him and the church.
"I don't know if it's unfounded but I think if people were here they'd realize there were safety issues, this building had flooded before, and so we were just being precautious but the main thing is the city didn't ask us to become a shelter [until Monday]," Osteen said on NBC's "Today Show."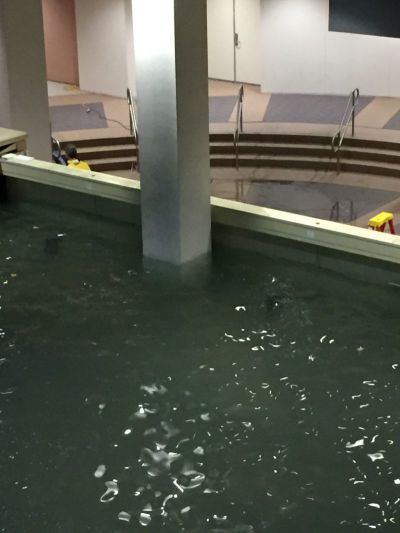 Iloff previously told CP that the maintenance staff inside the church had been instructed all along to let anyone into the building who was in need of shelter. In fact, on late Sunday night and early Monday morning, three people separately arrived at the church seeking shelter. They were taken in out of the weather and later transported to the convention center, Iloff explained.
Iloff told CP that at at the height of the storm, the flood waters were within one foot of breaching the church's 10-foot floodgates. He added that it took about all day Sunday for the flood waters to recede. 
"That would have imperiled the entire first floor," Iloff said. "I told Joel that this [media reaction] is a pain that we are going through right now but just imagine if another scenario occurred and the loss of life and the tragedy had people vilifying us because we dared open that flood trap as a shelter."
Back when it was the Compaq Center, the building experienced major flooding due to Tropical Storm Allison in 2001. Iloff said the reason why Lakewood didn't have to put in new seats when it procured the building in 2003 was because the seats and even the basketball floor had to be replaced two years earlier because of the flood.
"It put about eight feet of water into the first floor," Iloff said of the 2001 flooding. "When that water comes pouring in, it's a torrent, its a flash flood. We could be writing a whole different story. Then all of a sudden, the critics would be saying, 'Why did you all open that place up? Why did you send those people to their deaths?'"