Pastor Greg Locke: Joel Osteen Was 'Shamed' Into Opening Lakewood Church for Harvey Victims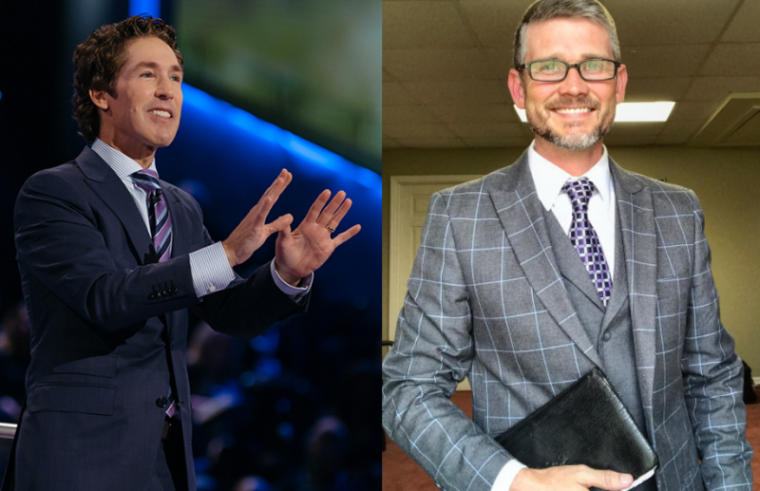 Popular internet preacher and leader of Global Vision Bible Church in Tennessee, Greg Locke, insisted Tuesday that Pastor Joel Osteen was "shamed" into opening up the doors of his Houston megachurch to victims of Tropical Storm Harvey.
Locke was among a number of vocal critics on social media who demanded that Osteen open the doors of Lakewood Church to help provided shelter for flood victims Monday.
"Joel Osteen, as a Pastor you have a huge obligation to show the love of Christ at this very moment. OPEN THE DOORS. #HoustonStrong," Locke declared in a now viral tweet to Osteen.
Lakewood spokesperson Don Iloff, Osteen's brother-in-law, told The Christian Post on Monday that there were eight maintenance personnel on site at the church who would let anyone in who needed shelter. In fact, on late Sunday night and early Monday morning, three people separately arrived at the church seeking shelter. They were taken in out of the weather and later transported to the convention center, Iloff explained.
On Saturday, Osteen wrote on social media that he was praying for the safety of those affected by the flooding. A day later on Sunday he said the church was "inaccessible" due to "severe flooding."
Several people on social media started re-posting images online refuting that Lakewood Church had been affected by flooding and a media firestorm soon ensued. The church has now become a shelter for flood victims after the city requested the space to house those who are displaced.
In a video response to critics who felt he was attacking Osteen in his tweet, Locke said he believes it was the social media outrage that forced the eventual opening of Lakewood.
"People are coming out saying, 'Oh, why would a fellow pastor lambaste another fellow pastor. He doesn't have all the facts. Yes, we do have all the facts. Do you know why there are busloads of people at Lakewood Church right now? Because of the media firestorm," Locke asserted.
"The tweet was only 24 hours ago. Are you gonna tell me that all the water in the building completely assuaged and went away and the entire building was cleaned up so that now they can take refugees? No. It was just as clean then. They're only doing this to save face because of the media firestorm," he continued. "They can do with their building what they will, but don't lie to us about it. At the end of the day, I really hope and pray they help a lot of people. But no, I'm not going to apologize for the tweet because megachurches shouldn't have to be shamed into helping their community."
He also explained earlier in his comments that if he really wanted to "lambaste" Osteen, he would have chosen to point out the things he doesn't preach against.
"I wasn't lambasting him, I wasn't saying anything trashy about Lakewood Church. It was a simple tweet. That's it. I was merely asking the man to do what was right throughout his community. Let's be honest about it folks, if I'm really going to say some things against Joel Osteen, it'll have very little to do with Hurricane Harvey and a whole lot more to do with not what he preaches but rather what he refuses to preach," Locke said.
In several major television network interviews Wednesday morning, Osteen said the criticisms of his church on social media were based on a "false narrative."
"I think sometimes social media can be very powerful and it can create this false narrative. But if you're sitting in another state and you're not here — I mean, my niece was stranded right across the street from this building with nowhere to go," Osteen said on NBC's  "TODAY" show. "This building was one foot from flooding. If we didn't have our floodgates, it would have flooded."
Osteen further noted that at the time his church was closed on Saturday and Sunday, they had not been asked to be a shelter. And if they had, they would have been ready to welcome flood victims.
"If we needed to be a shelter, we would have certainly been a shelter when [the city] first asked, but once they filled up — never dreamed we'd have this many displaced people — they asked us to become a shelter and we said, 'Hey, we'd love to be a shelter.' That's what Lakewood is all about. I think this notion that we would somehow turn people away or that we weren't here for the city is as false as can be," Osteen said.
Lakewood waited to open, he said, out of precaution.
"I don't know if it's unfounded, but I think if people were here they'd realize there were safety issues. This building had flooded before, and so we were just being precautious. But the main thing is the city didn't ask us to become a shelter then," Osteen said.