John Piper's Holy Week Devotional eBook Focuses on Jesus' Love, Sacrifice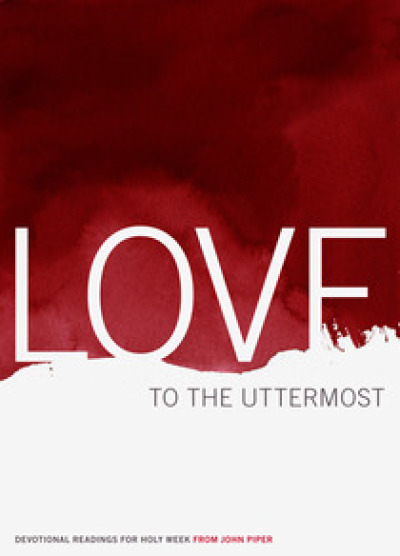 Pastor John Piper launched a new, free devotional eBook, titled Love to the Uttermost: Devotional Readings for Holy Week, today. The devotional focuses on the self-giving love of Jesus Christ leading up to his death, burial and resurrection.
In preparation for the Easter holiday, the new devotional was compiled from past teachings and writings of Piper for use in personal devotions or family and group settings. There are eight devotionals, beginning with Palm Sunday and ending with Easter Sunday. Piper chronicles the steps and words of Jesus as he prepares for his own sacrificial death. He takes the devotional reader on a journey of Christ's love for them through his suffering and sacrifice.
The significance of the term uttermost is explained in the devotional. When used in relation to Jesus' willing death for the world, it means he endured "unimaginable degrees" of suffering to do so. "To love to the uttermost is to love freely, without reserve or limit, and without flaw or failure," it reads. "As we watch his arrest and trial and death unfold for eight days, we gaze on a God-man who begrudges no pain or reproach on his pathway to redeem lost sinners. This is the man who humbled himself by becoming obedient to the point of death, even death on a cross" – Philippians 2:8," it concludes in the introduction.
Piper explains that Jerusalem meant "certain death" to Jesus in day two of the devotional titled, "He Set His Face for Jerusalem." He went on to explain that when Jesus set his face to Jerusalem, he set his face to die.
The Minnesota pastor attempts to showcase the commandment that Jesus gave as he prepared his friends for his death, to love one another, in the Maundy Thursday devotion, opening with John 13:34. "This is the commandment: 'love one another: just as I have loved you,'" he referenced. He challenges readers to see the greatest love in action on Maundy Thursday and on the following day, Good Friday, reminding them that He loved them to the uttermost.
Piper urges readers of his devotional to draw near to God, warning that it is not a physical act. "It's not building a tower of Babel, by your achievements, to get to heaven. It's not necessarily going into a church building, or walking to an altar at the front. It is an invisible act of the heart. You can do it while standing absolutely still, or while lying in a hospital bed, or while sitting in a pew listening to a sermon." He reminded readers that God did costly things to draw all of them near to Him in spite of their sin.
In the devotional, Piper even confesses to sin and rebellion in his own life. He compared his rebellion to lava in the devotional for Saturday, "A Holy Week Volcano."
The eBook ends with the chapter, "Such Amazing Resurrection Love," asking the question, "Why does Jesus stress his willingness to die?" Piper then emphasizes the importance that Jesus made the decision to die. He was not forced to do so.
"So here's the point. The resurrection of Jesus is given to us as the confirmation or evidence that he was indeed free in laying down his life," Piper concludes. "And so the resurrection is Christ's testimony to the freedom of his love."
Love to the Uttermost, published by Desiring God, can be downloaded for free in three formats. As a PDF file, as an EPUB file formatted for readers like the Nook, Sony Reader, and Apple iBooks (iPad, iPhone, iPod) and as a MOBI file formatted for Kindle applications.
Holy Week begins on Palm Sunday, March 24, and ends on Saturday, March 30.