Jon Stewart Roasts Conservative Critics of 'Noah': Are We Reading the Same Bible?
Jon Stewart poked fun at religious conservatives unhappy with Darren Aronofsky's Noah on Tuesday night in a segment called "Haters of the Lost Ark."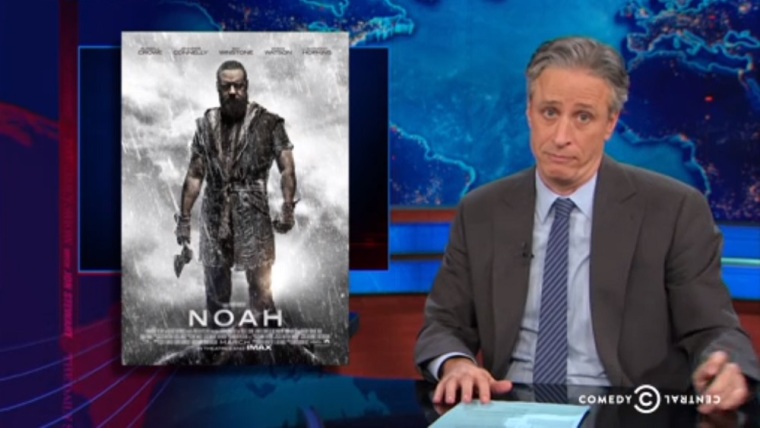 After showing a Fox News montage with commentators asking why Hollywood had paid scant attention to Christians and Biblical stories, Stewart noted dryly: "That's how you show respect for religion. You get in there, you churn some s--- out."
The Comedy Central star then suggested that because the movie had made $200 million in its first two weeks of release, "religious filmgoers must have something to cheer about," before juxtaposing his remarks with clips of Glenn Beck calling it "awful" and film critic Kevin McCarthy on Fox News informing the audience that Noah "is definitely not a documentary."
"So you're telling me that a man who lives to 950 and loads two of every animal onto a 300-cubit-long boat – and by the way, a cubit is from (elbow to fingertips) – 300 of these bad boys, yeah, that's really going to keep the lions away from the delicious zebras," Stewart said. "Listen, you're telling me that film won't qualify to submit in the documentary category? That's outrageous."
Stewart also questioned why Noah had received so much flack for not including the word "God," despite referencing "The Creator" throughout.
"Creator? That could mean anything," Stewart said. "And while the Bible doesn't ever use the word, 'God,' because it's not in English – my guess is, we're not really up for that discussion – but the question is, is 'Creator' enough?
"If only someone in the Noah film, maybe someone like Noah's son, Ham, said something clear and unequivocal like, quote, 'My father said there can be no king. The Creator is God,' that would clarify – oh, right. They didn't see the ****ing movie," he said sarcastically.
Stewart also mocked reports that early test audiences had been unhappy with scenes showing Noah naked and drunk after the ark landed.
"You can't slander Noah like that," Stewart said. "Who do you think you are? Genesis 9:21? ('And he drank of the wine, and was drunken; and he was uncovered within his tent.' Why don't you remember any of this stuff? You did read the same Bible as the rest of us, right?"
This was seemingly not the case for former White House spokeswoman Dana Perino, who told Fox News that she remembered her children's Bible presenting a light-hearted version of the story with paired-off animals, a rainbow and an ending where "everybody lives happily ever after."
"Everybody? Nobody lives!" Stewart said. "Everybody is one family and two of every animal! Everybody else drowned! Do you know how many koala bears drowned?"