Jon Stewart on Trump's Election Victory, Leftist Hypocrites Branding Voters as Racists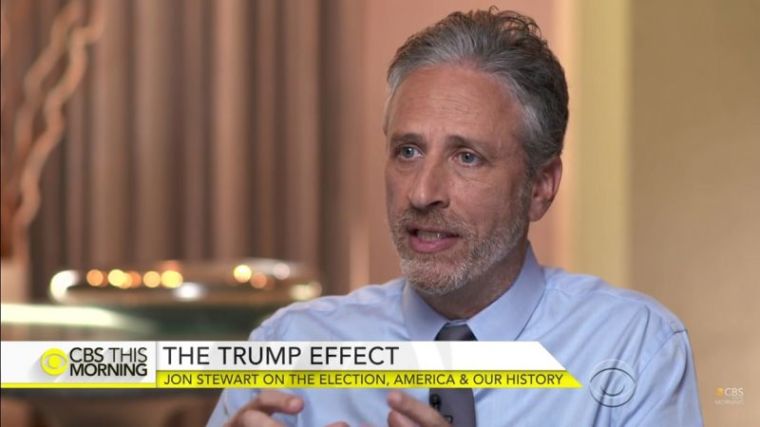 Former "Daily Show" host Jon Stewart says liberals who are quick to brand Americans who voted for President-elect Donald Trump as racists are being hypocrites and ignoring issues that people are concerned about, such as the cost of health insurance. 
Stewart touched upon a number of subjects during his interview Thursday on "CBS This Morning," and while he told host Charlie Rose that Trump's win was a repudiation not only of Democrats but also of Republicans, he argued that the same country that made Barack Obama president has now also elected Trump as its new leader.
"I thought Donald Trump disqualified himself at numerous points," the comedian and liberal political commentator said of the various controversies surrounding Trump's campaign.
"But there is now this idea that anyone who voted for him has to be defined by the worst of his rhetoric. There are guys in my neighborhood who I love, I respect, that I think have incredible qualities — that are not afraid of Mexicans and not afraid of Muslims and not afraid of blacks. They're afraid of their insurance premiums."
Stewart said that while many in the liberal community hate the idea of "creating people as a monolith," that is what they are doing to the millions of people who support and voted for Trump. 
"Don't look at Muslims as a monolith. They are individuals and it would be ignorance. But everybody who voted for Trump is a monolith — is a racist," he said of the thinking of some liberals. "That hypocrisy is also real in our country," he said.
As for what made America great in the first place, Stewart suggested that it is its "multi-ethnic, multicultural democracy," which he noted is exceptional in human history because it's not something that comes naturally. 
"We're fighting against thousands of years of human behavior and history to create something that no one's ever — that's what's exceptional about America and that's what's, like, this ain't easy," he added. "It's an incredible thing."
Some evangelicals, such as Michael Brown, author of 25 books and host of the daily talk radio show "The Line of Fire," have also argued that despite the claims of many, including some pastors, it's wrong to suggest that everyone who voted for Trump did so out of racist or misogynistic reasons.
"If a vote for Trump was a vote for 'white supremacy and self-preservation,' then why did more black and Latino voters cast votes for Trump than for Romney?" Brown asked in an op-ed published in The Christian Post.
Brown said that his opposition to Trump's Democratic rival Hillary Clinton's positions on issues such as abortion and LGBT activism was the reason why he ended up casting a "reluctant vote" for Trump.
"And of the many friends I know who voted for Trump, none of them did it glibly, none of them excused his failings, and none of them did it to preserve some kind of white power structure or privilege," Brown wrote.