Jonathan Antoine's YouTube 'Got Talent' Audition Attracts 2.6M Views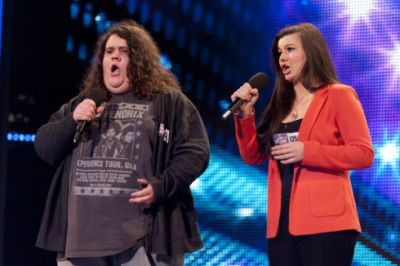 A video of a British teen auditioning with his friend on "Britain's Got Talent" has attracted millions of views online and sparked shatter that the unassuming young man's performance could very well make him the "next Susan Boyle."
Jonathan Antoine, 17, appeared last month on popular reality show "Britain's Got Talent," which features lead judge Smion Cowell, known for his blunt assessments on that program as well as a U.S. version of the show, "American Idol."
Antoine, an overweight teen who confessed to having little self-confidence due to years of being teased, appeared nervous when he and his 16-year-old singing mate, Charlotte Jaconelli, appeared on stage.
As Antoine and Jaconelli walked out, Cowell was seen on camera leaning over to fellow judge Carmen Electra and saying, "Just when you thought it couldn't get any worse..." Apparently judging the duo by their humble appearance, Cowell, as well as the audience, did not seem to expect very much from the pair.
After a few preliminary questions, however, the duo began their song -- Celine Dion and Andrea Bocelli's "The Prayer" -- and immediately all eyes were on them, especially Antoine.
Cowell's eyes bulged in amazement as he listened to the teens sing. Audience members broke out in tears and leaped forward in their seats, finally erupting in applause as the song came to an end.
So amazed was Cowell by Antoine's performance that he asked Jaconelli if she thought it possible that she might hold back her friend from advancing in the competition.
Antoine responded that there was no way the duo, both student opera singers, would be separating.
"Well, we've come on here as a duo. We're gonna stay here as a duo," he said, drawing heavy applause from the audience.
The judgges voted unamimously to advance the pair in the competition, with Cowell telling the teen, "You're a future star."
Antoine's appearance on "Britain's Got Talent" has drawn comparisons to another stunning performance from 2009, when "plain-looking" Susan Boyle appeared on stage and received a similar reception from both Cowell and the audience when she sang "I Dreamed a Dream." Since then, Boyle has been signed to a major record label and released three studio albums.
In addition to the more than 2.6 million viewers who have logged onto YouTube to watch Antoine's March 24 performance and express admiration, Pastor Voddie Baucham of Grace Family Baptist Church was so moved by the teen's singing that he shared the clip with followers on his Facebook page.
"We're taking a bit of a break from the worship discussion to look at a video that I enjoyed tremendously. There is much here that could easily be contrasted with the video that started the 'worship' discussion, but that is beyond the point. There's no indication whether or not this guy is a believer. However, sometimes there's just a GREAT story, and this is one," Baucham wrote on his ministries page.
The Spring, Texas, lead pastor then shared a list of reasons why he found Antoine's presentation on "Britain's Got Talent"so stirring:
"I LOVE his loyalty to his friend. I LOVE the fact that he has no idea how good he is. I LOVE the fact that he doesn't 'look' the part. I LOVE the fact that he was underestimated for that reason. I LOVE the fact that he is humble and honest. I LOVE his voice. I LOVE the fact that he has actually taken the time to train his voice classically. I LOVE the audience reaction."