Joni Eareckson Tada Welcomes Red Carpet Treatment of Faith, Family Values Alongside Billy Ray Cyrus, Roma Downey, Corbin Bernsen
CP Exclusive Interviews from Movieguide Awards Gala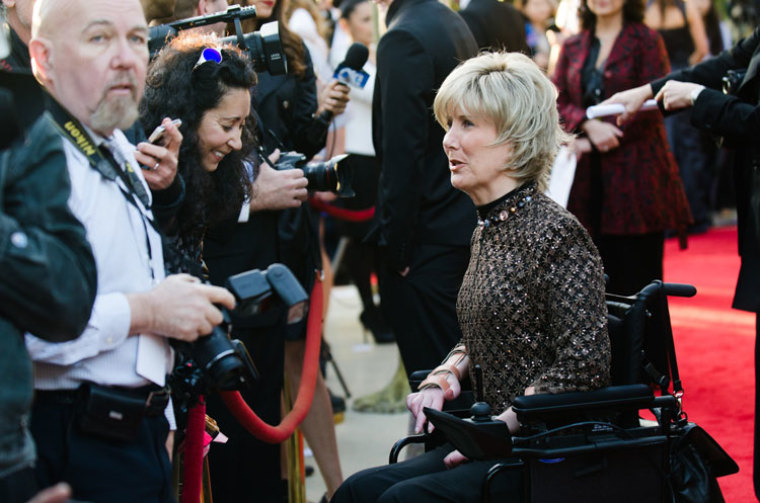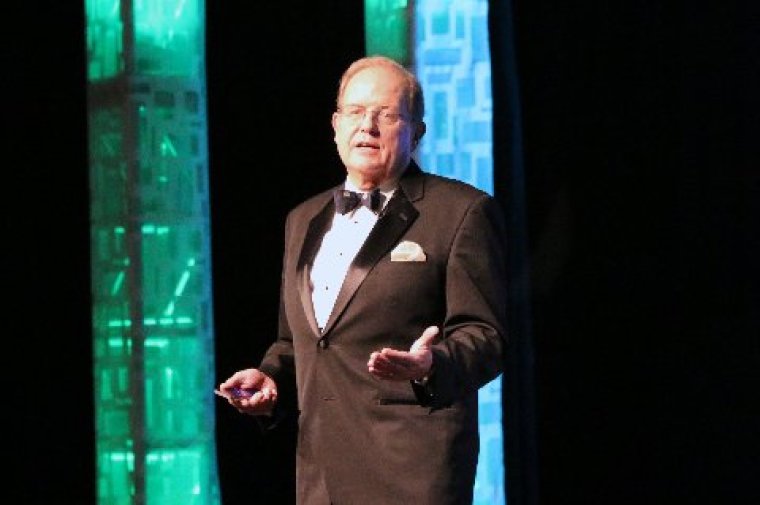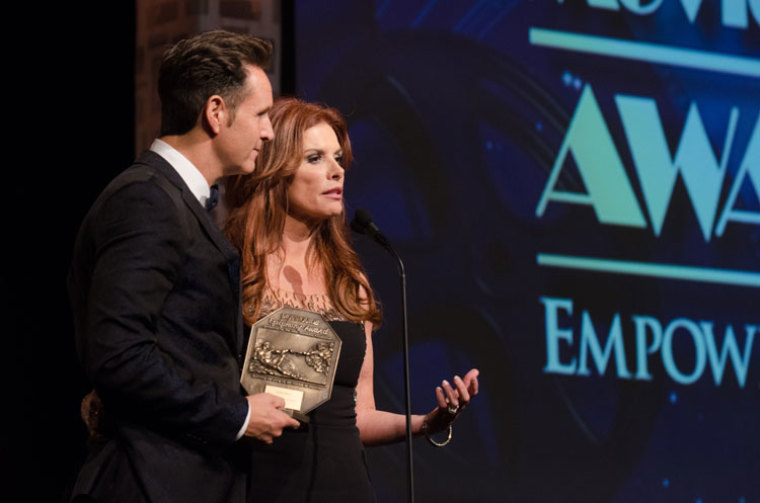 View Photos
UNIVERSAL CITY, Calif. – Faith, family values, and quality entertainment took center stage at the 22nd Annual Movieguide Awards on Friday evening. Celebrities and lesser-known movie, TV, and music industry people shared their appreciation for being able to celebrate the things in life they cherish most.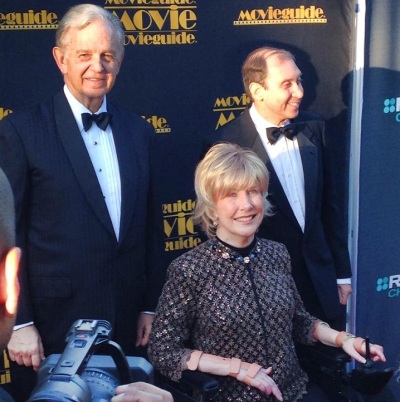 Joni Eareckson Tada, who was there to perform the title song from "Alone Yet Not Alone," told The Christian Post that although she was out of her element at the splashy event because she is primarily a Christian disabilities advocate, she said she was appreciative of Movieguide and its goals.
"I think we are at a point in our country where people are becoming weary, they're becoming tired of media messages, and movies that degrade the human spirit, that defame the human heart, that weigh people down, that reinforce hopelessness and despair, people are looking for a change from that," Tada explained while participating in the red carpet portion of the evening. "I think that the popularity of the song and its Oscar nomination has underscored that people are looking for a change.
"They want media messages and movies that inspire, uplift, encourage, under-score bravery and valor. This song does that and so does the film. I'm very, hopeful about Hollywood. I'm hopeful that there might be a change in the wind."
When asked about the Hollywood gala style of the event, Tada said, "I'm a Christian disability advocate. I take wheelchairs around the world to disabled children. We run retreats for special needs families in developing nations, so this is not my world. It's wonderful, but I'm not a professionally trained entertainer."
However, she said she was excited to later in the evening perform "Alone Yet Not Alone," which was first nominated for best song then rescinded by the Academy for alleged improper promotion to voting members by one of the song's co-creators. "It so reflects my heart and so integral to who I am that I'm not nervous at all," she told CP.
Roma Downey, who received a Grace award in television for best actress in her portrayal of Mary in "The Bible" series, said she was grateful for the Movieguide event.
"I just find it so encouraging that all of the things that we hold near and dear are given a moment in the spotlight where the community can come together and celebrate faith, family values, all the things that are important but don't necessarily get the red carpet treatment," Downey told CP.
Actor and filmmaker Corbin Bernsen said that although there are other professions, such as teaching, that he would love to see awarded above those working as actors, he was grateful for the chance to celebrate quality entertainment with others in the industry's community.
"It is important to have an event like this to celebrate that which we in this community do, which is try to make entertainment that can affect change in our world, whether it's through faith, family, community – all the things that are important to me," Bernsen told CP. "It's important in this day and time that we balance out some of the stuff that I still find very entertaining and very reflective of the world we live in.
"For example, in 'Wall Street' people were commenting over all the swearing; well that's reflective of the world we live in and I often think it's important to put up a mirror and say, 'This is who we are."' However, he added that it was also important, as believers in Christ, to "put up a mirror and say, 'This is also who we are, this is who we could be.'"
Bernsen was asked by CP if he likes to differentiate between a "Christian" movie and a "non-Christian" movie.
"I like film. I like good story. On one level, if someone wants to dig deeper into my life and what guides me and where Christ has a role in my life, they can be exposed to that," he said. "I don't think all stories have to just be 'come to Jesus' movies to celebrate Christ. I think good movies are movies that Christ would say, 'That's a good movie.' I think you can do that. You might not have to mention God, faith, Jesus in the movie, but you would probably have to mention the word 'love.'" He paused and added the words, "passion" and "understanding."
Bernsen continued, "I don't like to differentiate, but I think it's important that we all tell good stories. On one level, if those stories elevate humanity and if they are also made by people that have certain belief system and you are curious about how they made those stories, you want to dig deeper and look up Wikipedia or go to The Christian Post and you want to find out more about me that's great."
Billy Ray Cyrus, who was at the awards event to perform his song, "Hope is Just Ahead," told CP that his faith in God is his primary motivation for working in the entertainment industry.
"I've been a part of this since the beginning with my first series, 'Doc,' and 'Doc' was on PAX television and was all about hope and faith and love," Cyrus said. "I felt like that was one of the reasons I became an actor was entertainment for God to use in my life. That was the main reason I signed up to do 'Doc,' I thought it was part of my purpose.
"To this day, through the music or through acting I'm still looking for purpose. I'm sure you all probably read Rick Warren's Purpose Driven Life. In some ways that book had a big impact, realizing that we are all here for a reason and we all have to reach for the light and represent that light through entertainment and utilize that with God's love and mercy and grace," he said.
For the 22nd year in a row, the Annual Report to the Entertainment Industry by Movieguide: The Family Guide to Movies and Entertainment shows clearly that moviegoers prefer clean, family-friendly movies with Christian faith and values, officials said.
"This was abundantly true in 2013," said Dr. Ted Baehr, founder and publisher of Movieguide. "For the first time ever, 90% of the Top 10 Movies in the United States and overseas were Movieguide Award winners, from IRON MAN 2 and DESPICABLE ME 2 to FROZEN, GRAVITY, and MAN OF STEEL. Also, two-thirds of the Top 10, 60 percent, had overt references to Jesus Christ."
WINNERS
$100,000 Epiphany Prize for Most Inspiring Movie of 2013: Grace Unplugged
$100,000 Epiphany Prize for Most Inspiring Television Program of 2013: The Bible
10 Best Movies for Families:
1. Frozen
2. Despicable Me 2
3. The Croods
4. Turbo
5. Grace Unplugged
6. Monsters University
7. Black Nativity
8. Oz, The Great and Powerful
9. Cloudy With a Chance of Meatballs 2
10. Linsanity
10 Best Movies for Mature Audiences:
1. Iron Man 3
2. 42
3. The Hobbit: The Desolation of Smaug
4. The Hunger Games: Catching Fire
5. Gravity
6. Man of Steel
7. Thor: The Dark World
8. Captain Phillips
9. Jack the Giant Slayer
10. The Tower
Faith & Freedom Award Movies
Iron Man 3
Faith & Freedom Award Television Winner
Duck Dynasty: Till Duck Do Us Part
$50,000 Friess Foundation Free Enterprise Prize: Shark Tank: Episode 4.20
Grace Award Movies
Actor: James Denton of Grace Unplugged
Actress: AJ James Denton of Grace Unplugged
Grace Award Television
Actor: Willie Robertson of Last Man Standing: Back to School
Actress: Roma Downey of The Bible